Taking care of the face is not enough when it comes to complete skin care. It is equally important to treat your décolletage area with as much care. After all looking fresh is about having a youthful skin in all aspects. Luckily for you, there are products that are formulated for neck and chest area. Below, we have enlisted the best 10 skin care products that are suitable for the same.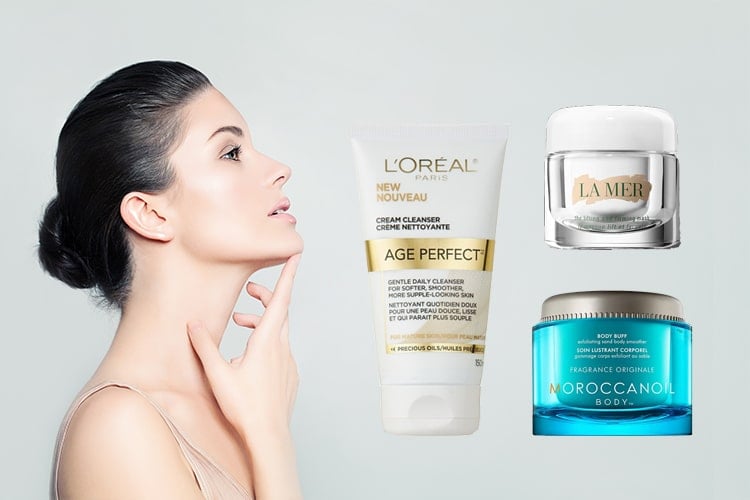 Your Daily Skin Care Guide to the Smoothest Décolletage:
Here are the top products with reasons that deliver results for your décolletage:
1. Clarins Extra-Firming Neck Anti-Wrinkle Rejuvenating Cream:
It is essential that you pay equal attention to every part of your body and caring for it in the best possible way. This rejuvenating cream by Clarins is perfect for treating your neck area with its plant-extract concentrate. Look forward to see a clear skin tone, smoother, moisturized skin, and lightened dark spots.
2. La Mer The Lifting And Firming Mask:
This cream mask by La Mer is popular for its super-nourishing and hydrating properties. The lifting and firming treatment can make a perfect addition to your weekend self-care routine. It can also repair skin leave it refined, with zero wrinkles, dryness, and saggy skin.
3. Estée Lauder Resilience Multi Effect Night Lifting Tri Peptide Face & Neck Crème:
Your night-time skincare routine is far more essential. Use this crème by Estée Lauder on your décolletage before bedtime to wake up with fresher, firmer skin, visible brightness, and increased elasticity.
4. Moroccanoil Body Buff:
This spa-worthy body buff exfoliant by the brand is infused with brightening orange peel extracts, Vitamin E and argan oil. It cleanses dead skin cells, boost circulation, and create a firmer skin around neck and chest area.
5. L'Oréal Paris Age Perfect Nourishing Cream Cleanser:
A gentle facial cleanser from the L'Oréal brand is best suited for mature skin. The presence of replenishing oil can effectively cleanse the décolletage without over-drying. After you have cleansed your skin, pat dry using a towel.
6. Elizabeth Arden Ceramide Perfect Lift And Firm Night Cream:
The firming night cream by Elizabeth Arden contain time-releasing formula for restoring skin's natural barrier. Its intense hydration restores skin's moisture and repair anti-ageing signs.
7. Epique Switzerland Sculpting and Firming Cream:
The sculpting and firming cream contain phyto-concentrate formula to lift, sculpt, and firm skin around neck area. It can also tighten skin tone and smooth out uneven roughness.
8. It Cosmetics Confidence In A Neck Cream:
This neck cream formulated by dermatologists and plastic surgeons has potent anti-ageing properties. It also contains hyaluronic acid, collagen, and elastic for firm skin and décolleté area, reduce visible fine lines, and provide tightness.
9. Elizabeth Arden PREVAGE Anti-Aging Neck and Décolleté Firm & Repair Cream:
Have you been noticing dark lines and sunspots along your neck and chest area? Opting for a night cream such as this one by Elizabeth Arden can make a great choice to brighten and tighten skin. It can also keep skin hydrated throughout.
10. L'Oréal Paris Age Perfect Hydra-Nutrition Golden Balm for Face, Neck & Chest:
This rich, creamy, non-greasy balm can intensely hydrate mature skin and provide deep hydration. Use it after cleansing skin twice a day. Use the formula on face, neck, and chest alone or under makeup.
Many of us cleanse and moisturize skin as a daily routine but neglect the chest area. The décolletage is fragile and produces lesser oil in comparison to our face. But it remains more exposed to the sun. Therefore, starting today, take care of your neck and chest area.