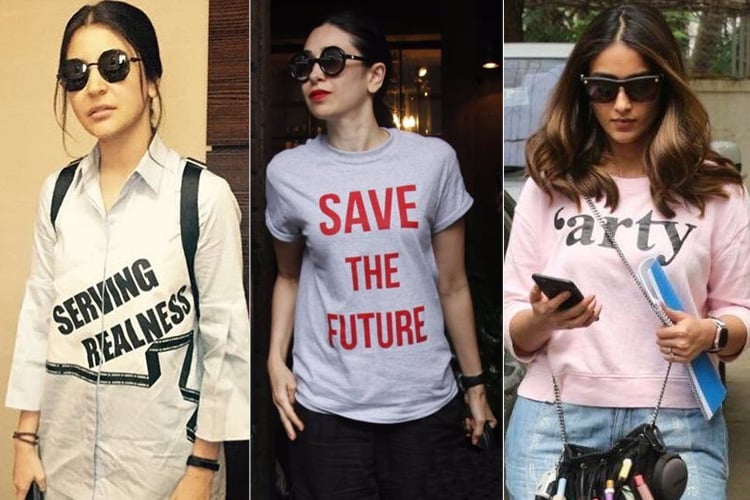 Right at the onset of the year 2017, did we not tell you about slogan tees?
Remember ladies, in our trend forecast report mentioning the hot trends for the year, we listed out Slogan Tees to be one trend which did be a sought after one.
Were we right? Hell yeah.
With people becoming more and more aware of themselves and their surroundings, slogan t-shirts are taken as much more than apparel. It is more like an extended part of one's persona that defines and describes its bearer.
If you need reference before you sport one for yourself, here's a list of all the leading bollywood actresses who seem to be speaking their mind, wearing slogans with much panache.
10 Times Bollywood Leading Ladies Wore SLogan T-shirts
Anushka Sharma
Anushka Sharma has taken over the mass media with her exceptional and quite an individualistic promotional wardrobe for her most recent release, Harry Met Sejal.
Twice during her promotional run up, the diva was spotted wearing outfits with her thoughts scribbled on them. Credits to stylist Allia Al Rufai for dressing up the diva in one of 2017's statement trends.
Dressed in grey, head to toe, Anushka made quite a statement wearing her most recent promotional outfit from the house of designer label Kanika Goyal. While we heart that bell sleeve shirt and the well-fitted pants with sheer endings, it was the slogan, "Serving Realness" that caught all our attention. Written out in bold and all caps, the slogan was in perfect alignment with Anushka's persona, who shuns the concept of always acting glam, and presents her most real self when not acting.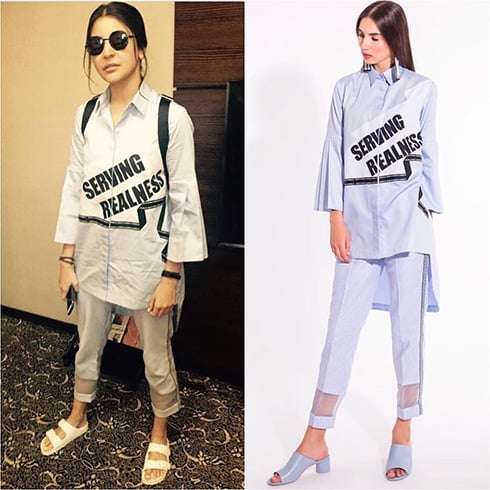 The Dior Spring Summer 2017 runway was flooded with slogan t-shirts. Sporting one during the promotions of Harry Met Sejal, Anushka spelled out her love for the couture brand. With " Dior Addict" written on her black t-shirt, Anushka clearly stated her preference for this classic luxury brand.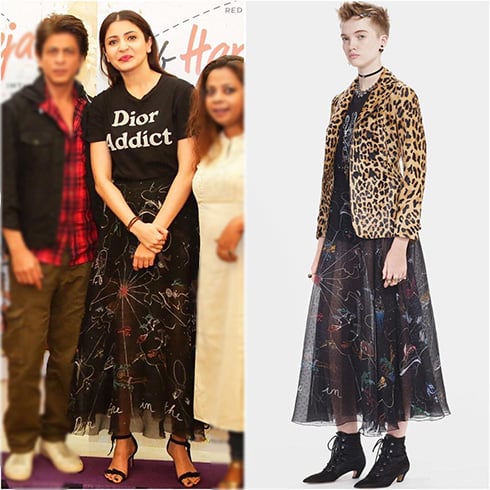 Ileana D'Cruz
Raising the street style bar with her pastel cardigan, Ileana grabbed much spotlight. Wearing a pastel pink sweater from Zara, Ileana scored high on the chic quotient. With the word " Party", written on her cardigan, Ileana gave us all the hints of what was on her mind Pairing her cardigan with a high waist washed denim with frayed edges Ileana proved her rocking personal style. Don't forget the edgy cosmetic laden Stella McCartney sling.
Karisma Kapoor
With this airport look, Karisma clearly lashed out all the media persons and cameramen who wait to get that one look of the celebrities while jet setting in and out of the city. Her Shahin Mannan black cardigan, had " Don't Bug Me" written on it. Well we hope all those behind the shutterbugs got their hint that this woman is in no mood to attend paparazzi. While the sweater was the highlight of this look, don't miss those black gucci shoes, Karisha wore to seal her Slogan Tee look.
[sc:mediad]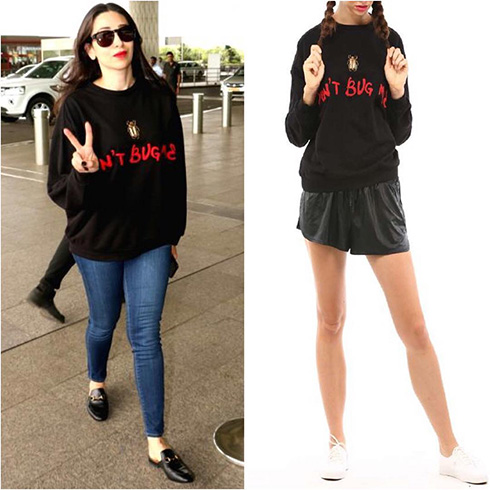 Most recently the shutterbugs caught Karisma stepping out of a Bandra cafe post brunch with her kids. For her date with her kids, the diva aptly dressed down in a grey tee that flaunted the words, " Save The Future". A social message there for all those who are busy living the now, jeopardising the future of our generations to come. We wonder if the agenda of the brunch was to discuss the future plans with her kids. Karisma kept her look casual pairing her slogan tee with all black accents : a pair of black pleated pants, a black tote, black slip-ons and black sunglasses.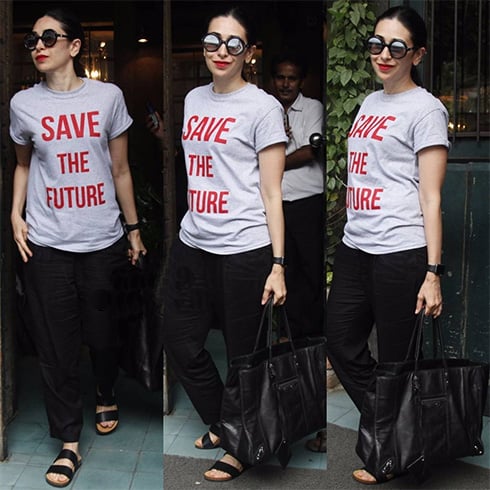 Kareena Kapoor
Kareena Kapoor loves to defy normalcy. With the Kapoor surname and that hard core Punjabi blood running in her veins, we will totally take the slogan on her t-shirt. " Raised on Champagne" . We heart the slogan which completely justifies Bebo's killer "high on life" attitude. While mango people, i.e. aam aadmi is raised on water, our deary Begum was born to be a queen. Letting the words do all the talking, Kareena paired her white slogan tee with a pair of well fitted denims and her favorite red sneakers.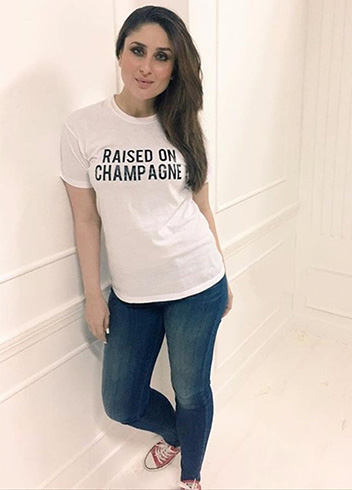 Neha Dhupia
Neha Dhupia is taking over television chat shows with her candid podcast, No Filter Neha. Gearing up for the Season 2, Neha flaunted her No Filter white tee, oozing loads of style. We understand it's more of a promotional stunt, but we have to agree we love the No FIlter slogan that differentiates the real from the fake. Self descriptive and classy, we did love to sport your No Filter slogan t-shirt Neha.
Shilpa Shetty
Recently spotted at the airport while jet setting to her destination Shilpa sported a cute yet chic airport look. Wearing what she absolutely believes in, yoga lover Shilpa Shetty gave us a cuteness overload. We are all hearts for that Bershka Collection grey sweatshirt with Pandas rolling over in asanas. KungFu Panda meets Yoga meets Shilpa, this Yogatime has to be simply superb. Shilpa completed her slogan top with a Chanel bag and military print sneakers.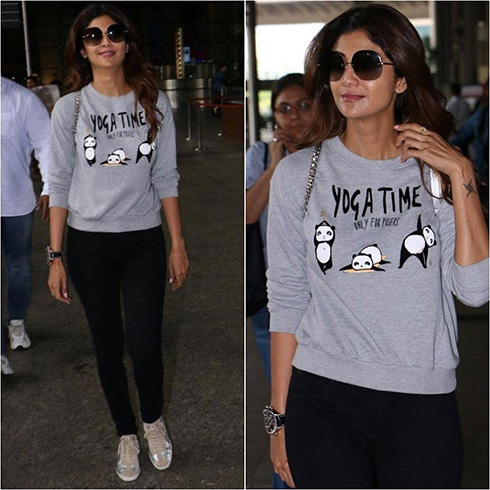 Ameesha Patel
Ameesha Patel may have been missing from the movies, but the woman is definitely not missing in the circuit. Always managing to get that media attention Ameesha's personal style is one of a kind. Wearing a pink sleeveless knotted slogan tee that said, " Seriously, I don't care, Ameesha has clearly shunned her industry attackers and critics.. Pairing her tee with a pair of denim hot pants, the diva most certainly caused temperatures to soar.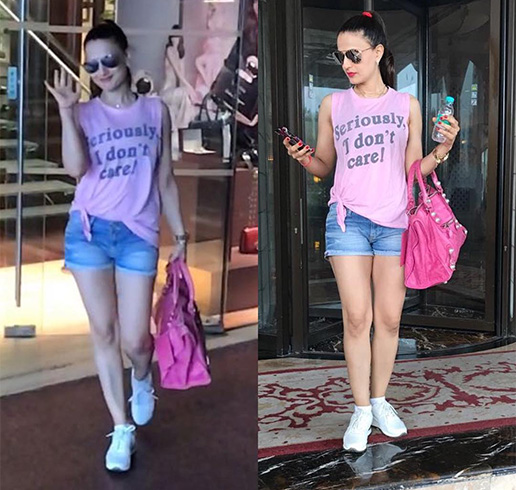 Tapsee Pannu
Tapsee gave us quite a treat early morning as she walked past cameras waiting at the airport. In a self motivating exercise Tapsee's slogan tee was more like her armour to take her through the morning. This " Wake Up, Kick Ass, Repeat tee did be a hot pick for all those morning sleepers. She amped up this day with just out of the bed look day.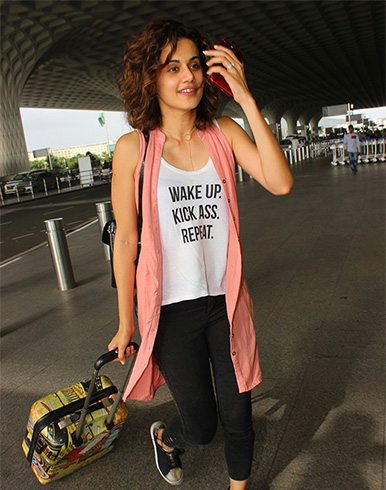 Trending high, a slogan t-shirt gives you the liberty to have it all.
Images Source:instagram