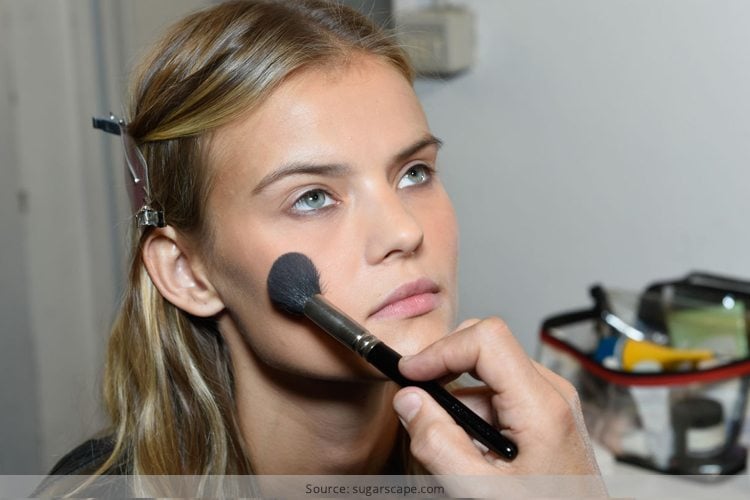 Like clothes, new makeup trends also keep making waves, giving us plenty of excitement to try something new and ooze a completely fresh and beautiful vibe! Regarding makeup trends, contouring has been around for some time and is not showing any signs of leaving us yet! However, it provides us varied twists and flavors like highlighting, strobing, tontouring, clown contouring and even chest contouring! This season, it is catching the fancy of all with striping albeit sun-striping! At a loss! Understandable, but no reason to be despondent! Let's get all you makeup fans updated with all arsenals about the striping makeup technique and trend.
What Is The Striping Makeup Trend?
Striping is the coolest contouring trend hitting us this summer! Basically, it is the new technique of applying bronzer that leaves you looking like you have been basking under the sun on a tropical island for two weeks. Go down the memory lane and recall how the sun hit your face while you were basking in it. It does so from cheek to cheek across the bridge of your nose. Stripping is exactly that! Without the complex moves of contouring, stripping leaves you all bronzed and bodacious with a super fresh, natural and cooler take! A one-product wonder, it lends a natural definition to your face by darkening in a straight line, from one cheekbone to another.
[Also Read: 2016 Makeup Trends: Expert Opinion]
How To Emulate Striping Makeup
Wondering why it's getting popular like crazy? One big reason is that it is super easy to do and almost a surprise cinch to master! You can easily acquire a sun-kissed look which highlights your cheekbones naturally. The striping makeup technique can be done all by itself or you can easily combine it with your other beauty regime. Let's get down to acquiring the look.
Tools
All that you require is a bronzer of a darker hue, foundation brush or even an angled brush to apply bronzer and a sponge or a fluffy brush for blending.
Step 1- Preparing The Face
The first step is to prepare the face for that ultimate sun-kissed look! Start by applying a moisturizer to your clean face. Next, apply a light and dewy foundation from the center of your face, outwards! The trick is to use the sheer ones that cover your imperfections, but does not camouflage your freckles! Avoid the glossy ones which cover the freckles. Concealers can be used to deal with the freckles camouflage. Keep the foundation layer simple without any contouring, strobing etc.
Step 2- Shade In The Bronzer
Now it's time for some bronzer with a compact or bronzer brush. The brush is important here as you do not want to pick up too much of the cosmetic! Now draw the strip from the center of your nose to one side of the face passing from the highest point on your cheeks when you smile. Repeat it on the other side as well! It may look little crazy initially, but do not get concerned! We would even it out. A tip here: – The sun never leaves your skin shimmery. So opt for bronzers that are dark, but not too much; warm though not orange and definitely matte and sparkle-free!
Step 3-The Stripping To Be Polished
Now take some bronzer on your bronzer brush and blend the entire bronzer from the nose to the high planes of your face to lend that seamless and obvious sun kissed look! Buff it well from one cheekbone to the nose and then from the other side. Ensure that no definite lines remain and a nice soft blend ooze out. Apply a little more on the nose if need be! Additionally, apply little near the eyebrows and middle of forehead as well! These are the areas where the sun hits you directly. Admire and glow in your finished look!
Step 4-Finish Off The Makeup
Now it's time to complete the look with a beautiful matching lip gloss or a lipstick. Adding mascara to the eye amps up the look! Though a blush is not a prerequisite, it can be layered judiciously atop the bronzer to cut a bit on the harshness. However, remember to keep the texture of bronzer and blush same for a seamless and blended vibe! Now you are good to go flaunting the new makeup trend!
Stripping is a wonderful technique to add some depth to your skin tone and leave people wondering of you have just returned from a vacation! Try it and let us know how it went for you!