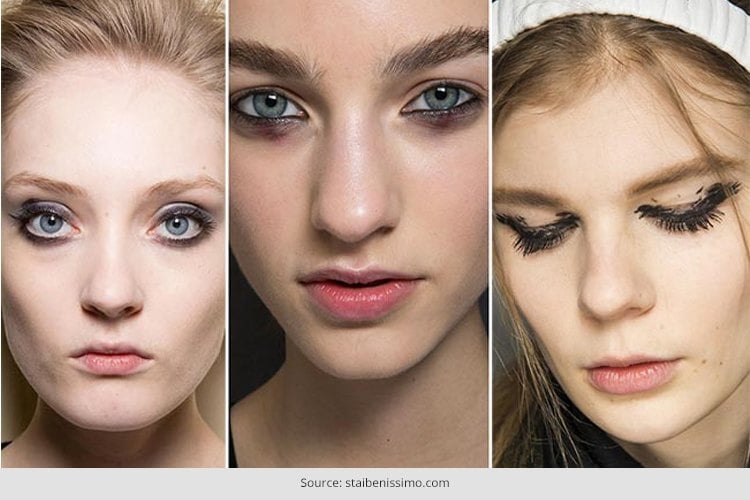 With the advent of 2016, some new Makeup trends are already taking up top spot. While we loved the trends that ruled charts last year, with the end of 2015, people want the older makep trends to be replaced by the newer ones. People want freshness, people want change. If you are one of the IT girls of the fashion industry, you must be well aware of the latest 2016 makeup trends, owing to their constant touch with the top experts in the industry.
[Also Read: Top 5 Makeup Trends]
But what about people like us? Why should we be isolated from the top expert opinions? Therefore, we thought about getting our valuable, ever-inquisitive readers an article with some opinions from top makeup artists on the makeup trends 2016 that will be taking over our lives this year.  Read on to find out more.
Here are some makeup trend 2016
1. Embolden Those Brows – Grace Lee
As stated by the famous Maybelline New York makeup artist, Grace Lee – Bold, striking brows will be making quite the statement in 2016 as they haven't lost much popularity in recent years. Again, defined eyebrows will be huge and quite the makeup trend 2016. So, stop waiting and go get those defined eyebrow classes from Youtube, if you have not still learned how to properly fill in your brows. Make sure to invest in a good quality brow pencil to make sure your brows are filled to perfection.
2. Lighten The Lids – Tim Quinn, Amanda Rodriguez
If last year was the year of the severe liner looks, this is the year of the softer Lids. The softer, sweeter eye looks are Makeup Looks to Try in 2016. As brought forward by Mr. Tim Quinn, the very famous celebrity makeup artist for popular brand Giorgio Armani – Graphic, Bold and statement eye makeup and liners will fall by the wayside in 2016. It is the year for Subtle and Soft grey eye shadow palettes, the soft metallic hues while the unexpected pop of colors will be huge.
[Also Read: Top Makeup Artists In Hyderabad]
The pops of color shall come in shades of red and related reddish hues, says Amanda Rodriguez, who is an in house artist at the Urban Decay. She states that the Sunset pinks and corals, which have always been popular in spring inspired makeup, will be used unexpectedly a lot on the eyes. The artist also goes onto suggest that pairing a rosy hued palette with the bright, candy colored lips should work wonders.
[sc:mediad]
3. Flaunt Your Pout – Lee
The bright lips that came to be so loved in 2015 will be around and pretty much the 2016 makeup trend as well. Shades like classic red and rich browns that are generally considered to be in the wedding makeup range, will be quite the rage in 2016, so make sure you find the right bold colors that suit your skin tone and stock up for the year of the Loud Lippies!
[Also Read: Best Organic Lipsticks For Purely Kissable Pout]
Bold lips are a staple no matter what season or year it is, and 2016 makeup trends will have your lips shining like never before. Lee says that perfectly outlined 'power lips' aren't going anywhere in 2016 and neither is the 90s influence. Lee also went onto say, Whether dressed in a classic red, a taupe, a brown or a matte wine shade, lips will make a bid statement on their own this year.
4. Glowing Skin – Tim Quinn
While there is always an innate liking for matte makeup, the glowing and luminous skin will be part of the latest makeup ideas in 2016. Dewy foundations and highlighters are going to be staples in the coming year. The foundation forecast for 2016 makeup trends leans more on the lighter and brighter side. Tim Quinn, a celebrity makeup artist for Giorgio Armani tells us that Glowing skin is back and blush is making a comeback. He also goes on to state that he loves pairing freshly layered tones on cheeks with soft eyes to balance out the pastels in spring clothing. This means it's about time you sharpened up your stroking skills to get a natural, illuminated complexion everyone will be seen rocking.
5. The No Makeup Look – Kanika Gogia
The No-Makeup fresh faced look was a huge hit in 2015 and it's going nowhere this year. You'll probably see a lot more of the no makeup looks in 2016. Kanika Gogia, the Makeup director of Toni & Guy, India thinks the makeup trend 2016 India is probably going to be all about minimal makeup or no makeup look with a dewy, luminous, austere face. Clean and clear skin is definitely in fashion in 2016 but that's every year if you ask experts.
[Also Read: How To Use Makeup Brushes]
Now that you're prepped for the coming year, focus on the present latest makeup tips and tutorials to be in best shape for making use of these trends!