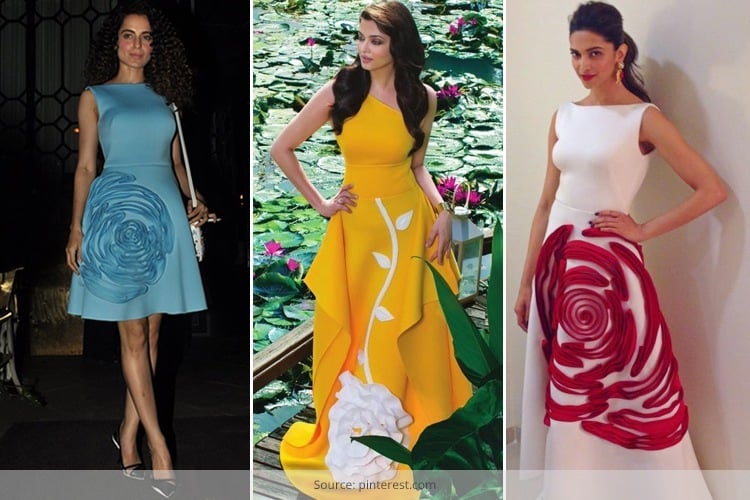 At the Wills India Fashion Week (S/S 2015) Gauri and Nainika presented an array of clothes which took our breath away.
The colours, the textures, the prints and the way they fitted the model's body, had us drooling. One specific design that caught our mind was the flower. They incorporated an open rose sort of flower on their dress and right at the moment, we wanted to see the different versions of that dress on our celebrities.
[Also Read: Indian Fashion Designers and their Muse]
Recently, Bipasha Basu was spotted in one of Gauri and Nainika's creation and we have to say, we loved it!!
Here's what she wore –
We had seen many versions of this dress previously, but there is something about the styling of this one that caught our eye. It's perhaps the neckline and how gorgeous Bipasha looks in that hairstyle. Also, can you guys see her floral pumps? Ms. Basu gets brownie points for this!
We also love her dark nails.
Deepika Padukone
Another version or rather variant of Gauri and Nanika's dress was worn by Deepika Padukone back in the day while she was promoting a movie. Ms Padukone's dress was our favourite (now it's Bips!). The red on white made the dress looks rather majestic and the way it was styled with red and gold earrings had us gasping for air!
You can see the red shoes peeping underneath her dress. On any other dress, matching shoes and earrings would look like an overload but the white balances everything out. Don't you think?
[sc:mediad]
Also, we love the red lips!!
Aishwarya Rai
Before we favoured Deepika Padukone's dress, we were in love with this mango-yellow version of Aishwarya Rai's dress. There is something about the yellow dress that makes us feel at peace. Ms Rai went the soft way and didn't overdo her appearance. Soft makeup, soft side swept curls and a hand cuff completed her look. We likey!
Kangana Ranaut
Another Gauri and Nainika dress was spotted on Queen – Kangana Ranaut. Ms Ranaut had the short version of it with a flower on the lower left of her dress. Her dress was more monotonous with blue on blue theme. Her curly hair added the right edge to her appearance and made her look lively! Matching bag and pumps finished her look. Love, love!!
[Also Read: selena gomez red carpet]
Priyanka Chopra
The way Priyanka Chopra styled her entire appearance, gave her a very dated look.. Especially her hairstyle. Though the flower was small and bunched up on her waist, it stood out and made her look gorgeous!! Even Priyanka Chopra went the sombre way and let her dress do the talking. Slight smoky eyes with nude lips completed her look.
Also, do you guys like her statement ring?
FashionLady Tip of The Week – Less is more!!
Take inspiration from these ladies and let your dress do the talking. It isn't imperative that you style your dress with accessories/matching clutch every single time