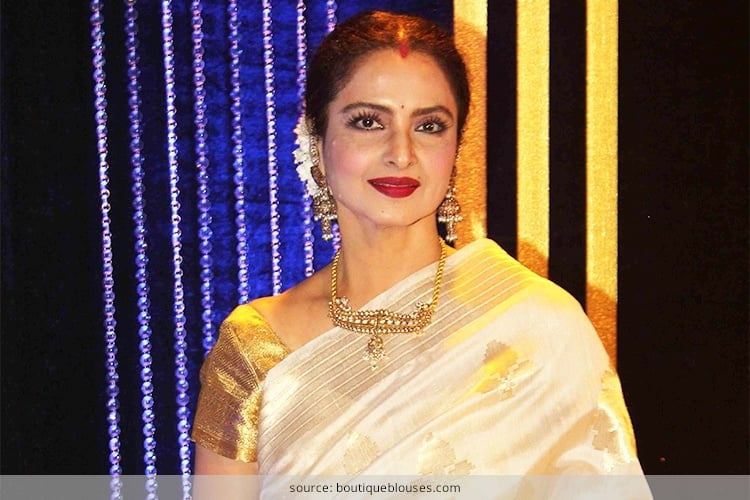 She's a Heart Stealer! The first thing that comes to anyone's minds when the name Rekha Ganeshan AKA Rekha (The Bollywood Diva) is uttered would be the plethora of female-oriented movies the actress has done and won accolades for. The sultry siren from down south stole the scene, being paired opposite with leading male superstars of her time. From Mr. Amitabh Bachchan to Rishi Kapoor, Jeetendra to Rakesh Roshan, she's been romancing them all. Her movies have taught women the importance of self-empowerment, and nonchalant to the world and its rumours of branding her a cult follower, Rekha our evergreen Bollywood actress till date burns the silver screens of multiplexes and movie halls around the globe. More than just her charming and very au naturale beauty, the dressing style of rekha and Rekha's sense of fashion is the tohfa every PYT back then and even today follows! Brace yourself; because Rekha is more than just the sarees she wears. Here are the ten best looks we collected for show sake!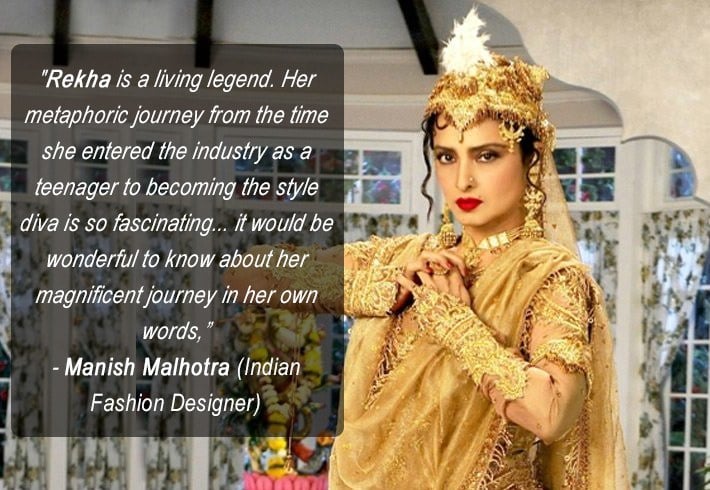 Rekha Sporting Statement Jewellery
While the movie Utsav showed us the epitome of dressing up in Indian chunky statement pieces, our diva Rekha took it one notch up dolling up in the best of maangtikas (hair accessories), naths (nose rings), churis (bangles) and statements necklaces.
The Vintage Twiggy Eyed Look
Pearls and the twiggy eyes, did wonders for Kate Moss when she first began her career in modelling, but let's back up a bit and check out our desi diva who dolled up in a similar fashion much before her Hollywood counterpart. Rekha in the twiggy eyed look with pearls for the neck and a rockabilly white bandana crochet hat, sports a look quite ravishing!
Bollywood Celebrity Rekha Style: Playing a Vamp
Playing Super Nani for a Bollywood flick, Rekha leaves no stone unturned in looking the part. The actress in all black with touches of metallic tones, dresses for a stern appearance – one that can make the Adam's Family run for cover!
Chic Updo's And The Oxidised Look
Black is back and with a bang when Rekha sports it too. Caught in a black monotone shirt and a pair of trousers, the top to toe monotone look is further enhanced with an embellishments of oxidised silver jewellery, a chic bun updo and red lips!
[Also Read: Deepika Padukone's Bun Hairstyles]
The Scent of a Woman
2010, Filmfare Magazine, Rekha stole the hearts of a million across the nation and the world, posing in a trendy yet very sensual bunny suit and heels. The look for the fifty-something Indian diva was a challenge, said no one ever. Rekha knows how to pose and she does it with total flair!
Quite the French Nanny Attire
From traditional to the fusion of Indo-Western wear, Rekha has always stunned the silver screen with an amalgamation of fashionable outfits. This time however, in 1995 posing for a well-known fashion magazine, actress Rekha was dolled up as a French au pair! "Voulez-vous Rekha"
Dressing Style of Rekha in Umrao Jaan
The movie Umrao Jaan was a smashing hit at the box office, and starring opposite Mr. Amitabh Bachchan, Rekha left no string uncut to make many hearts swoon at the title number in the film – Salaame Ishq. Dressed in a pretty Anarkali with red luscious lips and plenty of statement jewellery to flaunt, Rekha was the reason why many men couldn't have restful nights' sleep, the right way!
[sc:mediad]
Blast From the Past
When Rekha first entered the Bollywood film industry, she was told her body was 'too thin' to be an actress and that the 'dark sultry skin' could be an impediment towards her success. Rekha proved the world wrong and came out strong; proof that the right attitude and a sense of style with a vintage touch can make heads turn!
Parineeta's Courtesan
While she played the romping flirtatious courtesan in the movie Parineeta, Rekha in her fifties brought back the rocking times of Kolkata in its prime seventies. Flanked by other well-known actors in the movie, Rekha in her gorgeous red crochet and sheer saree, matched with the vintage eye makeup and hairdo, stole more than just the evening!
[Also Read: Different Ways to Wear Eyeliner]
Of Pixie Cuts and Pouty Lips
Yes, Rekha catches up with the times and doesn't hesitate to match up to trends and fashion tales galore. Sporting a pixie cut with matte brown pouty lips for a famous fashion magazine, showed us how Rekha is all game to experiment with new-age fashion!
[Also Read: Ode to Jaya Bachchan]
There are many more looks and dressing style of rekha can floor us all, but for that we'd need to have a voluminous book of a million pages dedicated to the sultry vintage actress. Loved this post? Send us a line or two about a look on Rekha you'd like to try!