As we did our counts for favorite wardrobe must-have for all year round, we came to a common conclusion. And that was linen sarees. This traditional staple can take you through the 9-6 timeline slot, from the desk to evening parties. Even as the weather shifts, the arsenal of linen sarees looks can be paired with different looks. You may trade your traditional weaves with tailored blazers, denim jackets, structured bags, bustiers, and block heels alike.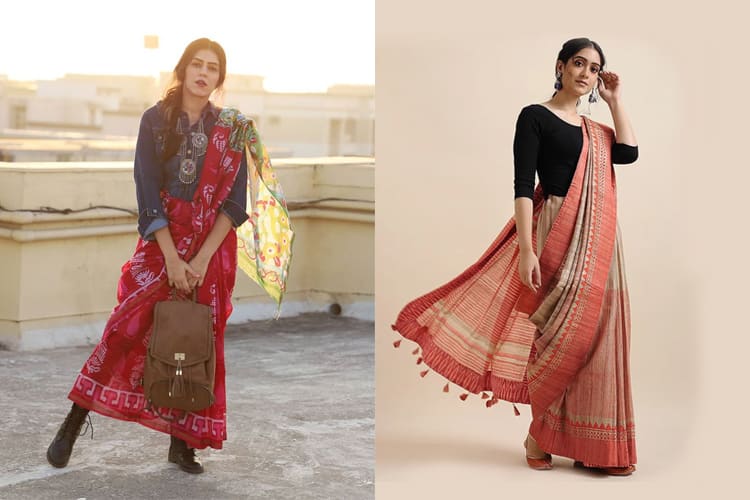 Ahead are some of our favorite looks on how to carry off a linen saree. Get ready to be inspired and shop-of course.
How to Get it Right with Linen Saree:
Wearing linen sarees will be a breeze next thing with these five great tips. Take a look.
1. The Party Look:
Not all linen sarees have to be set aside with the regulars. Don't be afraid to pick it up for parties. We recommend wearing them with jewelry, hair, and makeup with a bit of texture for making that statement. Whichever party you're heading out to, be the belle of the ball in bold jewellery or vintage chokers blended with smoky eyes and natural waves.
Or if you are wish to give it an androgynous spin, match your weaves with denim jackets, sneakers, and turtleneck t-shirts.
2. The Office Look:
Dressing up linen saree for the office can be quite a challenge-making sure you don't sweat profusely on your commute, to making sure its HR approved, the list goes on. To navigate the tricky situations of wearing linen weaves and making it office appropriate, you just need to invest in few no-fail outfit combos like block heel pumps, crisp white shirt, blazer or jacket combo.
3. The Right Blouse:
A blouse can bring out an interesting contrast if you pair it right. You may replace the conventional plain blouse for a kalamkari one or even a bustier to add glamour. Also, wearing the linen saree with a printed crop top can score you some style points.
If you are attending an evening party, then you can throw in more experiment with your blouse choices. Choose between crop tops, halter necks, and full sleeved blouses for making the ultimate bold statement.
4. Choosing Matching Shoes and Bags:
There are no shortages of matching shoes for linen sarees. You may fancy up your shoe style options with juttis that have embellishment on them. We mean how divine, right? Or cozy up your feet with modern choices like brogues for a super chic look.
And to complete your linen saree outfit pair them with a gorgeous handbag whether you're headed out for work, or out partying with your friends. Cubic top handles, colorful patterns, potlis, and basic tote bags can add major edge.
5. The Perfect Accessories:
The classic accessory choices with linen sarees are silver antique pieces and vintage jewelry. It can give your look a fusion finish. Also, other pieces like chokers, earrings, and layered necklaces can stand out on its own.
You can now keep your eyes on all the fail-proof pieces mentioned above and add to your collection. We hope these ideas keep you covered next time you choose to wear a linen saree.