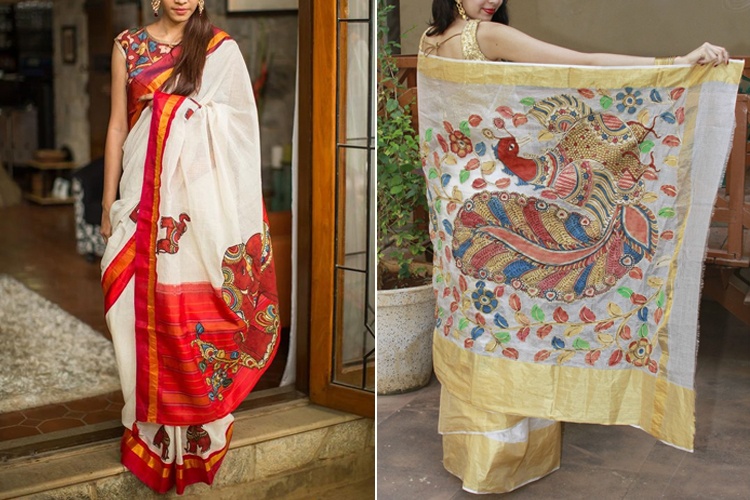 Women are crazy about kalamkari work sarees and the designs it comes with, and the best part is that they aren't costly to buy too. As Indians, we are so proud having the kalamkari work sarees that are most talked about, after benarasi and kanjeevarams. The rich handloom production of kalamkari work sarees is mind boggling, and the ancient art has become a trend setter in the fashion world now. So let's take a look at its history while feasting our eyes on the kalamkari sarees designs seen.
KALAMKARI SAREES DESIGNS
Beautiful And Traditional
The art of Kalamkari began around three millennia back, and is an ancient art-work much spoken about. The paintings back in the day were done with date palm sticks and bamboo sticks, which had fine hair attached on the ends that worked as a pen or a brush.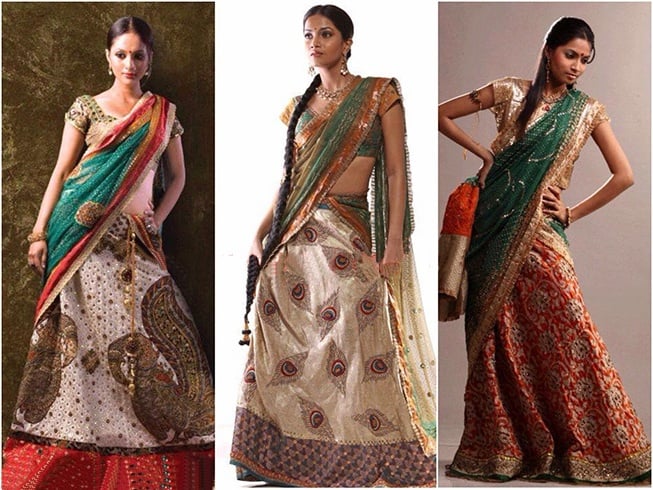 In the days gone by, Kalamkari paintings were done only on cotton sarees, but nowadays one can see it on silk and other materials too. These days Kalamkari is diversified into painting and printing techniques, and the colors are very organic as well, made from plants and roots, leaves and stems.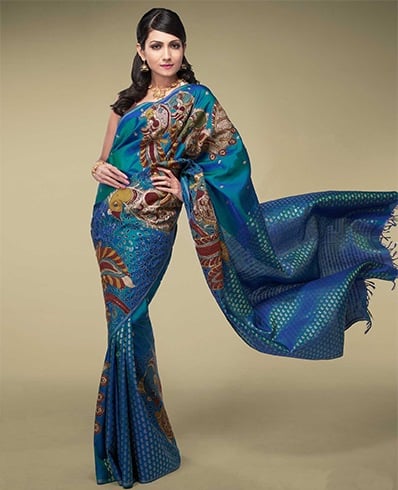 The word Kalamkari comes from Persia, and breaking it into two words it means Pen (kalam) and Work (kari), hence Kalamkari. In the ancient days, Kalamkari was born from storytelling.
[Also Read: Styling And Elegant Embroidered Work Sarees For The Festivities Ahead]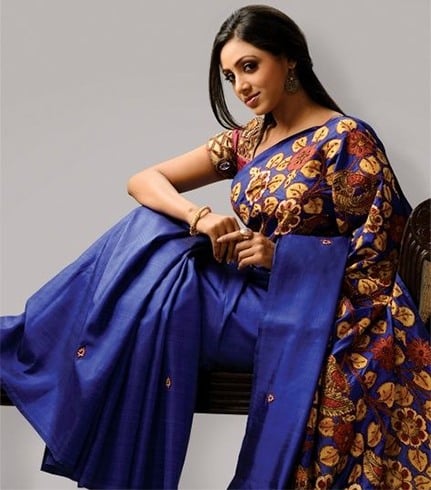 It was back then when minstrels would travel from one village to another and tell stories through pictures painted on canvases. All the epics and mythological stories we have ever known in ancient Indian contexts, were told through Kalamkari – the same is now seen on designer Kalamkari sarees as well.
[sc:mediad]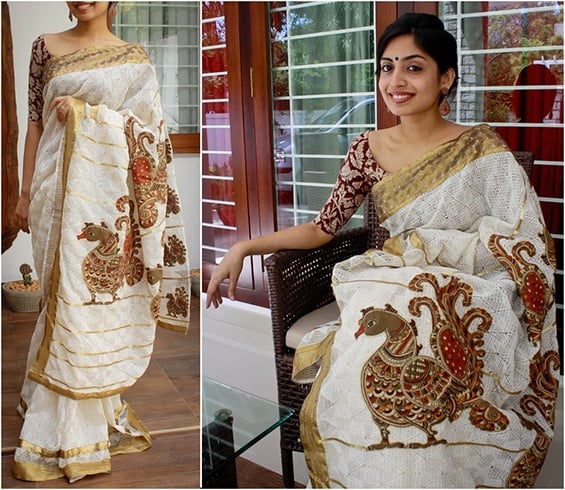 It is estimated that three-fourth of the karigars in India are associated in the production of Kalamkari and handloom sarees. And not just any karigar is allowed to work on it; only the well-trained aces behind the scenes produce the best Kalamkari sarees.
This is why the entourage of Kalamkari sarees are elegant and rich and thus a big hit with saree lovers across the nation. The age old art has been revived by designers too, and the sales of such sarees have hit the roof across the markets in India.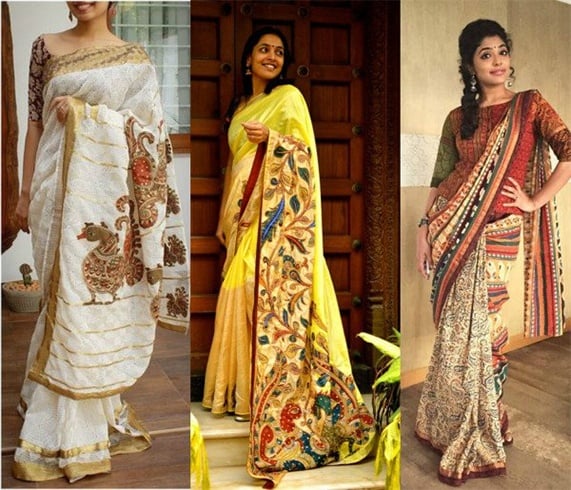 In This Day And Age
In this day and age, Kalamkari sarees are a fashionable bunch to wear and flaunt, especially with designers giving the age old ancient art a modern twist. Some are worn as sarees, whilst others are twisted into indo-western wear!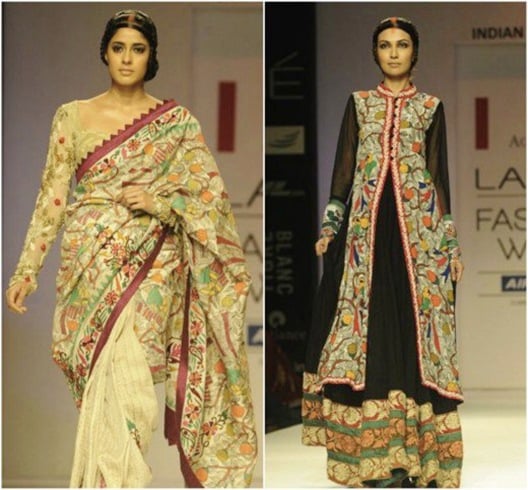 Take a look at some of the very gorgeous Kalamkari applique work and applique saree designs.
1. Floral touches in gorgeous pink silks. Perfect for an elegant wedding reception look in lovely Kalamkari designs.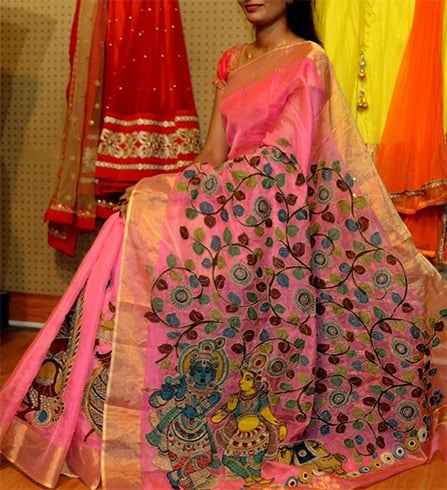 2. A shade of gray to wear to work with Kalamkari designs on a Friday or for an after office party, makes a chic haute look come around so pretty!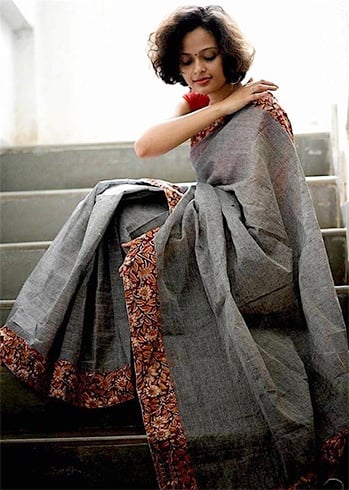 3. Stellar mustards on a silk saree worn with Kalamkari designs brings out the vibrant personality within on a sunny day out.
[Also Read: Lehenga Sarees With Blouse Designs]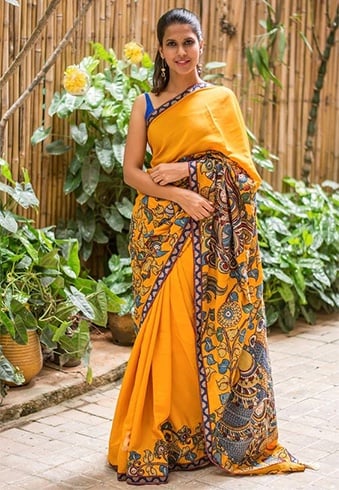 4. Perfect for the festivity season around, a gadwall cotton sari with Kalamkari designs and motifs makes for a princess touch and an elegant appeal.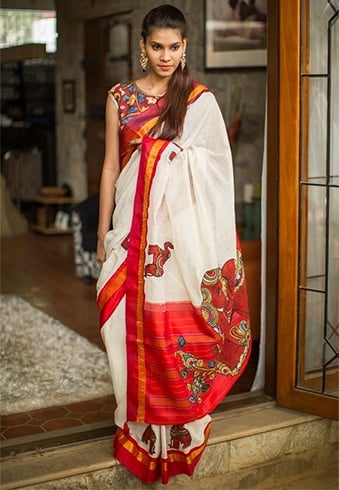 5. Navy blue chanderi silks with a red touch on the saree and the Kalamkari designs can make the evening look shimmer and shine!
Do write in and let us know what you thought about this post on Kalamkari designs and the sarees too. If you have worn Kalamkari in the past, do also let us know how you have styled them and what are the accessories traditionally best worn with such designs! We are looking forward to hearing from you on that!
Images Source: Pinterest