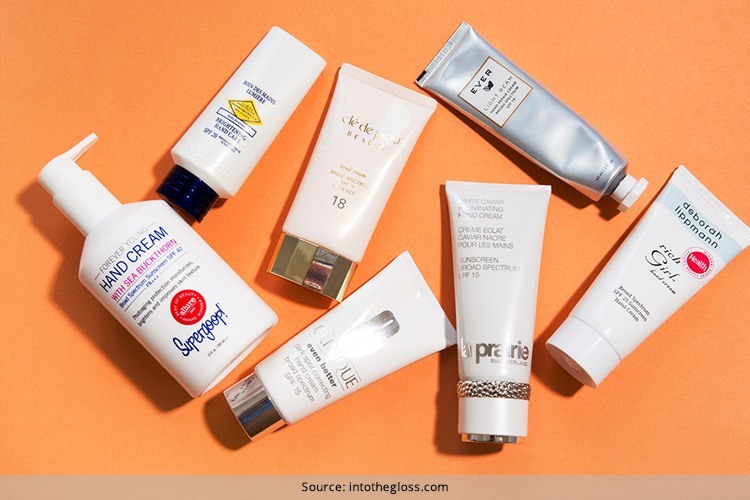 So many sunscreens we stock up in our cosmetic wardrobe to shield our face from the harmful UV rays. Ever thought of the harshness our hands face every day – due to cooking, washing and cleaning chores? This is one reason why, hand cream is what your hands badly need, no matter what season. After all, are you going to show off your dry, cracked and roughened hands in office, meetings and parties?
The best hand cream not only keeps your hands soft and hydrated, it also provides a protective layer. So that, everyday activities don't come in the way of nourishing and nurturing of your hands.
The best would be to use hand cream with SPF, so that you can benefit from it completely – protection from the sun, moisturisation, soft hands, etc.
List of hand cream with sunscreen
Just like your face creams, even hand cream should have SPF in it. So that when you buy hand cream with SPF, you can expect protection and relief from dark spots, and get a younger-looking effect on your hands.
Best Hand Cream Brands With SPF
Let's check out some anti aging hand cream and see how our hands have a protective formula from sun and daily harshness.
1. Clinique Even Better Dark Spot Correcting Hand Cream Broad Spectrum SPF 15
This is the perfect damage eraser for your hands. It reverses the appearance of dark spots and age spots, skin discolorations, thereby creating an even skin tone. Moreover, it keeps your hands moisturised all day.
2. Supergoop! Forever Young Hand Cream With Sea Buckthorn SPF 40
High in protection, this hand cream with SPF has sea buckthorn oil in it which helps reduce hyperpigmentation caused by UVA/UVB rays. Since this hand creams for dry hands comes in jumbo pack size, you can keep it on your desk and constantly apply it, whenever you feel the need.
3. Avon Anew Clinical Absolute Retinol Even Spot Correcting Hand Cream SPF 15
The SPF hand cream from Avon hydrates your hands with shea butter, and reduces aging signs with retinol.
4. Neutrogena Norwegian Formula Age Shield Hand Cream SPF 30
This anti aging hand cream hydrates hands, at the same time it protects them with special helioplex sunscreen, thereby giving your hands the best sun protection.
5. L'Occitane Immortelle Brightening Hand Care SPF 15
Lightweight that it is, this hand creams for dry hands not only shields your hands from sun damage, the Immortelle Essential Oil in it fights wrinkles. Plus the Vitamin C in it brightens uneven skin tone.
6. Deborah Lippmann Rich Girl Hand Cream
Talk of manicure, and you need a good quality hand cream, don't you? The SPF hand cream from Deborah Lippmann has a rich formulation of shea butter, jojoba oil, avocado and botanicals that help hydrate and nourish your hands. The SPF 25 in it keeps your hands well shielded from any type of photo damage.
7. Shiseido Benefiance Protective Hand Revitaliser SPF 10 Sunscreen
Meet Shiseido anti aging hand cream which is an extension of the brand's anti ageing line of products. Formulated with Vitamin C and botanical extracts, this SPF hand cream evens out any sun spots that occur on the back of your hands.
[Also Read: DIY Cuticle Creams]
8. Boots No. 7 Protect and Perfect Hand Cream
Getting younger looking hands is very much in your reach with Boots No. 7 Hand Cream that lightens up dark spots. The SPF 15 in it protects your hands from future damage.
9. La Prairie White Caviar Illuminating Hand Cream SPF 15
Once a while, there is no harm in going for luxury products. La Prairie anti aging hand cream fights skin discoloration with the help of licorice root extract, whereas caviar extract firms up skin so that you get more youthful looking hands.
[sc:mediad]
10. Retinol Anti-Ageing Hand Cream With SPF 12
Softer, smoother and younger looking hands can now be yours with Retinol anti aging hand cream that comes at a budget-friendly price.
11. Kama Ayurveda
This organic hand cream is made with 100% Organic Cold Pressed Sweet Almond Oil, Organic Cold Pressed Coconut Oil, and has fibre, Vitamin A, E and minerals.
12. EVE LOM Hand Cream SPF 10
A luxurious hand cream that offers a pleasant smell and leaves a non-greasy effect. Being a little low on the moisture part, most recommendable for normal to oily skin people.
13. Lancome Anti-Age Spot Replenishing Unifying Treatment SPF 15
Lessening the outlook of age spots and folds, this creams provides replenishing moisture to protect your hands from the sun. Gives clearer and more toned skin.
14. Jergens BB Hand Cream SPF 20
A budget friendly hand cream that exudes a subtle floral scent and is perfect for both summers and winters. Moisturizing while winters and a good SPF for the summers. It gets absorbed in quickly leaving a non-greasy feel.
15. Cle De Peau Beaute SPF 18
This hand cream lasts for long on the hands protecting them with a good SPF, with a semi natural matte finish. A foundation and a sunscreen, makes this cream perfect for dual purpose.
Drop in a line and tell us which hand cream is what your hands are craving for.