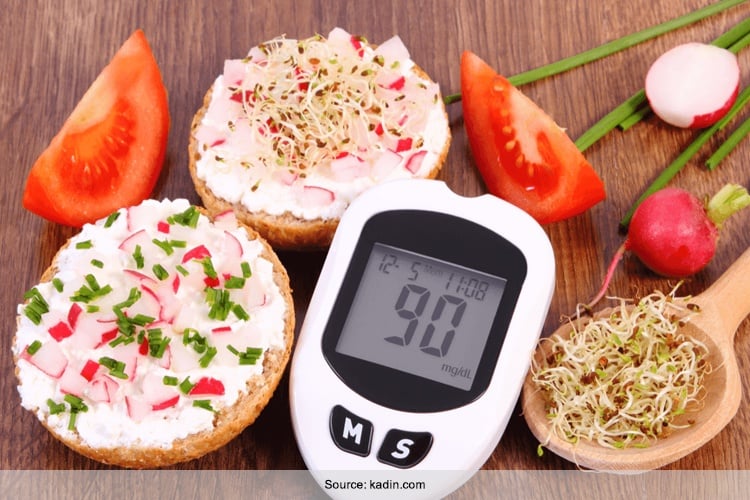 There was a time when diabetes was known as the rich man's disease, something only senior citizens of a particular economic class would suffer from. But with the invasion of technology our lifestyles turned sedentary and soon diabetes became an epidemic. It's heartbreaking to see young children suffer from diabetes that prevents them to enjoy the simple joys of childhood like enjoying an ice-cream or a cotton candy. It's a challenge to manage diabetes, but with some basic knowledge about the disease and by following some simple do's and don'ts you can enjoy the 'good things' in life. The first thing to do is to note your pre-breakfast blood sugar count. Once you have the numbers, stock up your kitchen with breakfast staples that are safe for diabetics. Breakfast, the first meal of the day is very important, and choosing a healthy option for the first meal can become a little difficult, that too when you are racing against time. Keep the pantry brimming with healthy food options helps you get a diabetic-friendly breakfast on the table without wasting precious time contemplating the menu. Check out these 7 sumptuous breakfast ideas for diabetics to kick-start your day in a healthy, tasty and power-packed way.
7 Super Easy Breakfast Ideas For Diabetics:
Go ahead and find out some simple and safe breakfast options that will help you keep your blood sugar under control:
1. Eggs:
Show me a person who doesn't like eggs and I will show you a liar. Hard-boiled eggs are a perfect quick-fix food option that is safe for diabetics too. To avert a time-crunch in the morning, prepare a big batch of boiled eggs at the beginning of the week. Now you just have to heat it up a little, and serve it with a bowl of salad to your family for breakfast. To prevent any coronary problems and to keep a tab on your cholesterol levels eat no more than six eggs in a week. You can pick the omega-3-rich organic eggs at the store. Hard-boiled eggs can also double up as healthy evening snacks for diabetics.
2. Oatmeal:
Oatmeal is yet another yummy and healthy breakfast staple. It can be cooked easily and quickly, not to forget how yummy it is. To make your oatmeal more delicious, sprinkle some nuts, berries and other seasonal fruits. I prefer adding a bowlful of plain yogurt and two teaspoons of honey instead of milk to my oatmeal. These fruit toppings add their goodness in the form of fiber, vitamins, and antioxidants to the breakfast bowl. All these nutrients make it a balanced meal that helps regulate your blood sugar instead of spiking it. Studies suggest that oatmeal helps to decrease the insulin resistance in some individuals. For an easy preparation, cook the oats in a rice cooker and make enough quantity to last for about 4 to 5 mornings. Serve them in single serving pots and store them in the refrigerator. Uncooked oats, like muesli, are also a great breakfast option.
3. Muffin:
You might have thought tossing up a diabetic-friendly breakfast must be a Herculean task, but who knew even muffins could be a great option for blood sugar patients! Well, the truth is they do make for a soulful breakfast for everyone in the family! Just be careful to choose a multigrain one. You can make it more wholesome by topping it up with some low-fat peanut butter. It's a win-win situation as you can pamper your sweet tooth without going on a guilt-trip! You can stock-up some extra English muffins in your refrigerator. All you have to do is just warm it in the microwave oven and enjoy them in the morning. Sounds great! Right?
4. Yogurt and Fruits:
Low-fat or fat-free plain Greek yogurt is tasty by itself, but it's even better when mixed with delicious fruits. This heavenly combo makes for a refreshing breakfast for diabetics. Greek yogurt has a low carb and a high protein content than your regular yogurt! We suggest you buy small packs of it that would help you limit the portion size. You can add some chia seeds to your daily bowl of fruit and yogurt to get that extra kick of energy.
[sc:mediad]
5. Omelets of all kinds:
An omelet is a safe bet for diabetics especially when you have to attend a breakfast meeting. According to the Egg Nutrition Center, a large egg contains about 6 grams of protein. When cooking the omelet, skip the meat, butter, and cheese. Add a bowl of sauteed veggies to take care of your hunger pangs until lunch. If you want to skip on eggs, do so. Whip up besan instead, that's how vegetarians make their omelet. A dash of pepper, a pinch of salt will bring in the extra deliciousness.
6. Pancakes:
If you love having pancakes always make them with multigrain bread. Instead of buying your pancakes, make them at home to keep a check on your portion-size and toppings. Avoid adding any maple syrup or honey to your pancakes. Instead, slather it with a dollop of peanut butter and it will taste like heaven!
7. Burritos:
If you want your breakfast to be king-size and you have the luxury of preparing an exotic meal then this is your go-to breakfast option. You can use a cooking spray to toss the tortilla. You can add a lot of crunchy veggies, a little low-fat cheddar cheese, and some diet sauces to pamper your taste buds in a healthy way!
Hope you found our list of 7 diabetic-friendly breakfast ideas easy and mouth-watering as well! Remember for diabetics both quantity and quality of food are critical. It's important to get your blood glucose level measured, before and after a meal, every once in a while, to understand whether you are eating right. You can even consult your dietician before trying these breakfast ideas to play safe. If you are a diabetic share your favorite breakfast recipe here with other health enthusiasts.