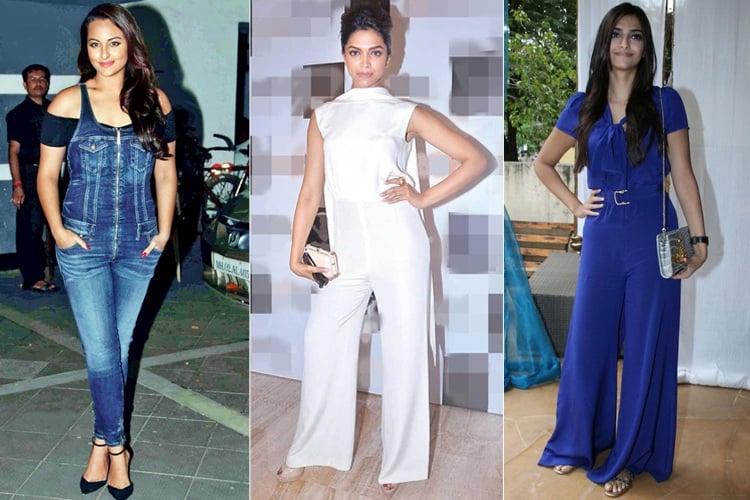 Jumpsuits have become an essential in every wardrobe lately, and the popularity can be attributed to the increasing number of celebrities channeling this look. Bollywood actresses have in fact nailed it, and are rocking these in all occasions. They have shown you can wear a jumpsuit to the most formal evenings and some real casual occasions alike.
Celebrities Wearing Jumpsuits
Let's take a look at our very own Bollywood celebrities wearing jumpsuits. If you follow them closely, you would know to master it and rock it like a diva too.
[Also Read: A Style Guide On Jumpsuits For Plus Size Women]
Kareena Kapoor
Red hot Begum Khan is the best advocate of a jumpsuit, I would say. She was one of the first celebrities wearing jumpsuits, at least in Bollywood. But then Kareena doesn't do anything unless she is absolutely sure of it. The red onezee with its plunging neckline that she wore to a promotional event for Heroine was by far one of the actress's best appearances. And she did a wonderful job by adding some detailing of a sleek gold belt to it.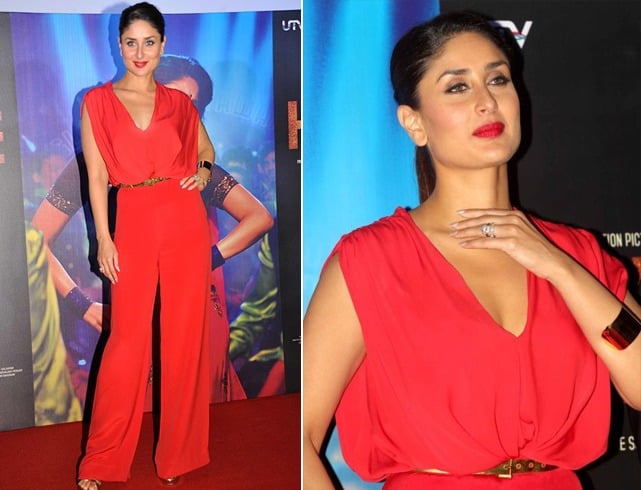 Alia Bhatt
The style gurus in the industry share a fond opinion that Alia Bhatt tries to emulate the style of Kareena Kapoor Khan. But we aren't totally hating on it. In fact we are really glad she does that, speaking of which if she picked up this adorable jumpsuit being inspired by her muse, we are voting for it. Doesn't she look absolutely adorable in this blue jumpsuit paired with chunky pink heels and pink lips.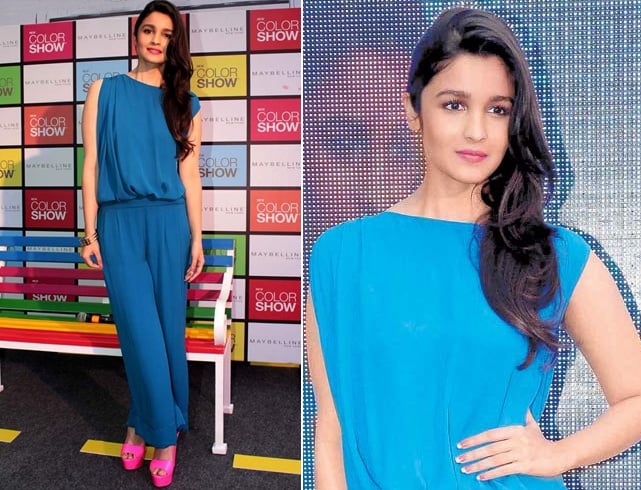 Deepika Padukone
If the number game at all exists in Bollywood, Deepika Padukone wears the sash undebatedly. And it is only logical for girls across the country to follow the fashion sense of these gorgeous woman. When other Bollywood celebrities wear jumpsuits, they must have Deepika as the benchmark, as she wears them very often. May be it's the comfort of the ensemble that attracts the heroine toward it – we are totally digging all of her jumpsuit looks.
Sonam Kapoor
You can't bring anything on the fashion table till the fashionista of Bollywood nods her head to it. Luckily jumpsuits didn't have to wait for too longs. Sonam has been wearing them largely, and by the look of it, we can say, yet again, the Ranjhana actress has played her A game.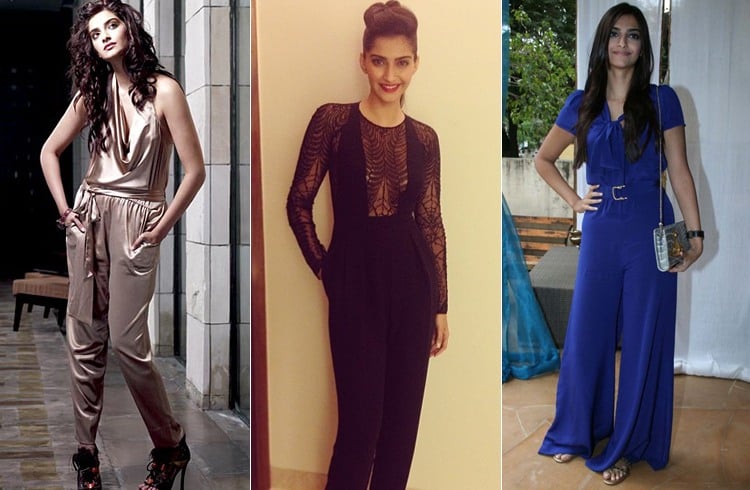 Kajol
Kajol was never celebrated as a fashionista per say, she was always appreciated for her level of acting skills. But the tables were turned after she made a comeback following a short break post marriage and motherhood. She has now joined the gang of Bollywood actress promoting the jumpsuits. But Kajol, like always does it with a difference. Check out how she embraces funky printed jumpsuits.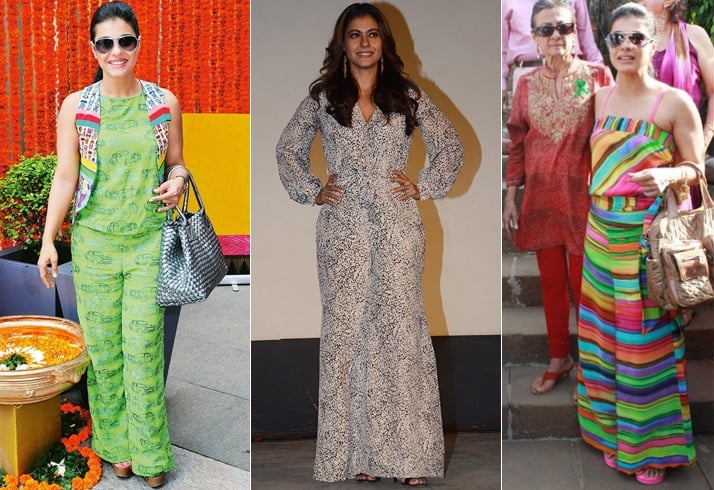 Sonakshi Sinha
The beauty of this attire is that they don't favor any particular body type, one can enjoy a good jumpsuit any time of the day, irrespective of one's size. While we have super tiny actresses like Alia Bhatt rocking these bad boys, the curvalicious Sonakshi doesn't miss out on looking a million buck in this polka dotted retro style number. She slayed in the off shoulder jeans jumpsuit too.
[sc:mediad]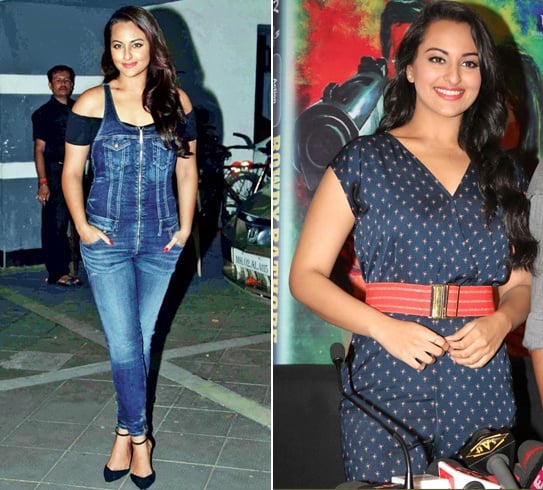 Priyanka Chopra
The actress has flown across ocean and her style speaks what is latest in the world fashion arena. So following the 'Quantico' actress's dressing won't be a wrong decision, if we want to make a mark, would it? After turning toward Hollywood, Piggy Chops, have taken to a fondness of jumpsuits and have been spotted in a pair of coordinated babies even at red carpets. Check her out, shall we?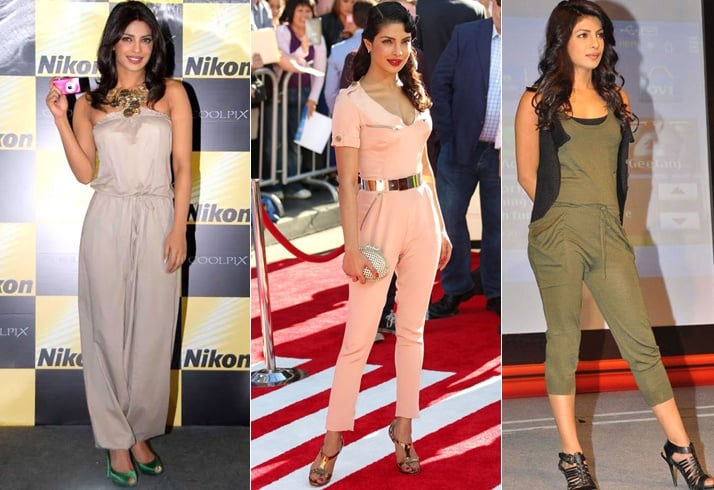 Celebs In Short Jumpsuits
Now as we said already, Jumpsuits can be worn on all occasions. For a more fun and casual event, you might pic one that is one the shorter side. They will make perfect for a day of shopping or lazing out with friends. Observe how our girls from planet Bollywood work the short jumpsuits.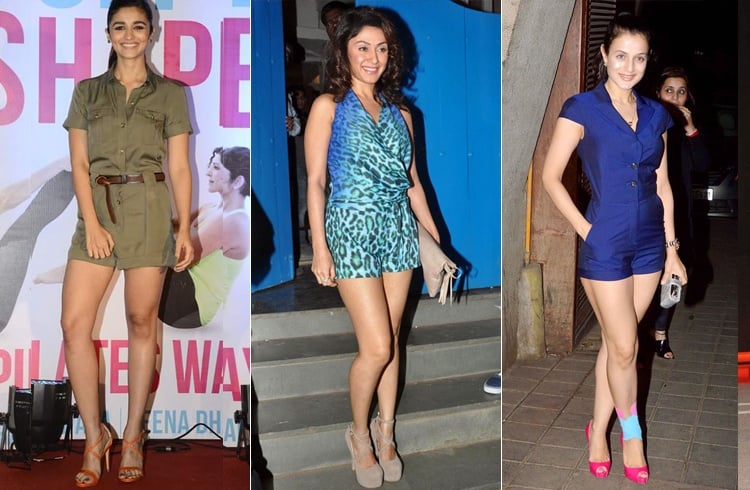 Having ogled at some of the most beautiful actresses in Bollywood showing a love for Jumpsuits, let's save a minute to see how the international zone is favoring the attire. From pop singers, to actresses, to super models, no one has been able to give up on this attire – just have a look and you will know why!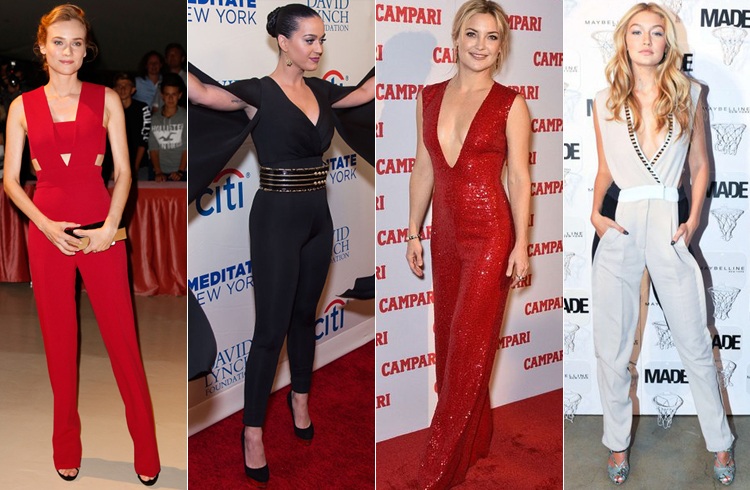 One piece of garment favored by national and international celebs alike, it is safe to say, the Jumpsuit is getting bigger by the day. I won't be surprised if it replaces the jeans someday. Time to hoard my closet with a bunch of these babies – what are you buying this weekend then?
Images Source: rediff.com, /beautyandmakeuplove.com, pinterest.com