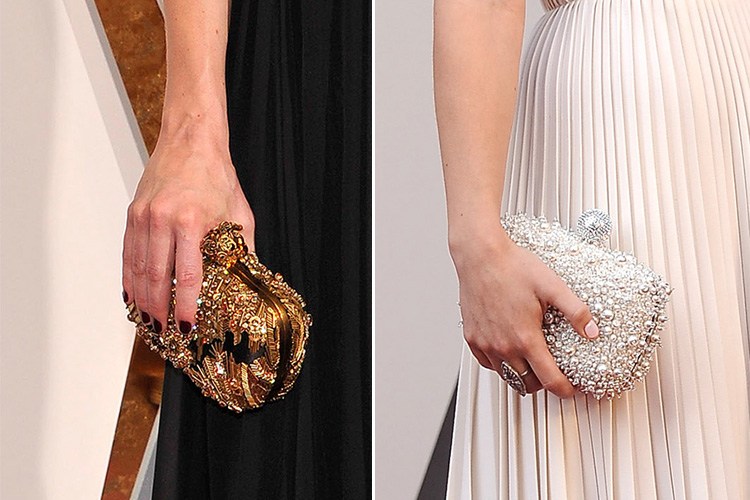 Clutches, the more we have them, the more we want. This is true with the evening clutch, since it is small to house just about anything within, and is easy to haul and carry about too. the evening clutch it seems is a hit with our Bollywood divas, and especially at formal events and parties, which is why we would like to show you seven beautiful and very trendy designs on the evening clutch that you can flaunt like a diva!
If You Like The Bling
Most of us like PINK, the color and if there are touches of stones, crystals and bling on it with a feminine aura to the same, wouldn't we just love to have the clutch by Kate Spade Evening Belles Lucinda. You can carry this gorgeous beauty to a formal gathering or a special event, and more than what you are wearing you would be noticed for the trendy clutch bags in hand.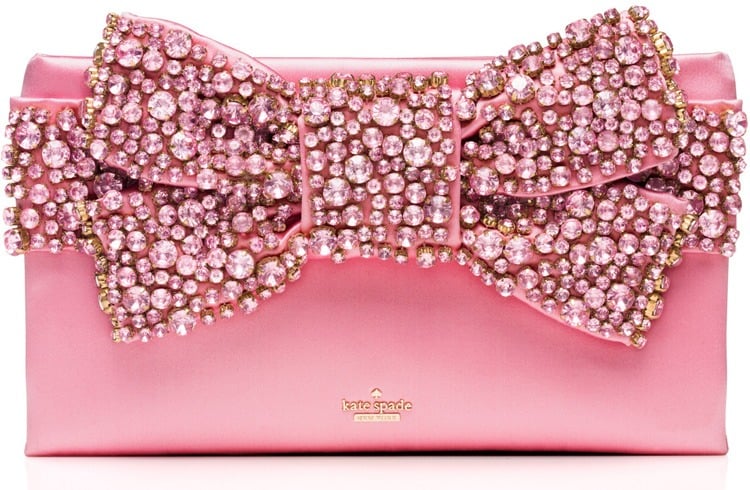 Beating The Blues In Life
For most of us trying our best to beat the blues, here's the Valentino Embellished Ombré Chiffon Clutch which can help do so. Quite a vibrant touch to carry around, especially if you are into mix and match of solid colors wearing Indian or indo-western wear, even ethnic too! You can razzle and dazzle, and make the best of evenings happen with the beautiful ombre shaded blue beauty in hand. What we love the most in the design aspect here with this clutch purse is the chunky string of beads and flowers with ruffles beneath!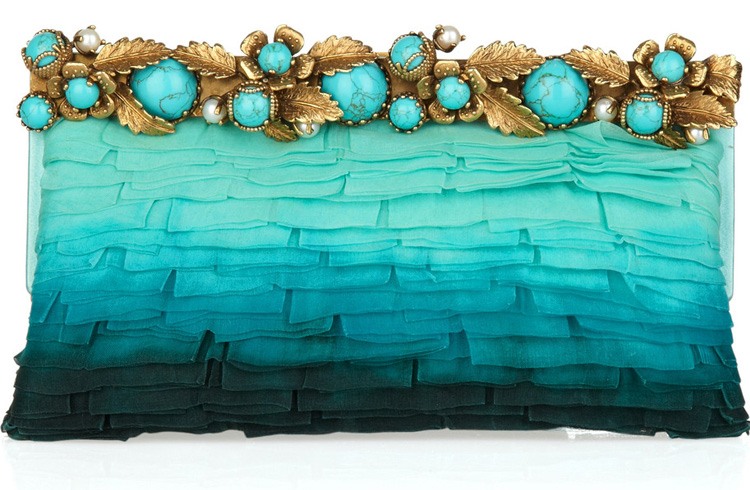 Gorgeous Reds
From the house of designer Oscar de la Renta, once again it is proved that fashion is meant to adorn and it is the brainchild of creativity and imagination. Bestowed in dark reds so haute and hot, Oscar de la Renta brings to the PYT a tantalizing dose of beauty in her hands. Embellished with metallic tones of flora and fauna, the Oscar de la Renta creation of the clutch is a work of art and glamor combined.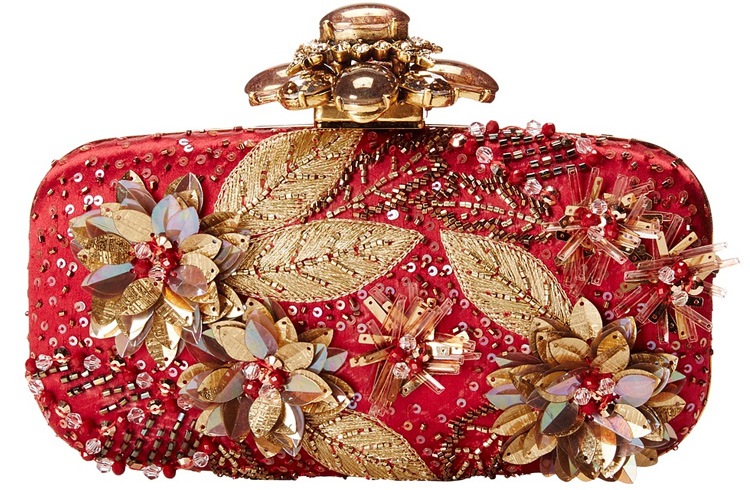 Sleek From Ralph & Russo
For the woman at work attending an after office party, and would want to make an elegant statement in her office wear, here's a gift from Ralph & Russo that can spruce up the vibrancy around. The sequins embellished clutch is a beauty to have in your hands, which can gel well and blend into neutral toned formal wear. One can also think of carrying this Ralph & Russo beauty at weddings or as a bride to be to keep her things in when the rituals are on.
[Also Read: 15 Different Ways to Carry Your Clutch Bag]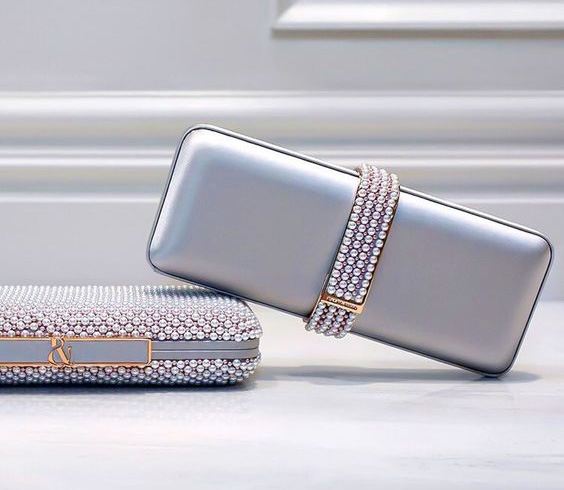 Valentino Evening Clutch
Neutral toned and very feminine, embellished with a large crystal embossed bow for company, the Valentino Evening Clutch for a party fashion statement would surely make you the envy of many PYTs around. Make heads turn not just by your personality or what you wear, but by what you carry as well. The one of a kind collection, the Valentino Evening Clutch is a classy addition to western formal wear or gorgeous bridal wear too, and you cannot go wrong carrying this satin bodied beauty around.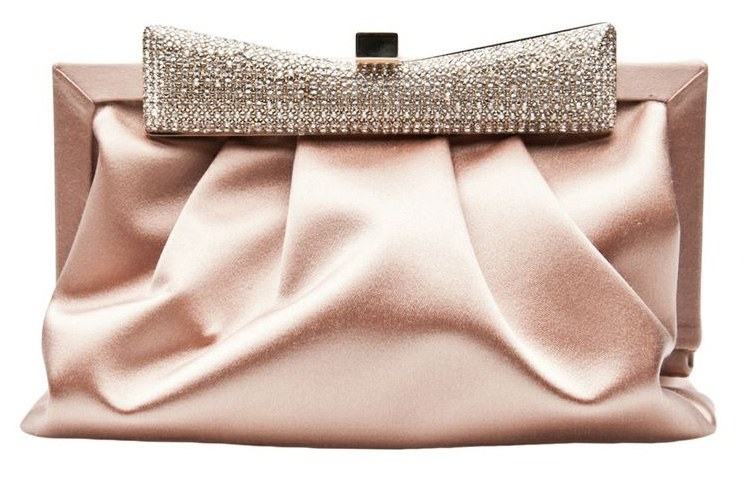 Dolce & Gabbana Dolce Embellished Caiman
From the house of Dolce & Gabbana, the Dolce & Gabbana Dolce Embellished Caiman is a masterpiece to look at and a must-have desirous trend to carry. Quite quirky and with leather tones on it, the embellished Dolce & Gabbana Dolce Embellished Caiman clutch is perfect for evening parties with friends where the mood isn't too uppity and formal. What we love with this summer clutch is that it brings about the seventies vibe!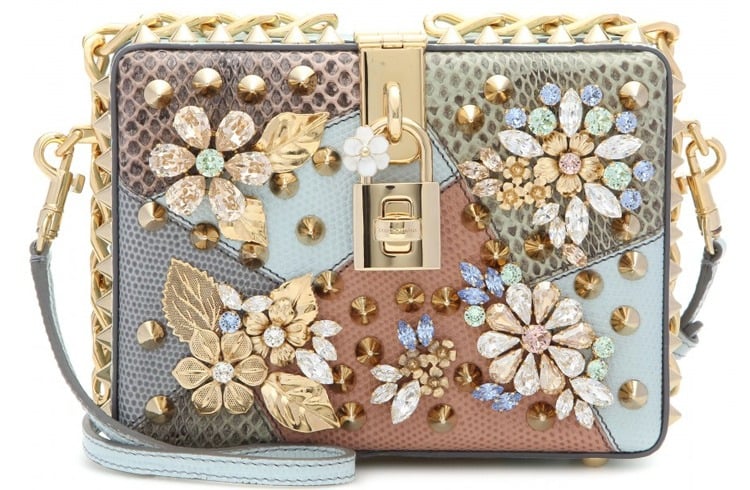 Chelsea Hardcase Clutch
For the lass that doesn't like to try too hard or give up too soon, the Chelsea Hardcase Clutch is a fashion statement she wouldn't mind flaunting at her bestie's wedding or baby shower. Embellished with sequins and floral work, the neutral toned, rustic and very earth Chelsea Hardcase Clutch is a beauty to carry when you wear western and street style ensembles. A perfect match that makes your personality swoon and come alive!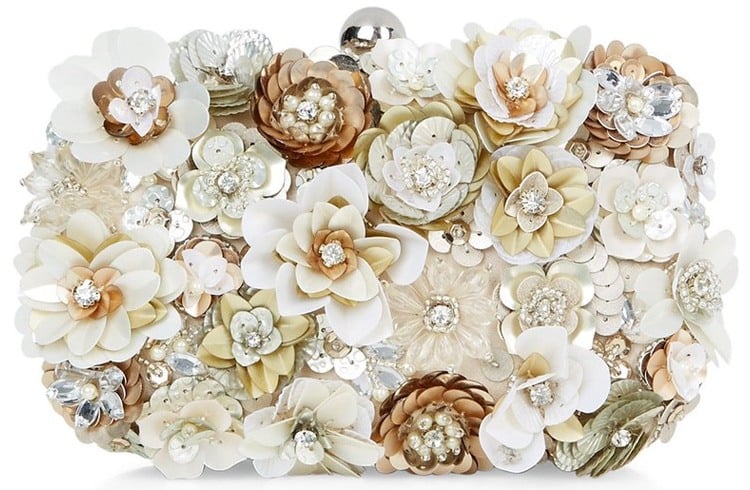 Do let us know about your taste in clutches, and if you liked the seven designer cute clutches and ladies clutch bags we showed you today!
Images Source: pinterest.com