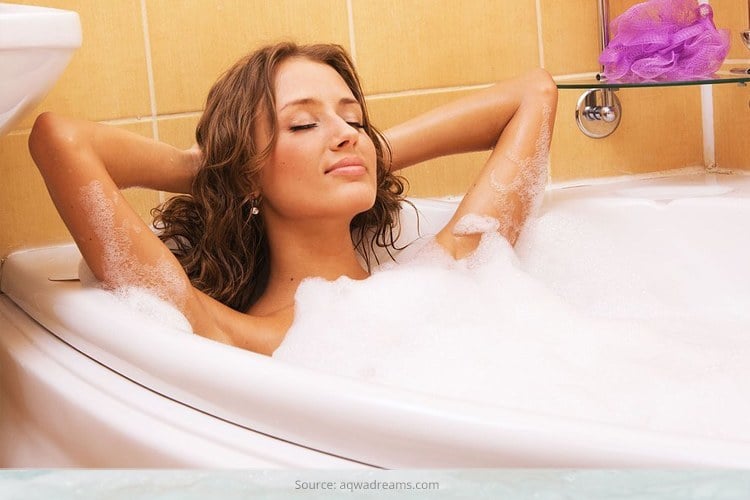 Would you believe it, if you were told that a bath could help soften your skin? Believe it or not, this is the truth. Bath salts and essentials oils have been a part of bathroom racks for years now. But, not many know of skin softening bath products. It's like a double deal! You get softer by just spending just 10 minutes taking a nice soak sitting in foamy, bubbly water. Sounds relaxing already right?
[Also Read: 15 Bath Salts You Can Buy in India]
Most of the time, we dread taking out even a few minutes for replenishment of the body, forget taking out time for a daily beauty regime. The result? Parched, rough, scaly skin from the daily exposure to pollution and sitting in air conditioned rooms for long periods of time and Vitamin D withdrawals from lack of sunlight, sitting at office desks all day long. Altogether these make it tough to lift our spirit. The solution is to come up with some skin softening tips that you would love following on daily basis. In this case, just warm baths. Scheduling in time for a soak in the tub might seem like an extraneous task at first, but once you start fitting it into your daily regime, you wouldn't be able to stop due to its most relaxing effect. It can help you get rid of what's left of your daily office blues.
Skin Softening Bath Salts
Starting from natural aroma-therapeutic sea salts that relieve stress to the flirty bubbles that will transport you to a beach scene, we are bringing you a comprehensive list of 7 luxurious skin softening bath salts:
1. Bamford Geranium Bath Oil
Priced at Rs. 4250, Bamford's moisturizing formula is mood-boosting, making it absolutely irresistible. The intelligent mix of ingredients exudes an aroma that sets the mood for a perfect rejuvenating bath.
2. Aveda Stress Fix Soaking Salts
Priced at Rs. 2772, the Aveda stress fix soaking salts help soak away the day's stress by adding a serene touch to your bath experience. Its trio of lavender, clary sage and lavandin essences is known for its unique ability to relieve and release the travesty of the day. This is one of the best skin softening bath salts available in the market currently.
[sc:mediad]
3. Fig + Yarrow Floral Milk Bath
Priced at Rs.2112, the Fig + Yarrow floral milk bath, with essential oils and a pleasant floral scent, feels like a lovely escape. If your skin is in need of some pampering, look no further than this bath formula. With moisturizing ingredients like fig, yarrow, shea butter, and macadamia nut oil this bath protects your body from seasonal damage.
4. Tokyo Milk Bon Bon Bubbling Bath
Priced at Rs. 1452, the Tokyo Milk Bon Bon Bubbling Bath is the perfect solution to dry parched skin. The kit's mineral clay and milk mixture instantly decongests and rids your body of toxins. For a fact, sitting in a tub full of frothy lily and vanilla scented bubbles is a sure cure for what's left of your office blues.
5. Lush Cosmetics Milky Bath Bubble Bar
Priced at Rs. 660, the Lush Cosmetics Milky Bath Bubble Bar is best for treating the peak seasonal dryness. This bubble bar is unique as it crumbles under warm running water as you fill the tub. The bar packed with ingredients like cocoa butter, skimmed milk, and olive oil. These combine to give you ultra-nourished skin in the driest seasons leaving your skin is soft and smooth.
Two special mentions in this list would have to be a natural skin softener for bath and homemade skin softener for bath. If you love taking the natural route, you will be amazed by the results of these two bath products.
6. Herbivore Botanicals Detox Dead Sea Bath Salts
Priced at Rs. 1188, the Herbivore Botanicals Detox Dead Sea Bath Salts is the only natural skin softener on the list. These all-natural bath salts will treat your dehydrated daily-worn skin and saturate it with some much needed moisture. Spend 10 minutes in the bath to ease muscle tension from a hectic week. For best results, add some of your favorite relaxation tunes and you will hit peak relaxation in style.
7. The Homemade Bubble Bath
We thought we should also include a skin softener bath recipe, thus we came up with a Bubble Bath recipe that doubles as a Moisturizer.
The ingredients:
3/4 cup of soap flakes
4 Tbsp of either kitchen Sunflower oil or grape-seed oil
3 Tbsp glycerin
A few drops of your favorite essential oil (not compulsory)
The Steps:
Step 1: Dissolve the soap flakes in one cup of boiling water stirring it gently. Once the soap is dissolved add the sunflower/grape-seed oil and glycerin, then the essential oil if you're using one.
Step 2: Along with the running water pour in 5 tablespoons of the prepared solution. You should get a fluffy, bubbly bath ready for you.
[Also Read: Shower Ideas And Head Bath Tips For Healthy Hair]
Store the rest of the solution for your next bath. The entire mix should last you about a month or so at room temp.
Now, that you have the list, get your hands on one of these and have an ultimate relaxing experience.