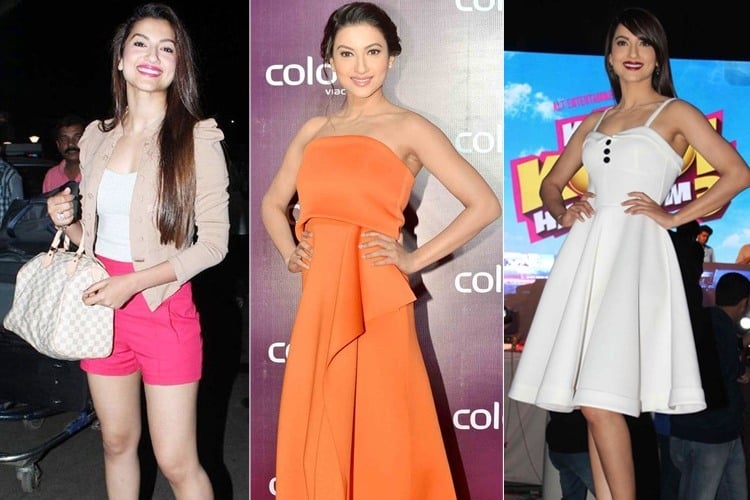 Isn't it amazing that Gauhar Khan, celebrity, model and actress, and winner of Big Boss Season 8 shows us how to rock the scene in just about any ensemble you pick? Yes, that is gauhar khan fashion for you; styles so pretty and chic, where it doesn't look as though the celeb has tried too hard to make a fashionable mark. So if you too would like to take a cue from the book of beauty, hosted by gauhar khan fashion tales, here's your chance. Here are ten super trendy, elegant and very chic gauhar khan fashionable styles that you could wear just about anywhere. And you don't necessarily have to wear designer outfits to look like a princess.
Amazing fashion files from former Miss India and Bollywood hottie Gauhar Khan
Gauhar charms us always, with her looks, her talents and her mind blowing smile. But what we love the most about the long legged slim and beautiful lass is her sense of style. Some say she is much better than her sister Nigar Khan, but we shall leave the comparative talks to the materialistic world. Gauhar shows us how you could wear just about anything and create a princessy look for the day or the night. Take a look and get inspired in gauhar khan fashion.
10 GK styles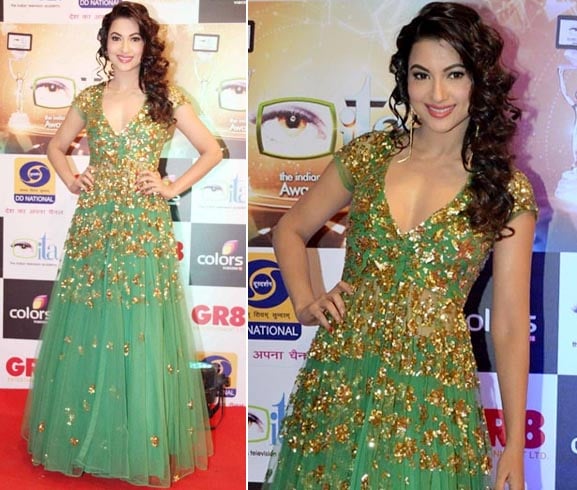 1. For The Love Of Playful Reds
We love red and it seems gauhar too loves a pop of the hue now and then. What we see here is a clever play of warm toned reds with neutral toned browns in matte shades on a lovely long skirt. The look comes complete with a sleeveless white top and peppy heels for the feet.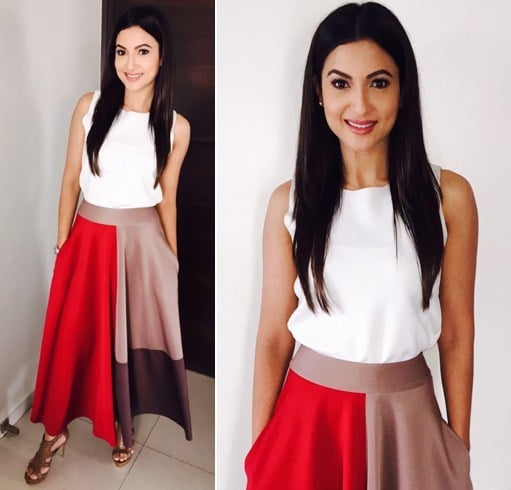 2. We Told You She Loves Reds
A cropped embroidered full sleeved top and a layered crepe skirt is what she wears to an award ceremony, and looks smashing in red too. Her hair is done in a vintage style which resembles the Gatsby days and the makeup is kept minimal with a healthy red lipstick for glam sham.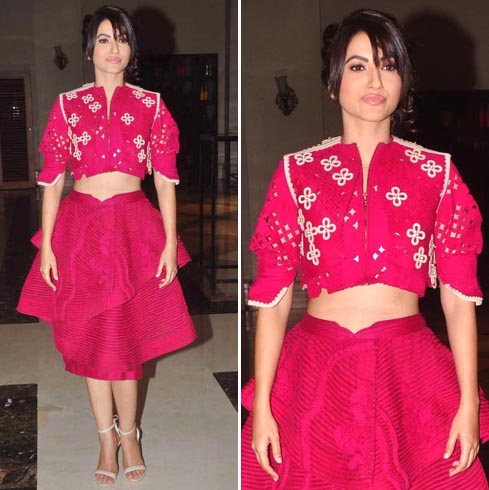 3. Pink Hot Pants
From the family of warm toned shades comes pink, and when hot pants in them are worn with a neutral cropped jacket for a summer party evening, you become a diva automatically. The look comes clean and complete with a pair of nude open toed heels and a duffle bag in the nude tone!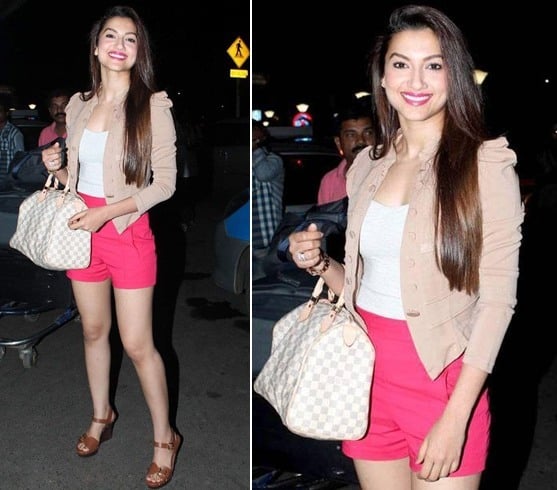 4. Box Printed Tops
If polka dotted tops aren't your thing, you could try box printed tops in pop of colors to wear with a warm toned knee-length skirt. To add more oomph and innocence to the look, you could have a flattened pony tail for company and minimal yet healthy blushed cheeks for makeup done. Wear wedges to bring the vintage 70s style to the feet.
[sc:mediad]
5. An All-White Princess
Baby suits for women have always been a sensual way to flaunt innocence and charm, and gauhar does it best with a white baby suit that has a low V neck line for oomph and crisp hemlines for the shorts. Complete the look with white shoes or heels for the feet and a high ponytail for company.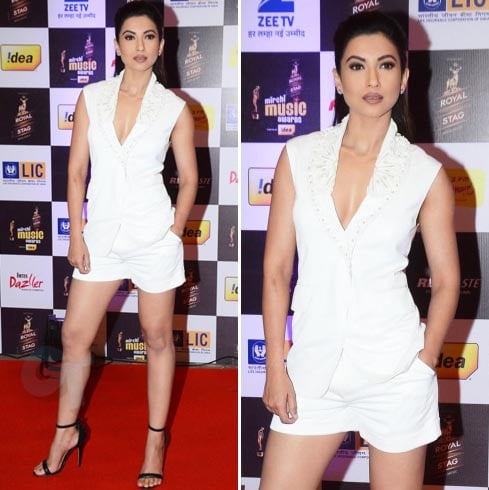 6. An Off Shoulder Orange Number
Drape an off shoulder orange evening cocktail gown and watch how the world goes praising you for the style you have. Enough said, wear this look with daytime warm toned makeup for the early evening party and add a little oomph with heels to flaunt the style!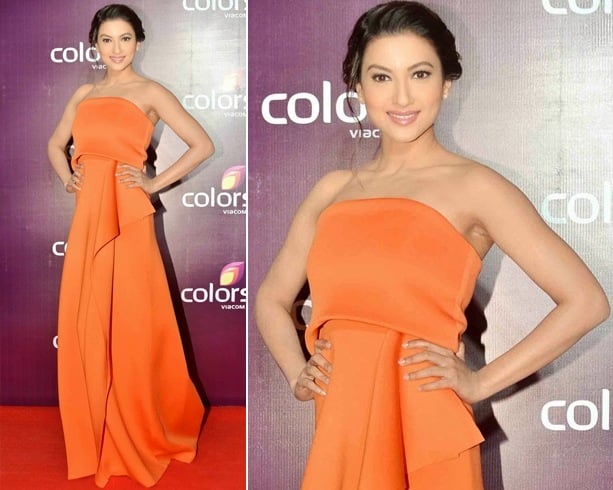 7. To Go All Desi
Three styles of wearing your salwar right, in colors nice and warm, vibrant and with radiance embedded that too. Notice how the look comes as clean, especially when worn with a nice pair of heels.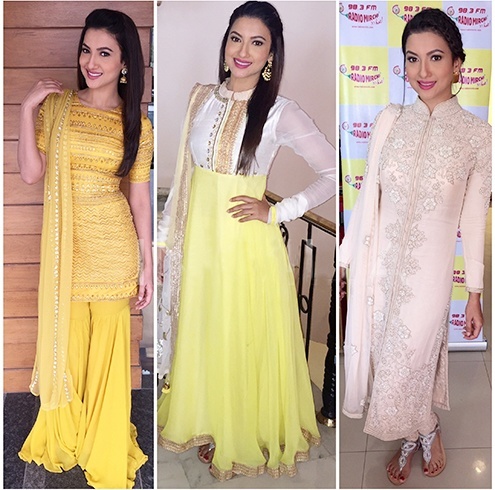 8. Some Days Aare Just Gray
An all gray trainer suit for gauhar makes and redefines airport fashion. Notice the chunky glasses worn by the lass- balances the look, doesn't it?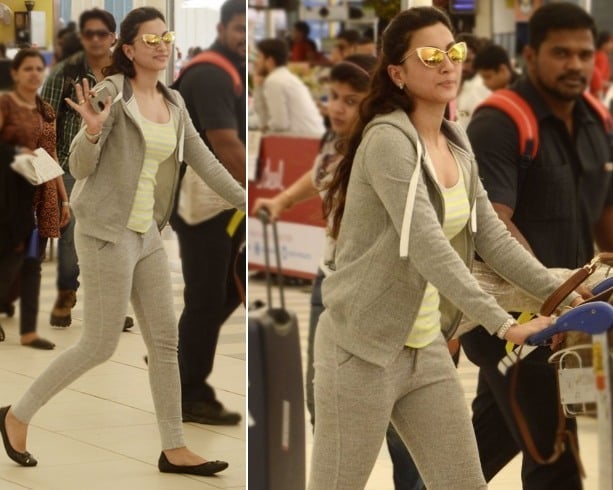 9. A Spaghetti White Frock
Spaghetti white frocks are best to wear for social events, special moments, dates and parties too, since the color comes as soothing and supple on summer days and nights. Complete the look with wedges for the feet and red lips!
10. Pretty Printed Frocks
To add more oomph to your party wear collection, a printed party frock is a must-have!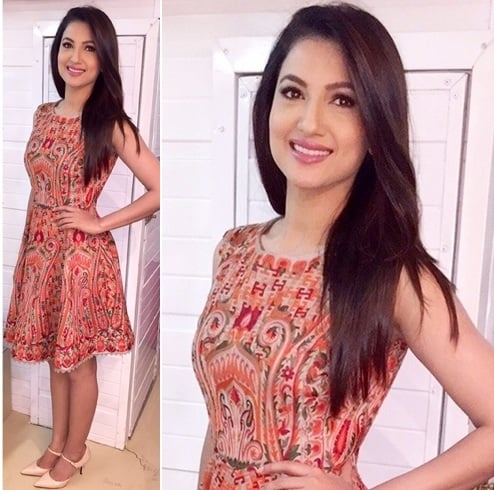 Ravishing, isn't she!
Images Source: pinterest.com, ibnlive.com