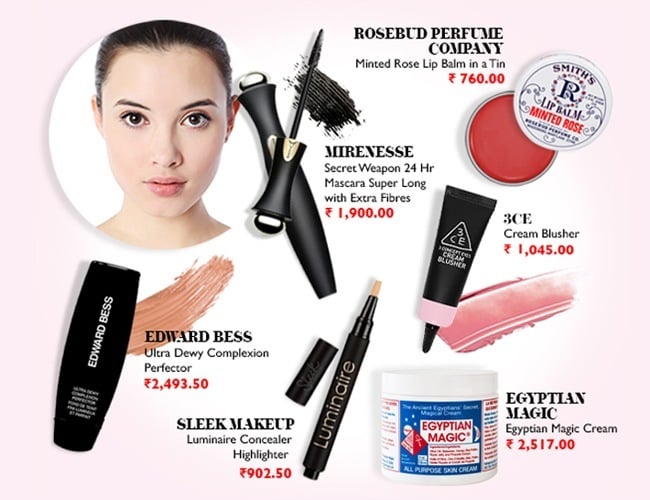 Today is your lucky day, beauty lovers! Because Asia's #1 beauty site, Luxola now delivers to India!
Gone are the days of shopping inconvenience. At Luxola, you can shop your favorite cult, global beauty brands whenever and wherever. What's more? They are delivered straight to your doorstep – with free shipping for orders above INR 950! And that got us thinking about a whole new beauty look that we could bring to you guys – it only takes five minutes at most!
Forget extravagant flicks of liner that take forever to perfect or dramatic lips that jump off of your face.
This year has seen the beauty world obsess over natural makeup and a fresh approach to beauty in general.
What's key to this look is fresh-looking skin, plump lashes and a healthy glow. It's all about enhanced naturalness and is based on the belief that less is more.
Best part about this makeup? It's so simple it won't take you more than 5 minutes to do!
Subtlety is Key
Firstly, moisturise your skin. EGYPTIAN MAGIC Cream is a cult-favourite all-purpose moisturiser that is anti-oxidant rich and will keep skin hydrated without looking greasy.
Going bare-faced with just moisturiser would be ideal, but if you're not one of the models that walked Marc Jacobs' S/S '15 runway and want to cover up a bit more, we suggest you do so as lightly as possible.
[sc:mediad]
To even out the skin tone, use a product that provides light coverage with a slightly dewy finish (because natural skin is not matte!) like EDWARD BESS' Ultra Dewy Complexion Corrector. Then, cover up more as needed. A highlighting concealer, like SLEEK MAKEUP's Luminaire, will conceal any imperfections and dark circles while adding glow.
Next, add blush to the apples of your cheeks. Apricot and peach colours are generally complexion brightening, so try 3CE's Cream Blusher in 'Baby Peach' – it will warm up your skin tone while adding dewy, radiance!
When it comes to the eyes, put away your shadows and liners because it's all about the lashes!
Dark, full and lush lashes are essential to this look so make sure you have premium mascara at the ready. We love the Secret Weapon 24 Hr Mascara by MIRENESSE because the brush is perfect for getting right to the root of the lashes and the dark formula is designed to lengthen while there are extra fibres for creating absolute fullness.
Lastly, apply some sheen to your lips with a moisturising lip balm. THE ROSEBUD PERFUME CO's Mint Rose Lip Balm will add a rose tint to your pout, leaving it subtly plumped and glossy.
The Fresh Approach
So often, simpler really is better.
Enhance your features and radiate, ladies! A perfectly natural you could be just 5 minutes away.
And here's a little extra push if you need it- Luxola has provided a unique discount code just for you guys! So enter promo code BLX-LADY at checkout to enjoy 30% Off* on all first orders! Offer is valid till 31st December. Start shopping immediately!
*Does not include non-discountable items like Derchos by Vichy, Vichy, SkinCeuticals, Zoeva, Sigma Beauty, Sacha Juan, Origins, Dr. Wu Clinical Skincare and Real Techniques.