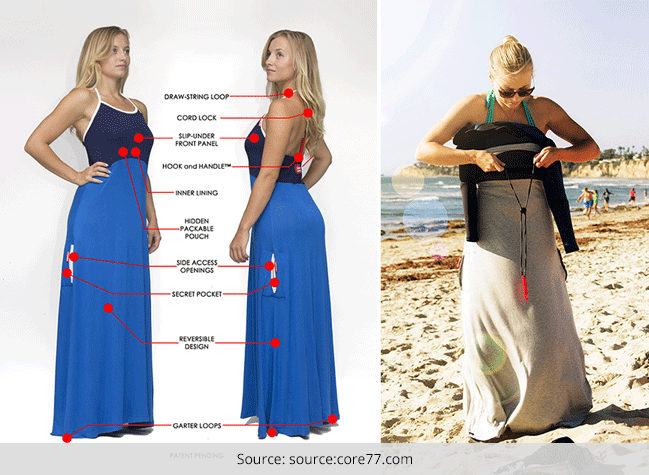 Couple of months back when I went to Delhi with my FashionLady team to cover India Bridal Fashion Week, I had happened to meet a few super models. When I asked them if they ever had any problem doing photo shoot in outdoor location, they had this to say, "Yes, when we don't have a changing room." Changing clothes in public is one of the most universal embarrassments for women. An amazing product, the undress has come to their rescue, an ultimate solution for all the active ladies out there.
The Never Nude community has finally found its perfect product.
Last year when I was vacationing in Goa, even I had faced the same problem. Either I had to go to my hotel room or was forced to use the filthy public restroom to change every time I took a bath and enjoyed in the beach. I am sure women on the go would be facing the same problem. Either they have to manage in the backseat of the car or try changing behind a bush or frail towel.
And health conscious women, who hit the gym, are the worst sufferers. Not every gym in India is equipped with a changing room. So, mostly the fitness-forwards have to remain in their sweat-stricken clothes till they reach home. While in India, the beauties manage to tolerate the unpleasant sudor till they reach home, in west women after workout/yoga just desperately change clothes in their car. Now that's gross!
[sc:mediad]
How to use The Undress
The Undress product has justified its tagline, "Change clothes in public without ever getting naked." If you watch the video, you'll see how one can not only change clothes without actually getting naked, but it also can be used a great beach maxi dress. And there's a surprise element – this outfit is reversible and can be worn from either side.
So here are the salient features of The Undress –
Change clothes without facing embarrassment in the public
Not only your yoga outfit, but you can change any outfit by using The Undress
Because of its compact size, it's a mobile changing room
The length of The Undress can be shortened by clipping it to the handle at the back
It can be used as a seat at the beach if you don't want wet sand cling to your dress
It can make a cute maxi dress
It's reversible! It can be worn from both the sides
Watch out the video

The Undress is indeed a great product for women on the go, including runners, triathletes, surfers, yoga students, cross trainers, sports persons, models, performers, theatre artists, travelers and photographers to name a few.
I have already ordered and my favorite shade is hot coral. What about you? Do you have enough reasons now to buy the fancy garment now?