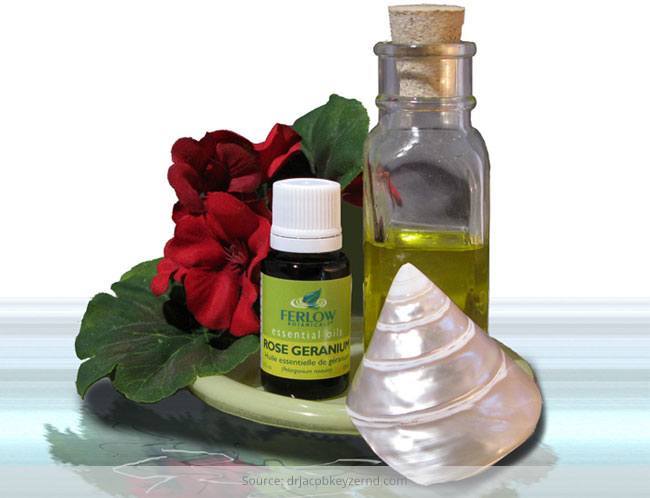 The Geranium Flower: The common household plant Geranium is a native plant of South Africa. It was first cultivated in Algeria in 1847 to cater to the French perfume industry. Geranium is known for its fresh floral aroma with a hint of rose. Hence, it is used more in cosmetics and perfumes.
Geranium oil has a diverse range of healing properties. Since it works as a calming, stress-relieving agent, it does wonders on the skin. The astringent oil made out of Geranium is excellent for all skin types and has shown beneficial results for people battling with cellulite, eczema, psoriasis and other skin problems, when massaged topically. Especially in teenagers and menopausal women, the Geranium oil is said to balance sebum production which leads to hormonal imbalances. Ladies suffering from arthritis or rheumatism can apply this oil topically to get relief. The best part is that Geranium oil stimulates immune system, thereby boosts blood circulation.
The Stimulating Health Benefits of Geranium Oil
Meet the perfect oil–cum-beauty tonic Geranium oil that heals health-related concerns such as gum and mouth issues, cold sores, indigestion, skin disorders and throat infections, stomach ache to anxiety and stress disorders. It also works as a natural disinfectant in living spaces. Let us have a detailed look at it:
Astringent: Inducing contractions in the body is the main function of an astringent. Geranium oil does that by making the muscles, tissues, gums, intestines, skin and blood vessels to contract. This helps in giving a better and toned look by preventing muscles from sagging and tightening up the gums. A great therapy it is to prevent premature ageing.
Antibacterial and Antimicrobial: Geranium oil is gifted with strong properties that prevent bacteria from developing on wounds. This helps in keeping you safe from infections, rather than get weakened by the outside toxins on the skin.
[sc:mediad]
Diuretic: Apart from sweating and excretion, urination is one of the best possible and natural ways to remove toxins from the body. Geranium oil helps eliminate toxins such as urea, uric acid, bile salts, pathogens, pollutants, and even sugar from the body. Each time you urinate, fats amounting to 4% of the volume of urine and excess water are removed from the body. It is also an effective way of removing excess acids and bile secreted in the stomach.
Deodorant: Blessed with an uplifting and pleasant aroma, Geranium oil works as an excellent and effective deodorant. Owing to the presence of antibacterial substances in it, the oil helps fighting body odour.
Brain Tonic: Geranium oil has a positive effect on the nervous system. So much so that it helps fight depression, fear and anxiety. Its scent is so uplifting that it instantly calms down the mind and helps restore emotional balance. Workaholics especially will find their oil very useful as it stabilises the mind and does it part in enhancing the perception and imagination.
Tips for using Geranium Oil
Since Geranium oil is non-toxic, anyone can use it. Choose any therapeutic method be it massage or direct inhalation to enjoy its benefits. Here are some formulas that you can try in the comfort of your home:
Bath oil: Add it to bath water for a calming and revitalizing soak.
Aromatherapy: Rub a few drops of this oil in your palms for 10 seconds and then cup your hands over your nose and inhale. Do this to calm you down before a presentation or meeting.
Massage: Add Geranium oil to massage oils. This will increase the antiseptic and circulation-boosting benefits of the massage.
Hair Care: Pour small doses of Geranium oil to your shampoo or conditioner. This will scent your tresses with a flowery and minty aroma.
Insect repellent: Keep a geranium in the window or spray a solution of Geranium oil to ward off house flies and mosquitoes. That's because insects hate the smell of geraniums.

Geranium oil is also considered to be a safe alternative medicine. However, always consult your healthcare provider before including it in your daily routine.