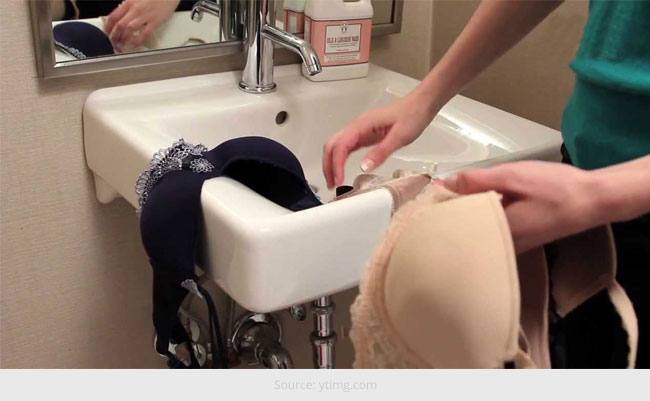 You aren't the only one wondering how to care for your favourite sexy bra – to keep them feeling anew always – a sneaky suspicion here; were we ever doing it right? We know for sure that we weren't; there wasn't anyone to advise or guide.
Let go of those shy questions, learn the right way right here on how to keep your favourite bra in good stead – long live the bra!
Washing and caring
Proper bra care is a must; helps the bra last longer and while doing so, do not forget the following;
Wash them by hand – dryers are suicide invitations
Use detergents that have no harsh chemicals, scents or alcohol in them
Hang and dry your bra
After 3 wears, washing your bra is a must
The key is to be very gentle when laundering the bra
Have a bra wardrobe at home- helps rotate the frequency of wearing a pair
Replace bras after 6-9 months; especially when the elastic or the wires wear out!
Hand-washing your bra
Here are a few steps for the safest method of washing your bra – a hand wash.
Use similar colour bras to wash – whites with whites, coloured bras with coloured ones ONLY.
Use lukewarm water to which alcohol free detergents (hand-wash one) are added.
 Soak for an hour
Rub gently to remove the dirt
Rinse in cold water until clear
To remove the excess water from the washed bra, place it in between two clean towels and press gently
Hang in dry shade
Machine wash
While washing in a machine, your bras should be kept in a lingerie bag or a mesh – helps them stay fresh. Here's how to wash bras in a machine;
Hook the bra backs together
Place the bra in the mesh or lingerie bag
Use a 'delicate cycle' to wash
Cool water with the right detergent
Reshaping the cups should be done by your own bare hands, post a wash – it wouldn't stretch or string the bras
Hang to dry – NO DRYERS!
The buck doesn't stop rolling here. We all know that bras are made from various materials – if you've been a fan of Victoria Secret, you'd know the range – silks, cottons, sheer lace and more; hence, intense care needs to be taken and given per material choice the bra is made from. Here's what you should do!
Care for bras made from cotton:
Cotton can handle the heat and bras made from cotton can be washed with chlorine bleach for the whiteness effect too. If the bra is made of cotton and dyed; colour-safe bleach can be used. Cotton bras can be ironed, dried by hanging, machine washed across all temperature waters and more.
Care for bras made from Acrylic, Nylon or Polyester
Microfiber bras can be washed in the machine. Bras made from polyester, nylon, acrylic and other microfibers can be washed in cold to warm temperatures. If you wish to tumble dry bras made from such materials – do so without a hitch.
[sc:mediad]
Care for bras made from Rayon
Professional cleaners should be summoned to clean and wash bras made from Rayon. Should you wish to wash them at home – cold water ONLY!
Care for bras made from Silk
Professional dry-cleaning for bras made of Silk ONLY – should you want to wash them at home, avoid chlorine bleach and only use cold water.
Care for bras made from Spandex
Cold to warm water only, avoid heat. You can wash them by hand or in a machine, but without the use of chlorine bleach. Colour safe bleach agents are okay to use, however, a thorough rinse is what would be needed post a wash.
We hope you now would take better care of your bras, since we've given you the secrets to managing them all. If you spend a bomb on designer wear care; why ignore what you wear beneath; after all, they are your truest friends – your genuine support system!