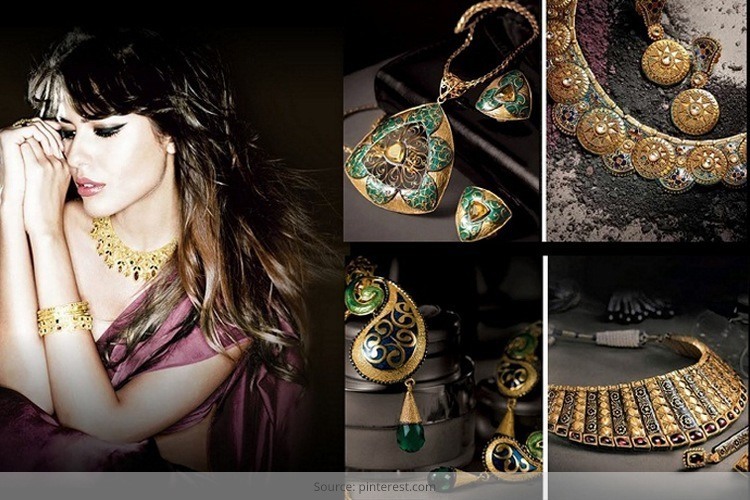 Can you tell me if any Indian ethnic outfit is complete without a piece or two breathtaking jewelry? I'm quite sure you'll also nod your head in denial. Whether it's a simple puja at home or any elaborate function, jewelry is something most women can't step without.
Whether it's a royal ruby encrusted in a platinum necklace, the bottle green dazzle of an emerald set embedded in a silver pendant or a beautiful blue sapphire clubbed in a gold frame – these all conventional stones just intrigue our senses and make us fall for their internal beauty.
Apart from holding predominant importance in Indian history, Indian ethnic jewelry is an intrinsic part of every woman's lifestyle. In India jewelry making is an art, which is a legacy passed on from numberless generations of artisans who have been designing and conceiving such scintillating pieces.
Jewelry making in India goes back 5000 years ago or even beyond that. Ever since Indian woman has clad herself in accessories, the demand of creating jaw-dropping designs has never been downsized, no matter how high the gold rate scales or how badly nation's economy has been hit.
Indian culture and ornaments are synonymous to each other. While the beauty of all classical dances is complete with such embellishments, no festival is attained without some of these pieces.
[sc:mediad]
With adverse culture, it's quite obvious to see a huge variety in jewelry making art forms as well. Fashionlady throws an insight on all such existing art forms in this exclusive edition. Do have a read!
Meenakari
Meenakari work evokes molding gemstones and glaze onto recherché metals, mostly on gold. You'll always find this kind of embellishment in beautiful colors and alluring shapes yet traditional such as peacock, paisleys etc.
Of all the types, Meenakari is the most popular one. This form of ornate art originated in Rajasthan and history reveals that this particular enamel art was introduced under the rule of Raja Mansingh of Amber. When local craftsmanship mustered with the Lahori craftsmen, their singular skills merged and this is how Meenakari was born.
The basic step involved in its creation is making a gold frame onto which brightly colored enamels are applied. However, today the concept of gold frame has replaced with the precious and non-precious metals.
True to its Kshatriyas (Rajput) roots, you will always find the essence of royalty in such ornament pieces.
These jewelries are highly intricate and since the base of each item is too small, it is usually distinguished by the variety of colors used. Apart from the different lacquers, these pieces are sometimes transparent, opaque or translucent.
Process involved
The traditional procedure involves a lot of artisans from different backgrounds starting from Nacquash, Sonar (goldsmith), Kalamkar (engraver), Meenakar (enamelist), Ghotnawala (polisher), Jadia (stone-setter) and finally Patua (stringer).
However, due to the fading interest in traditional making, these days a single artisan is forced to wear many hats through the experience gained over the years.
The first step in this creation is known as 'ek rang khula meena'. As the name suggests, only one polish is used which is usually transparent and the elemental gold work stands out. The second step is known as 'panchrangi meena' or five-colored enamel. This step also makes us of transparent or opaque coats in blue, green, pale blue, red, dark blue and white.
I hope this post was useful! Stay tuned to know more on other jewelry art forms!