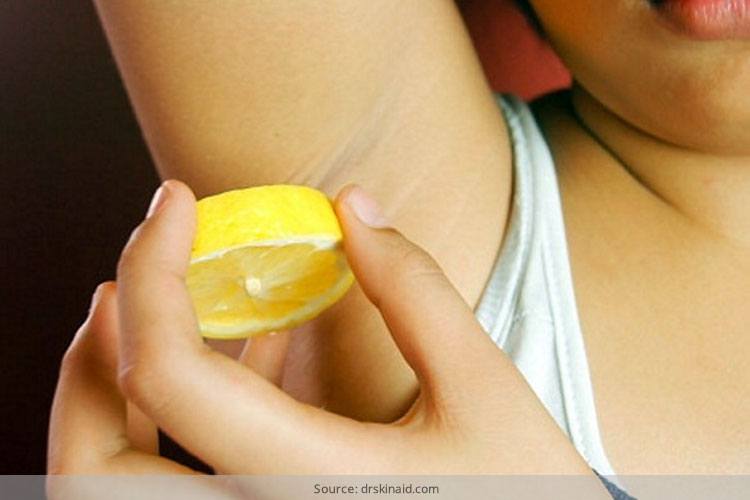 Raise your hands if you aren't embarrassed about the armpit you own! Not for anything else, but for hygiene reasons, your armpit is a place where harmful bacteria thrive and it should be cleaned more often. Now there is one very big reason why grandma applied lemon to her underarms. And that was to clean, nourish and lighten the area with it. This is why lemon for armpits is what we are going to tell you about.
How Did She Do It?
Grandma took a lemon half and rubbed the area with it. She waited for half an hour and then washed away under the shower each day. What happened in using lemon for armpits is that the area was naturally exfoliated and bleached, because lime has such properties to do so. And to further protect it, she applied sunscreen under her arms to keep it soft and supple too.
Sometimes she would also wear sleeveless blouses with her sarees, and the area around the armpits would be tanned. What she would then do is to use lemon for armpits around the zone and help remove the tan. She would first make a paste of besan and curd (1:1) and apply it on the skin, and wait for ten minutes. Once in the shower, she would use the half of a lime in circular motions to scrub away the body mask. This helped with blood circulation, and also exfoliated away the dead skin cells too. She did this twice a week.
Lemon for skin
Since time immemorial, whitening underarms through the help of half a lemon has been done. In fact, in Egypt while the ancient days were on, women would use lime to brighten and lighten their skin. This is because of the natural bleaching properties that lime has.
In addition to that, there are plenty of vitamins and minerals in lime, which can be consumed or topically used for skin health. These are very powerful ingredients that can help fight infections on the skin, and stop bacteria from multiplying. Now think about your underarms. All the sweat accumulating and making it the perfect place for bacteria to grow! More than just using lime to get rid of dark underarms, lime halves can be rubbed to keep the health of the skin in place, and your arms would glow well too.
[sc:mediad]
Lime halves can double up as a DIY beauty agent too, and when you rub lemon under your arms, your arms wouldn't stink as well. The stink happens when bacteria vegetate under the arms because of the sweaty conditions that make it perfect for them to grow. When the fruit is rubbed under your arms, the minerals in it would work to fight the bacteria, thanks to the antibacterial properties it has.
Apart from your arms staying sweet smelling, the pH level of the skin under your arms too would be well-balanced. This means, with half a lemon rubbed under your arms, you don't have to worry about buying commercial cosmetics anymore. There would be no toxins and chemicals to bother about too, and the deo sprays that you use, can be bid adieu too. Think about the money that you can save using lemon for your armpits.
So what have we learnt?
Lemons can be used as natural bleaching agents to white the underarms
Lemons can be used as a natural deodorant
Lemons have antibacterial properties
Lemons can help clean and clear dead skin cells under the arms, and
Lemons can help nourish and make the underarms smooth and supple too.
Now do you know why grandma made it a point to rub half a lemon under her arm everyday, or maybe thrice a week? You too should try the same, and use home remedies for dark underarms with lemons from now.