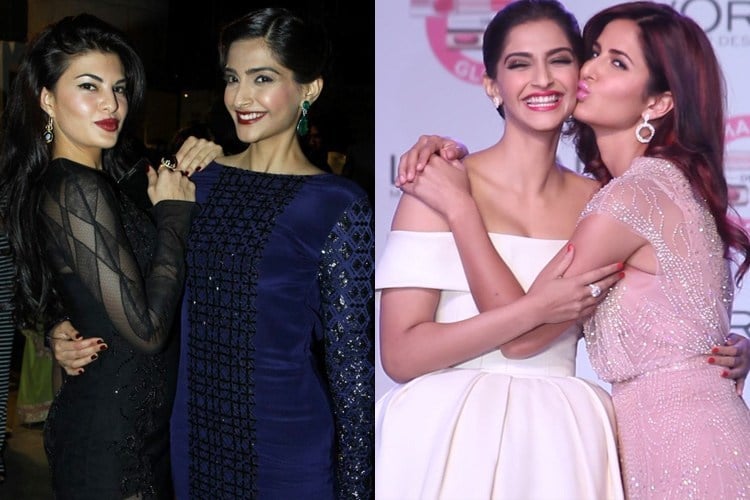 Someone in Bollywood had said that two leading ladies will never ever be friends. In fact, we have seen quite a bit of squabbles and cat fights in Tinsel Town to actually believe that. Bollywood is sometimes cutthroat and in order to be the best among the rest, there is sometime a lot of love lost. But that does not mean there will never be exceptions. In fact, some of the leading ladies here in Bollywood are giving us serious friendship goals. Let's talk about the best friendships in Bollywood right now!
Katrina and Sonam's Love: The Crazy Connection
These two look amazing together and even though both of them are vying to be the top lady in Bollywood, there doesn't seem to be any love lost between them. It is a highly competitive atmosphere, but these two seem to be enjoying the best time ever! In fact, their Instagram handles are full of amazing pictures of these two ladies having a ball of a time! Their cutesy pictures are a proof that in the entertainment industry, love does survive!
Kareena Kapoor Khan and Amrita Arora: The Forever Connection
Quite an unlikely pair you would say, but Bebo and Amrita have been friends since a really long time and even though both of them are now married and have responsibilities, their friendship seems to have survived everything. We still see these ladies hanging out often and having a gala time. You guys are seriously cute and continue to be so!
Priyanka Chopra and Anushka Sharma: The Quirky Connection
Piggy chops is all over the place now, and after winning the People's Choice Award recently for her role in Qunatico, you would have thought she has airs of her own. Instead, we see her still pally and same as ever with the queen of quirks Anushka Sharma. Both of them have a great rapport and can be seen on their Instagram pages being silly as ever! Never change you two, never change!
Kangana Ranaut and Preity Zinta- The Hill Connection
These are two ladies who share not just one, but several connections. For starters, they are both from the hills-Kangana is from Himachal Pradesh and so is Preity. They are both cute and do not have any connections in Bollywood for their endorsement. So, naturally they would be each other's support and would eventually become great friends! Though Preity Zinta maybe out of the film scene right now, it doesn't stop her from advising Kangana on a diverse range of subjects.
Jacqueline Fernandez and Sonam Kapoor: The Diva Connection
When you are one of the most stylish women in town, you obviously need style advice from each other and needless to say, you would be great friends too! Jacqueline and Sonam are two of Bollywood's most stylish celebs and they even go shopping together. In fact, they share their style tips almost all the time! Jacqueline recently appeared for an interview and blatantly said how much she loves the Kapoor girl! She calls Sonam her 3am friend, now isn't that cute!
[sc:mediad]
Deepika and Priyanka: The Epic Connection
You may have seen these two together in the latest movie Bajirao Mastani. They played kind of against each other, but in real life, they are really the closest of friends. Whether they are at a private function or at any other event, they can be seen giggling around all the time. We guess the great connection they have in real life helped them a lot in their latest movie too!
There you go! Our amazing collection of Bollywood besties! If you want to see more such cute pictures of these celebs, don't forget to check out their Instagram handles.