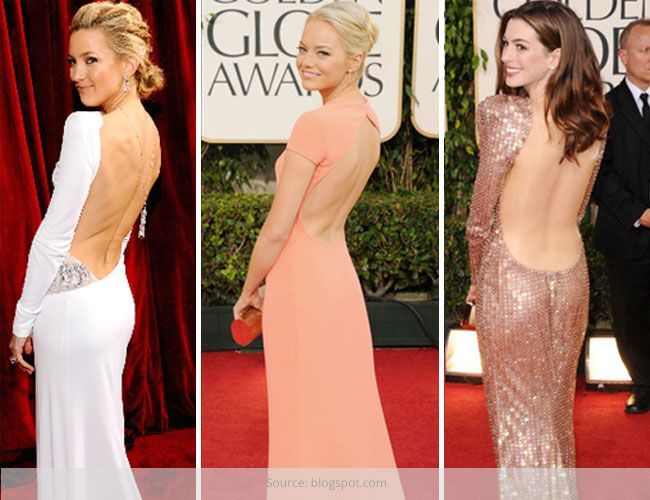 Celebrities go backless all the time and look fabulous doing so. If you've got backless dresses or cholis, then you probably know that going backless can sometimes be more trouble than it is worth. So if you are daring enough to bare your back, then let us help you out. Here's a list of things to keep in mind when going backless.
The Perfect Fit
Whether you're planning to wear a dress or a top, the one thing to double check when going backless is the fit. The fit needs to be just right. If your dress is loose then you run the risk of inevitably showing more skin where the material hangs loosely on you. While some women deliberately opt for a loose backless top or dress, it is always a safer bet to wear backless clothes that fit you well.
When your backless top is too tight it will end up squashing your flesh and will make you look overweight and chubby. So know if a backless top will look good on you or not before you take the plunge.
The Right Bra
This is a very crucial step when going backless. You need to wear the right kind of bra that keeps your breasts supported in the front while leaving your back bare. There are several options for you to choose from. Invest in some good quality backless bra to make sure you look and feel comfortable. Tugging and adjusting your bra when going backless just won't do. It is all about carrying yourself with absolute confidence.
One sexy option is to wear a bra with a crystal back strap. This will look super sexy in a backless dress.
[sc:mediad]
No VPL
This is one tiny detail that many of us seem to forget. When you wear a backless dress you are immediately drawing attention to your entire back profile. So apart from wearing a seamless panty with no Visible Panty Line (VPL) becomes imperative. Also make sure your panty doesn't show through the flimsy material of your dress. VPL is a sure fire way to ruin a great backless dress.
Conceal and Enhance
Wax or shave your back to get rid of any unwanted hair. If you have any marks or acne spots on your back, conceal them. Have a friend help out to conceal every last spot. After all, why would you want to show off the marks? Furthermore, you can use a bronzer along the length of your back bone to create a hollow, curvier frame.
Think for a Moment
Take a moment to think about it. Is your back your best feature? If not, couldn't you just show off your legs or midriff or some other part? It always makes sense to show off your best feature. So if you are not very confident about showing off your back, then don't do it. Don't feel pressurised to do it just because others are doing it. Find your best feature and see how you can display that to its best advantage.
With the help of a friend, take a picture or see yourself in the mirror to determine if you look good in a backless outfit. If you feel you do, then go ahead and wear it. If you're unsure or feel like going backless isn't for you, then just don't do it. The number one thing about fashion is confidence and the right attitude. Being unsure of yourself and feeling awkward in your clothing is never fashionable. So determine how YOU feel about a backless outfit as opposed to what your friends have to say.