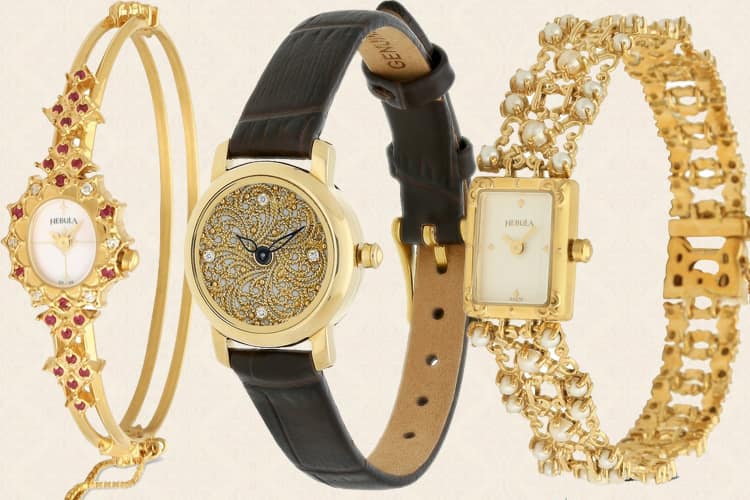 Are you a fan of gold and precious jewelry (many women will instantly nod their heads in approval!)? And would having these precious things in your watch make a difference to you? If yes, then Titan Nebula is just the wrist fashion accessory you were looking for. An epitome of luxury, Titan Nebula watches have been inspired by the rich and royal heritage of our country and designed to highlight our beautiful indigenous craftsmanship.
In fact, Titan has proclaimed that Nebula is one of the most regal collections under its flagship. The real gold watches have been designed in a way that reflects our culture and art and each Nebula timepiece is different from the other. Each of the Nebula watches has a different story attached to it- so whether it's the filigree work that wows you or the delicate and intricate Mughal carvings that excite you, you will get a watch that mirrors this in a flawless design.
Some of the Titan Nebula watches also draw inspiration from Indian paintings and the heavy jewelry sets of yesteryears. The craft and architecture and sometimes even literature of the bygone era seem to resonate in these timepieces. Each Nebula watch is made with 18k gold and echoes the love for the rich cultural heritage of our country. You can choose from bands that are made of gold or you can even choose genuine leather straps, some of them even come in rose gold shades and include Mother –of-pearls. Needless to say, each and every watch in their collection is a treat for the eyes. So, if you are a fan of beautiful and regal watches that come with their own stories and histories, you have come to the right place. We will give you an overview of some of the best Nebula Titan watches and help you choose a precious one you can sport with pride and preserve for eternity as an heirloom!
Best Nebula Titan Luxury watches
Titan Nebula Watch With Mother Of Pearl Dial And Filigree Work:
Price: Rs. 73,752 (Lifetime warranty, Sapphire crystal)
Features of this watch: A solid 18k gold watch, this one comes with a genuine leather strap and has an intricately designed filigree work as part of the dial. The gold filigree work is highlighted by the presence of a mother of pearl dial and four diamonds of high quality placed at the four key indices. The filigree work is a very precise job of drawing thin gold wires and then shaping them into a design and it requires expert craftsmanship. Filigree work is quintessentially Indian and the presence of the brown leather strap balances the look completely.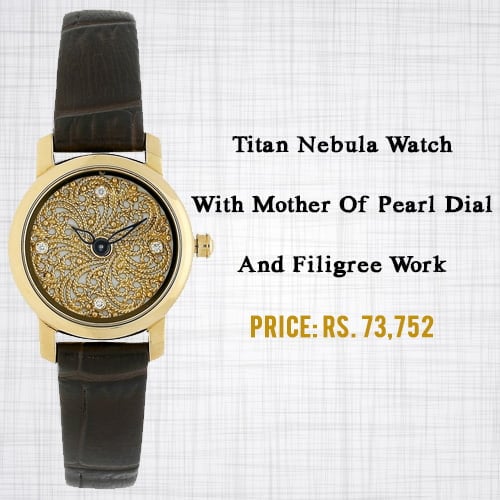 Titan Nebula Watch With Mother Of Pearl Champagne Dial:
Price: Rs. 96,799 (Lifetime warranty, Sapphire crystal, water resistant up to 3ATM)
For those of you who love a round dial, this one is for you! The round analog watch is made of 18k gold and has a mother of pearl dial. Four diamonds are placed near the band and next to the outer periphery of the dial. You don't have to worry about losing them because they are well encrusted. The dial design is an intricate maze of intertwined floral patterns and is very beautiful to look at. Two key indices (3 and 9) have two diamonds encrusted. There's a crown too for ease of adjustment. The watch comes with a grey band that complements the rest of the design perfectly. For those of you who have a special liking for ivory or beige colored watches, this one is a perfect fit for your wardrobe. It's feminine and regal and hence pairs well with your ethnic outfits.
Nebula Analog Watch With Mother Of Pearl Black Dial:
Price: Rs. 110,628 (Lifetime warranty, Sapphire crystal, water resistant up to 3ATM)
A black mother of pearl is very rare and to have it in a solid gold watch makes it all the more special. The shape of the watch is oval and is made of 18k gold. The oval shape of the watch ups its feminine appeal and because of the diamonds that are encrusted all around the dial of the watch, it is a little expensive. Just like any other luxury Nebula watch, you wouldn't have to worry about any of the diamonds falling off and even if they do, you have a lifetime warranty so it will be replaced. It comes with a dark black genuine leather strap to match with the black mother of pearl dial.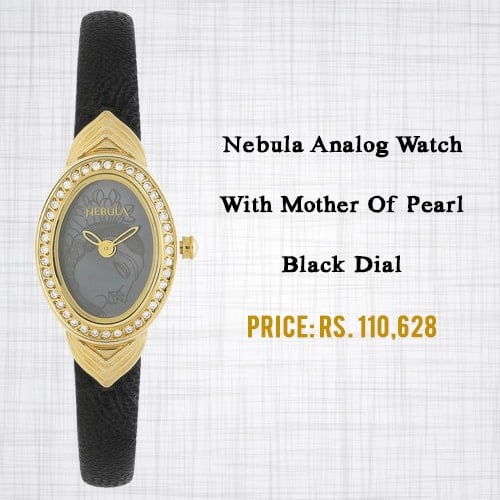 [sc:mediad]
Nebula Analog Watch Solid Gold With Encrusted Rubies:
Price: Rs. 165,942 (Lifetime warranty, Sapphire crystal, water resistant up to 3ATM)
Now if there's a watch that looks like you picked it up from a treasure trove, then this is it! The solid gold watch comes with a very feminine bracelet-like design and can actually double up as a bangle. The mother of pearl dial is again champagne colored and has intricate and geometric floral designs all over. What makes it even better looking is the presence of two diamonds on the 3 and 9 indices. The delicate looking watch is a perfect accessory to go with most Indian wear and is sturdy too. Like all watches, this one too comes with a lifetime warranty. The jewelry clasp in the watch makes it an even better addition. So instead of spending money separately on a watch and a bracelet, you could just buy this model of the Nebula watch!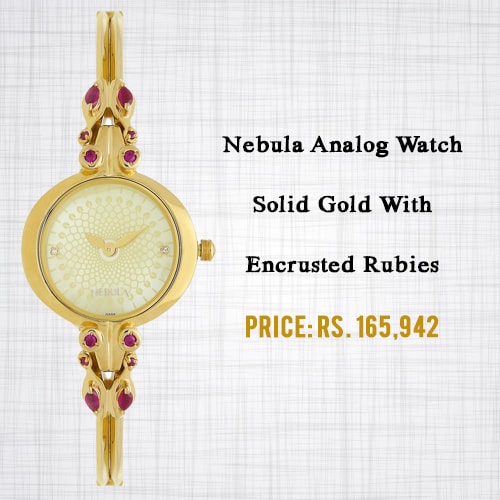 Nebula Analog Watch Solid Gold With Encrusted Diamonds:
Price: Rs 184,380 (Lifetime warranty, scratch resistant, Sapphire crystal, water resistant up to 3ATM)
What makes this watch super special is the presence of the 12 high-quality diamonds on either side of the dial and also on the watch strap. Just like the ruby-encrusted design, this watch too has a bracelet type band and comes with a jewelry clasp. The bi-metal watch has a white colored mother of pearl dial which is carved with a barleycorn guilloche design. The 18k gold watch is a sight to behold and the metalized sapphire face makes it a timeless timepiece.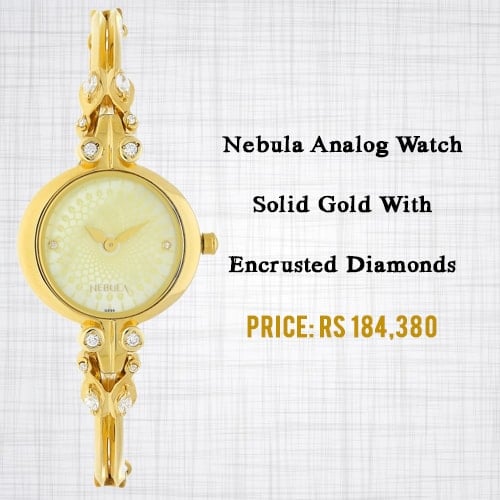 These are some of the best known and reviewed women's watches from Titan's Nebula series. If you are looking to upgrade to analog watches that come with an immensely royal design, this collection could come handy! Since these are all 18k gold watches with precious stones, make sure you buy them from a verified dealer or a well-known website. And always insist on an authenticity card to ensure that you get the correct deal. Make an informed choice!
Images Source: titan.co.in