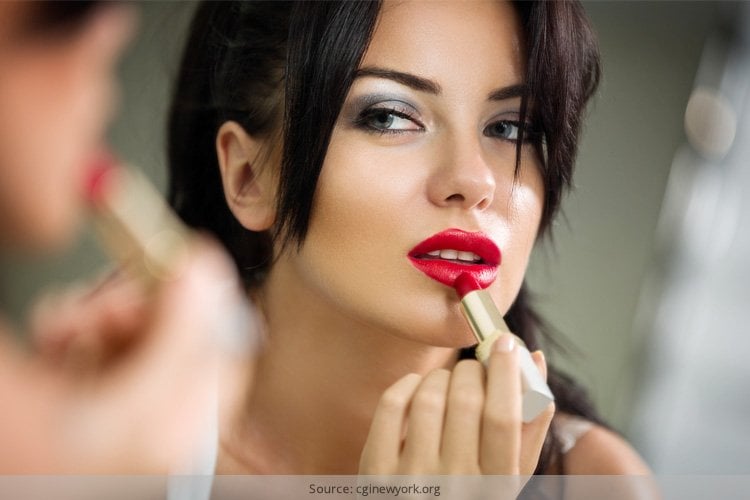 'Tis the season to be bold and you shouldn't shy away from adding those bold colors in your makeup box! This year we have seen tons of bold colors on the runway and whether it is the Fuchsia that you like or corals or even red (everyone loves a good, old red lipstick), bold colors are in vogue and you definitely need to get them out of your dusty vanity box.
In this article, we will tell you all the best tips to pull off the bold colors without much ado. All you need is some courage and voila- you are ready!
Don't Worry About The Gothic Look:
The problem with people who want to wear festive bold lipstick is that they feel it's an unchartered territory and hence they might end up overstepping the boundary and look like a gothic character. However, if you have the right accessories, you can pull off the dark blackberry color without having those gothic undertones. Remember, gothic colors look the best when you have a fairer skin tone. So if you are fair, and you have a pair of oversized shades, this look can be terrific as a fashion statement.
You Won't Look Like The Vamp!
If you are planning to rush off for a brunch with the ladies, just wear a dark, burgundy red lipstick and pair it off with a classic bodycon dress. There's a bit of innocence to this look and it also looks extremely elegant. Remember to buy a lipstick that is highly pigmented. This color looks best if you have a fair skin tone.
Pro tip: Make sure you condition your lips before applying a dark maroon color. Sometimes, highly pigmented colors can make the creases of your lip appear very starkly. So exfoliate your lip and keep your canvas healthy for a darker, richer look.
The Classic Fuchsia Lipstick:
For the classic Indian skin, the rani color lipstick is the most festive bold lipstick and somehow seems to suit everyone. It is one color that every makeup-loving Indian woman should have. If you have dark hair and pale skin, the shade is perfect for you. You would look amazing wearing colors that are bold especially when you are attending weddings or traditional celebrations.
The Blue-Based Red Lipstick:
It's a red that suits women with cool undertones the most. The first step in getting your lipstick shade right, however, is to find out whether you have warm or cool undertones. This solves half your problems when it comes to choosing the right makeup – foundation, concealer, lipsticks. Blue based lipsticks are also a great addition to the Indian wardrobe because they seem to look good with almost all kinds of ethnic wear. So this wedding season, take out your festive bold lipstick and wow the world!
The easiest trick in the book to understand whether you are warm toned or cool toned is to find out your liking – for instance, if you love silver jewelry, you have a cool tone and on the other hand, if gold jewelry is your fetish, you are warm toned.
Unleash The Glamorous & Bold Diva:
What's the best way to jazz up any boring outfit? The quickest way, of course, is to choose a lipstick that does all the talking. If you want to make your black and white ensemble a little more than drab, grab your nearest and boldest lipstick and give it a chance – we are sure your attire will instantly transform. Just a cardinal rule – make sure you don't apply lipstick on your teeth- most people end up doing that and the result is never ever good!
Orange-Red Lipstick Is A Winner This Summer!
This is another color that often suits women with a little dusky skin tone and for us Indians, this one is a boon. The key to getting the orange-red lipstick right is to focus on wearing just that and leave other makeup on the skin minimal. This way you are ensuring that your lipstick actually does all the talking. And don't forget to smile!
So here are some of the best festive bold colors you can sport. Besides the tips above, here are some cardinal rules that you should never forget when sporting bold and fashionable colors.
1. Keep your canvas clean by proper exfoliation:
Many fashionistas undermine the need of a good exfoliation regime for their lips. But the important thing is, it is necessary for our lips as much it is necessary for our face. A good session of exfoliation will ensure that your lips are exactly how you want them – soft, smooth and supple and gives you the best possible canvas to color them.
2. Don't forget to prime them up:
Why would you use primer on your skin? It helps your makeup to be flawless and also increases the stay. The very same reason is why you should be investing in a good lip primer, especially if you have a tendency to eat off or bite off your lipstick. When you prime and prep your lips, not only will they feel smoother but you will also not have dry lips at the end of the day when it's time to remove your lipstick. Say hello to soft and supple lips with a great primer!
3. Line 'em up:
A versatile lip liner creates a sharp looking edge for your lipstick. If you have really thin lips, you could also use a liner to create fuller lips with its help (Bye bye fillers!). Just make sure you don't go overboard and try and match the liner as closely as possible with the lip color you choose – unless you are aiming for a different effect!
4. Choose the correct makeup:
Since in this article we are talking about festive bold lipsticks, you have to be careful with the kind of look you want to achieve. If you are aiming for a daytime look, just keep the focus on your lips and for the rest of the face, just tone down on the makeup. You could just line your eyes simply with some kohl and apply a good tinted moisturizer.
If you are looking for an evening or party look, then you could use some makeup on your eyes and foundation to nail your look right. The key is to not look OTT.
So here you go – these were some of our best tips to rock a festive bold color and look like a bomb! Remember, always choose shades that are pigmented because this will give you a more even and dark look. Don't be afraid to experiment with colors, but remember to go through this checklist once! Go rule the world!