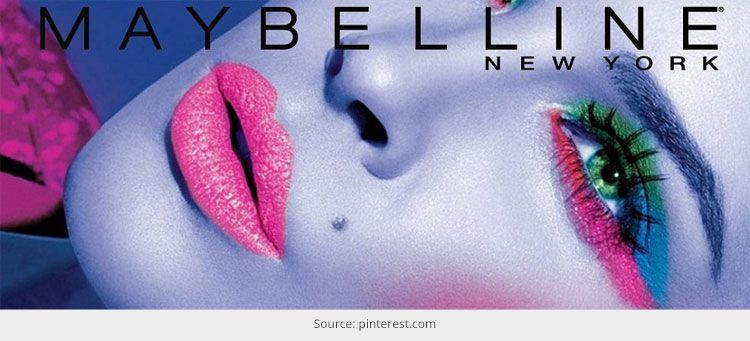 Which brand do you abide by when it comes to your make-up? Some of us like to use products from a particular brand of make-up or love to experiment with different brands for variety! My lovely fashionistas, we bring to you five uber cool products from Maybelline which we think are worth the money spent and make you look absolutely gorgeous in no time!
With a tag line of  "Maybe she's born with it. Maybe its Maybelline", this brand has emerged as a trendsetter and fashion diva's ultimate choice. Also to add, it is easy on the pocket and budget with its reasonable pricing for worthy products. it. Maybe it's Ma" Maybe she's born with it. Maybe it's M
Starting as a small-family owned business in America, Maybelline gradually climbed the ladder of success to become the number one cosmetics brand in America. They are doing great business in India as well with their exclusive range of products which would appeal to the fashionista in you!
I have complied a list of five products which I have personally used and loved for its quality, texture, consistency and durability. Here we go!
Maybelline Colossal Kajal
Don't Kajal-rimmed eyes enhance the beauty of eyes and make them look bigger, fuller and absolutely gorgeous? This long, yellow stick kajal was the talk of the town when it was launched and a must-try on girl's list of cosmetics to purchase.
Kajal is an important aspect of my daily miniature make-up regime along with a dab of  soothing lip balm/lip gloss and a coat of compact. In search of the best kajal in the market, I tried it on to know what the hype was about!
This kajal comes in a twist up packaging and is quite dark black in shade. It promises to be smudge free and stays to its word to quite an extent. It glides very easily on the lower lid line and the color is a pleasant shade of black.
Priced at Rs.150, the Colossal Kajal is definitely reasonably priced and worth a try!
Maybelline Lip Smooth Color Bloom Lip Balm
This is one of my absolute favorite from the house of Maybelline's make-up products. This little, light-weight lip balm tube is an absolute delight with its unique color blooming technology. If you are wondering what am talking about, then this lip balm in the plain form reacts with your lips to transform into a bright, glossy and fabulous lip color!
With its contents of Jojoba and Pro-Vitamin E formula, it moisturizes the lips and protects it with SPF 16. If you are using the peach blossom lip balm, then it touches your lips to turn into a vibrant and beautiful peach coral sheer lip gloss like balm. If you are trying the Pink blossom, then it reacts with your lips to turn into a lovely bright pink shade.
It stays on for about 4 hours and needs to be retouched. At Rs.99, this lip balm is a must have for keeping your lips moisturized and stunningly gorgeous!
Maybelline Color Sensational Moisture Extreme Lip Color
The color sensational line of lipsticks have an amazing variety of shades which will make you fall in love with it! The colors are crisp, bright, clear and contain pure pigments to color your lips in the finest shades and tones.
[sc:mediad]
What makes this range of lip colors appealing is that it has a creamy, rich texture and it nourishes the lips lovingly with its content of honey nectar. With 88 different shades, you will be hard pressed to choose one as it will stun you with its brilliancy of colors, smoothness and richness.
I have tried two shades which really won me over with their sheer brilliance and quality – One was "Windsor Rose" and the other one "Chestnut".
Windsor Shade Lip color
Windsor Rose shade lipstick celebrates the lovely pink shade and gives a matte finish. It glides effortlessly and butter-smooth on the lips. With a nice fragrant smell, this lipstick survives on your lips the whole day in spite of the in-between lunch and snacks! You need not even re-touch the lisptick and one swipe of this wonder lip color suffices! It keeps your lips moisturized and creamy smooth – the dryness factor doesn't step in! Plus it does not smudge or bleed and stays clean!
Chestnut lip color
The Chestnut shade is a beautiful melange of  coral pink and brown. It has a slightly glossy finish but no over-the-top shiny lips or glitter. Keeping the lips moisturized, this lipstick color is absolutely gorgeous and suits Indian skin tones extremely well.
Maybelline Clear Glow All In One Fairness Compact
This one is a super duper purchase for the sum of Rs.175 – It is a wonder of wonder beauty product with its pretty pink, girlie packaging, little built-in vanity mirror and a compact sponge applicator.
Use this magic compact to find instant fairness and glow effect. It evens out the skin tone and gives a neat, matte effect. You can use this in combination with the BB cream to get good results.
This compact boasts of  preventing skin darkening and for keeping the skin fresh as it avoids sweat formation and stickiness.  It even has a pleasant mild fragrance which will add to the feelgood factor the compact gives you.
If you are looking for a reasonably priced compact which works miracles and is easy on the budget, then this is the one for you!
Available in five shades, this compact suits a variety of skin tones and complexion -Pressed Talc,01 Light,02 Nude Beige,03 Natural and 04 Sand Beige
Maybelline Clear Glow Bright Benefit Cream
Now, the concept of using BB creams is a rage in the South-east Asian countries. All you girls who absolutely adore those porcelain doll like Korean k-pop stars and heroines, we will let you into a little secret. These amazing South-eastern beauties abide by Blemish Balm/Blemish Base creams to achieve flawless, even-toned and gorgeous skin on and off screen!
What makes this product a must-have is because of its multiple functionality as it poses as primer, foundation, sun screen, moisturizer and skin brightener. Apply this to see your skin tone becoming one shade lighter and hiding away all those blemishes, marks and imperfections on your face. It keeps your facial skin moisturized for 8 hours straight and makes your skin satin smooth.
What I love about this cream is that it blends into the skin beautifully and does not make me look, sweaty or a devilish ghost with a white face mask!
It comes in three shades; Nude, Natural and Radiance which suits different Indian complexion.
Try these and let us know which product did you love the best!