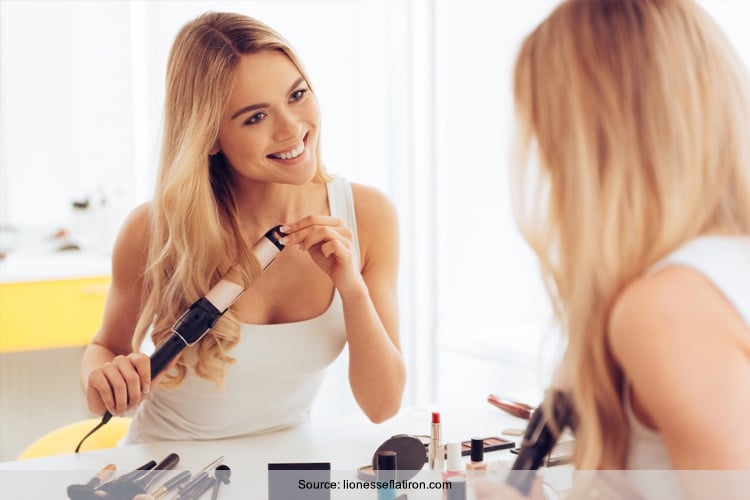 Creating those voluminous waves effortlessly is exceedingly difficult, whether you are trying for soft curls or tousled hairdo. And this can massively go wrong when using the wrong hair tools and hairspray. For this, we are bringing to your notice a wide range of curling iron tools so you can decide which ones will give you the best results. These curling irons are simple to use, easy to heat up, creates the style you desire, and gives long-lasting results.
These tongs are also safe and convenient to use because of the big barrel size, and thus save you from burning your hand and ear. Hence, always remember to get a large barrel curling for safety and also to achieve larger and looser curls. These tongs have adjustable heat settings, to give you low, medium, and high option. For fine to medium hair, keep the heat between 180-190 degrees, and for thicker hair, keep it high as 210 degrees.
They come with features such as ceramic coating or argan oil infused barrels. This can allow you not only to create waves but also give a glossy finish.
Take a look at our lists of top 10 curling irons to create believable waves. Find the tongs that is right for you from our selection of the best curling irons to purchase right away.
1. John Frieda's-Tight Curls
Price: Rs.1470
Performance: John Frieda's Tight Curls is the best curling tongs and gives a decent run through all special occasions. It has the most extensive temperature range of curling ever to curl all hair types without causing damage. The Tight Curls' curling iron has a tight clip and smooth surface coating to curl hair effectively without causing any damage. This clip holds the hair together firmly over the smooth-surface. The barrel surface is coated with ceramic titanium for distributing heat and preventing hair damage. This curler has a wide temperature range which means you can choose any heat setting while curling your hair without damage.
Convenience: The Tight Curls is comfortable to hold as the trigger is close to the handle, which means you don't have to move your thumb to use it. You can get a comfortable grip without having to stretch your hands.
Safety: John Frieda's Tight Curls has all essential safety features like auto-switch-off mode. It also features an elevated rest, a tip (stays cool throughout use) and heat-resistant surface.
2. Remington-T-studio Pearl
Price: Rs 1503
Performance: The Remington T-studio Pearl can create smooth curls that are not frizzy. This styling wand is a clamp-free curling iron and gives you long-lasting curls. The clamp of the curling wand does not leave you with creases or split ends.
Convenience: This curling iron features a ceramic barrel. This barrel comes with real pearls which can allow you to smoothly glide your hair over to create smooth, frizz-free curls. In addition, the ceramic barrels generate heat more evenly. This curling iron can extend up to 400 degrees which makes it perfect for thick hair and quick styling. With the Remington T-studio Pearl curling iron, you can evenly distribute heat to protect against hair damage.
Safety: The T-studio Pearl curling wand comes with great safety features, including an auto shut-off mode. It can turn off instantly after a period of non-use. It also comes with a heat-resistant glove for the safety of your hands. You need not buy a glove separately for this one. Another pro about the T-studio Pearl is its digital display. It allows you to keep watch on the temperature settings. The temperature stays between 40 degrees which is great.
3. BaByliss-PRO
Price: Rs.3264
Performance: The BaByliss Pro Nano Titanium 3-in-1 Lock n Style Convertible curling wand offers you flexibility which a lot of curling irons don't offer. This curler features three barrels with auto snap and lock with curling iron handle. It allows you to make curls, spirals, and add volume to your hair. The PRO curling iron can reach up to 430 degrees, which makes it a great use for thick and coarse hair.
Convenience: BaByliss PRO has excellent designs and features. It provides a one inch spring barrel to give you a tight curl. The curler also comes with a bubble wand which is 1.25 to 1.75 inches. Hence, it is highly useful for thin and fine hair. The curler is also designed to provide you with spiral curls and add more volume. Lastly, it has a 1.5 inch hot brush with heat-resistant combs.
Safety: This is one of the best curling iron as its overall performance is excellent and that is why this is a perfect choice for our top 10 curling irons list. It is lightweight and hence easy to maneuver for extended use. This hair curler can also offer plenty of heat and reach a temperature of 430 degrees Fahrenheit. It offers five separate heat settings that allow you to choose a heat setting suitable to your hair type. The minimum heat temperature of this curling iron is 220 degrees Fahrenheit.
4. Revlon-Perfect Heat
Price: Rs.816
Performance: The Revlon Perfect Heat features a ceramic coating which makes it an excellent option for protecting hair against heat damage. This curling wand is moderately simple to use and create curls that last long. This is a great budget buy for curling your hair occasionally.
Convenience: This Perfect curler comes with a dial that is easy to read and lists out temperature levels allowing you to adjust the heat to your requirement. The only hitch is the temperature difference between highest and lowest heat settings. Adjust to high heat if you have curly hair or cooler temperature if you have fine hair.
Safety: The automatic shut-off option of this curling iron is rather a miss because it does not guarantee a turn off option. This can create a hazard.
5. Conair Infiniti-Pro Curl Secret
Price: Rs.3017
Performance: Conair's Infiniti Curl Secret has a sleek-design to free you from any risk of burns. Rather than wrapping your hair around the exposed barrel like traditional curlers, pull your hair and spin it around a heated, internal barrel. This curling wand can be reserved for those special occasions where you want to create unique curls and soft ringlets.
Convenience: There is no requirement for gloves while wrapping your hair around this large barrel curling iron. The design also features a comfortable grip for easier handling.
Safety: The Conair curling iron features a unique design which eliminates most safety concerns that come with hair curlers. There are no exposed surfaces and hence leaves little chance to accidently burn your skin.
[sc:mediad]
6. Diva Professional Styling-Intelligent Digital over Wand
Price: Rs.4305
Performance: Diva Professional Styling curling wand is a great value for money. It features five temperature settings, ranging from 110 to 210 degrees. This curling iron can protect your hair from heat damage. It works well even on low temperature.
Convenience: This curling wand heats up almost instantly, allowing you to save so much time. You can create big, bouncy, glossy curls with the help of this argan oil infused barrel curling iron. This Intelligent Digital over Wand works well on both short and long hair.
Safety: Since the wand gets heated up almost instantly, you need to keep a close watch. The high set temperature can burn your scalp when you make use of it.
7. Hot Tools-Gold Curling Iron
Price: Rs. 3286
Performance: The Hot Tools Gold Curling Iron makes hair styling simple and comfortable. It is great for adding curls, waves, and volume to any hair type. Its barrel is gold plated in 24k gold and enhances heat up and heat circulation. With this the curling iron stays hot throughout. The Gold Curling Iron contains a Patented Pulse Technology that can sense heat loss and restore it instantly. This allows the iron to stay hot throughout curling session.
Convenience: This heated curling iron is positioned in a right angle and features a powerful spring clamp. This can make your hair styling hours easy and comfortable. It also features an additional 30 second timer that gives out a buzzer, to prevent you from panicking over the heating period time. This curling iron comes with a foldaway safety stand which allows you to safely store it away.
Safety: The Gold Curling Iron has a fast heat-up and features extra-high heat. You can easily set the temperature with its variable heat settings and in-built rheostat control which can go up to 430 degrees.
8. Drybar-The 3-Day Bender Curling Iron
Price: Rs. 8825
Performance: The 3-day bender curling iron features a rotating clamp that can easily style your hair, including thick textured hair. This curling iron comes with a rotating clamp featuring NanoIonic™ Mineral Technology to make your curling sessions easy and smooth.
Convenience: The 3-Day Bender features a patented rotating barrel that delivers smooth and long lasting curls while avoiding damage. Its Nanolonic Mineral Technology also features a blend of 32 minerals infused to the barrel for adding shine and decreasing frizzines. This curling wand can help to set your curls and keep it perfectly in place.
Safety: The 3-day Bender can heat up to 410 degree F and features an automatic one hour shut off system. This curling wand comes with a one year warranty. Here is a temperature guide of the Drybar curling iron. For chemically treated hair, the temperature should be set at 320 to 370 degree F. For fine hair, the temperature should be set at 370 to 400 degree F. For medium, thick hair, the temperature should be set at 400 to 430 degree F. And, for coarse textured hair, the temperature setting should be 430 to 450 degree F.
9. Cloud Nine-The Curling Wand
Price: Rs.6804
Performance: Cloud Nine's The Curling Wand is the best curling wand for creating numerous styles. It is simple to use and wonderfully designed. This wand can create beach waves and small, tighter curls or large waves. This curling wand features a heat resistant carry case, making it ideal to pack during travel. It also features a 25 mm mineral infused barrel, to keep your hair soft and nourished. Your curls can stay in shape all day long and does not go flat.
Convenience: There is a larger barrel size in -The Curling Wand range if you love bigger, bouncier waves. This curling wand also comes with a protective wand to prevent your hands from burning, and a fold-out stand for allowing your wand to rest on while it cools down.
Safety: The Curling wand automatically turns off after 30 minutes. You do not have to worry about leaving it behind the house unattended.
10. Farouk Chi Arc
Price: Rs. 8766
Performance: The Farouk Chi Arc curling wand makes long-lasting curls. It stands out for many reasons and features a spring clip that is half the size of traditional curling wands. The curling iron contains a large barrel that rotates with the push of a button for rolling your hair. And you have to push another button to unroll your hair.
Convenience: Farouk Chic Arc features a high temperature setting and works for all hair types. It is one of the best curling wands for long hair. The display of this curling iron is digital with blue backlighting and is simple to read.
Safety: This curling iron has an automatic shut-off system and does stand out. But it lacks a stand which means you cannot keep it in a static position.
These are few of our favorite top 10 hair curlers. These wands travel well with its super-sleep designs and are fuss-free too. Which one is your favorite? Do share us your thoughts in the comment box below.