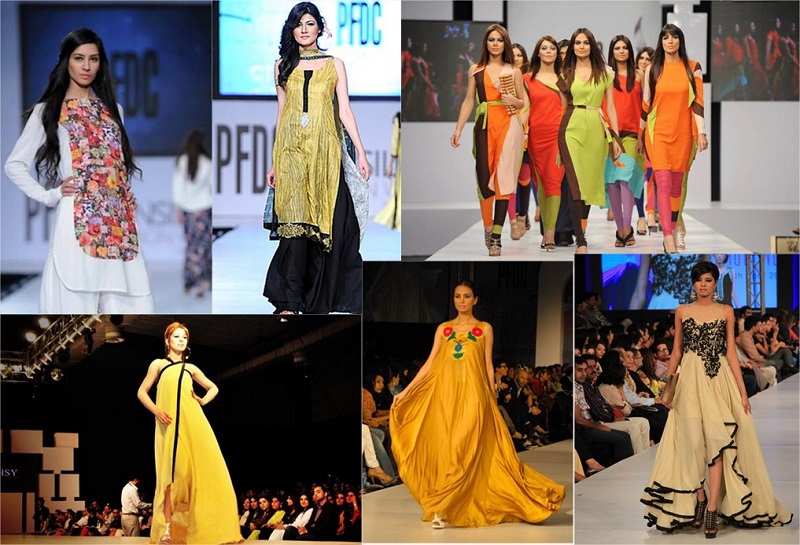 Gone is the time! When fashion in Pakistan was limited to its border only and with conservative silhouettes and designs. The talented fashion designers of the country are going bold in their approach and creativity before the huge attendance of global audiences and buyers, which was truly evident in the seventh edition of Pakistan Fashion Design Council's (PFDC) Sunsilk Fashion Week held recently in Lahore state of Pakistan.
| Headquartered in Lahore, Pakistan Fashion Design Council was formed in September 2006 with an aim to promote Pakistani designers at international platforms. In February 2010, Pakistan Fashion Design Council (PFDC) organised their first ever fashion week. |
This year, the three days fashion extravaganza was categorized into three shows – High Street brands, pret fashion designers and textile houses.
The fashion week turned out be an amalgamation of business cum art with more focus on the commercial viability of designs. While Elan, Fahad Hussayn, Ali Xeeshan delving into the revelry of art, other designers chose to be more on the commercial side of the fashion with easy to wear designs.
We bring you five most popular trends to buy from Pakistan!
Print-o-logy – Floral | Abstract | Tribal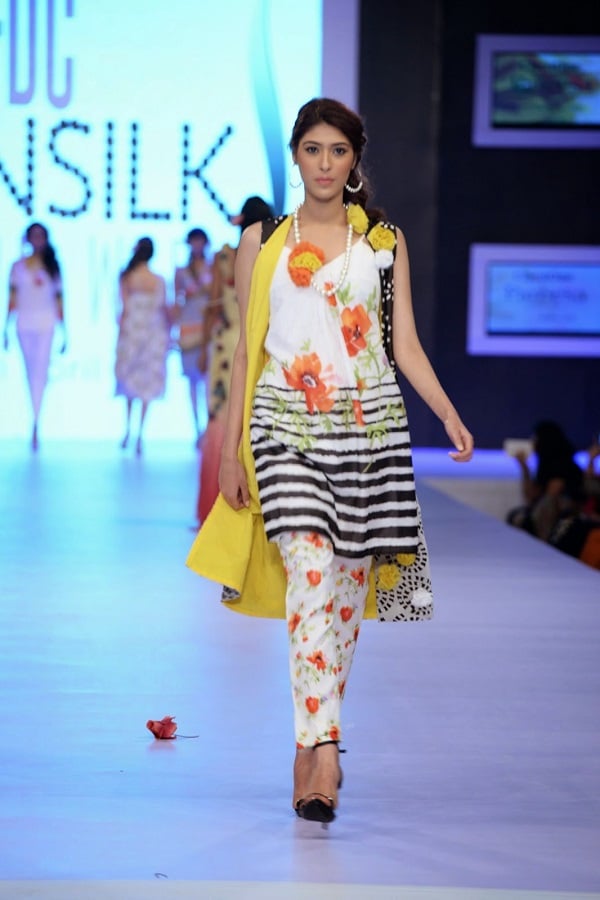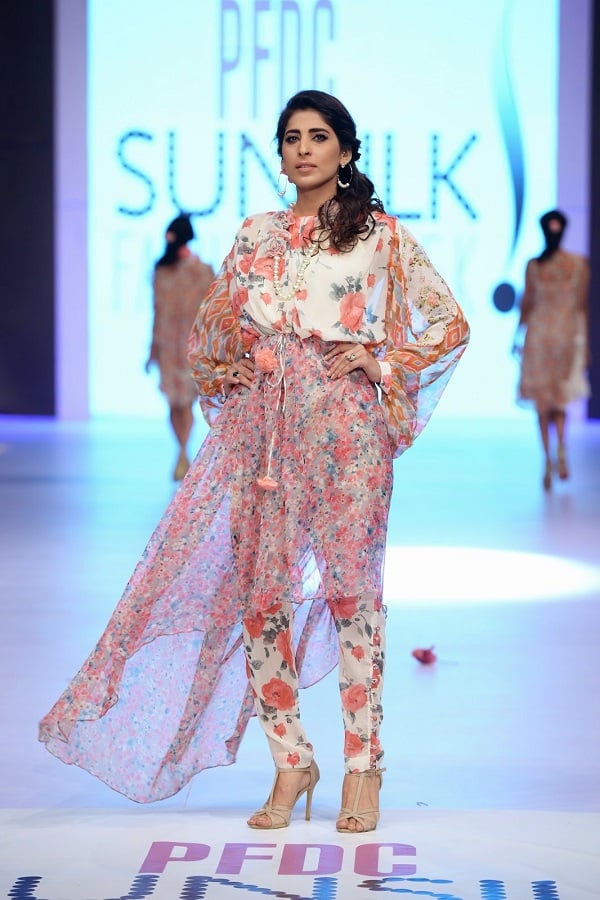 No doubt that floral prints add fresh breeze to fashion in summers. With designer Atif of Chen One label showcasing peach floral prints in his range of Pareesa collection, it came as obvious that the trend is on high even in our neighboring country.
Selfie is in trend! So in fashion with MK Nation by Karma having used the Selfie inspiration in its collection be it on a gown or on a kurta with photographs printed all over them or the word selfie dominantly sequin embellished on a tunic. MK Nation also painted news print on neck scarf and over lay jackets along with presenting envelop bags having the print of map directions.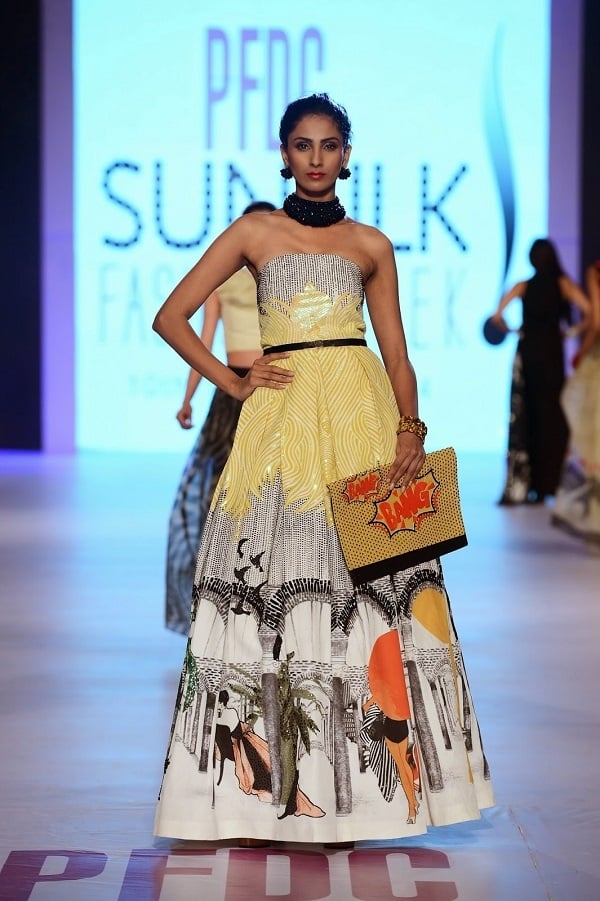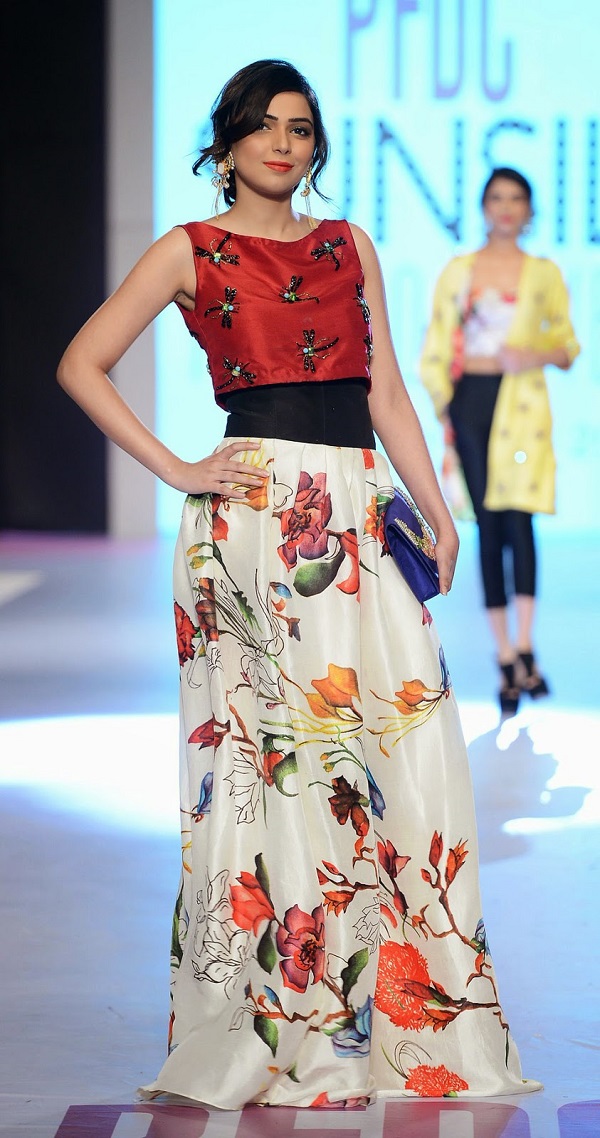 Surprising to us was the quirky and abstract prints that flooded the event. Khadijah Shah of Elan also took step to boldly imbibe her label name on the envelop bags that models were carrying while her outfits spoke the feminine hood in quirky sense.
Designer Zara Shahjahan also brought light bug prints to her collection. The trend has already been doing good internationally with labels like Lanvin, Kenzo and Alexander McQueen using it heavily in their collections.
Long Tunics with Printed Cropped/Palazzo Pants – Printed Again!
Cropped pants are the summers must have! To bring the feel of the Pakistan, wear long tunics over the printed pants.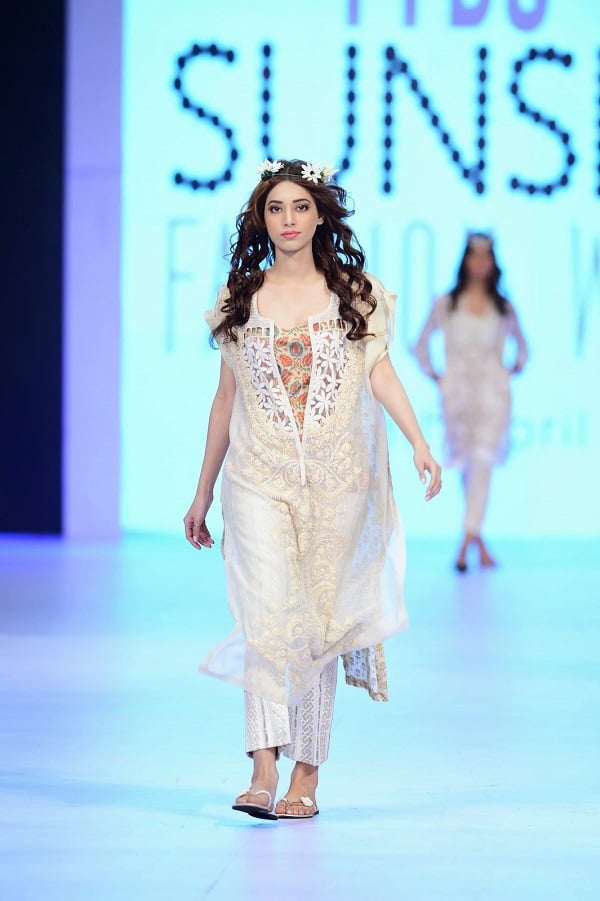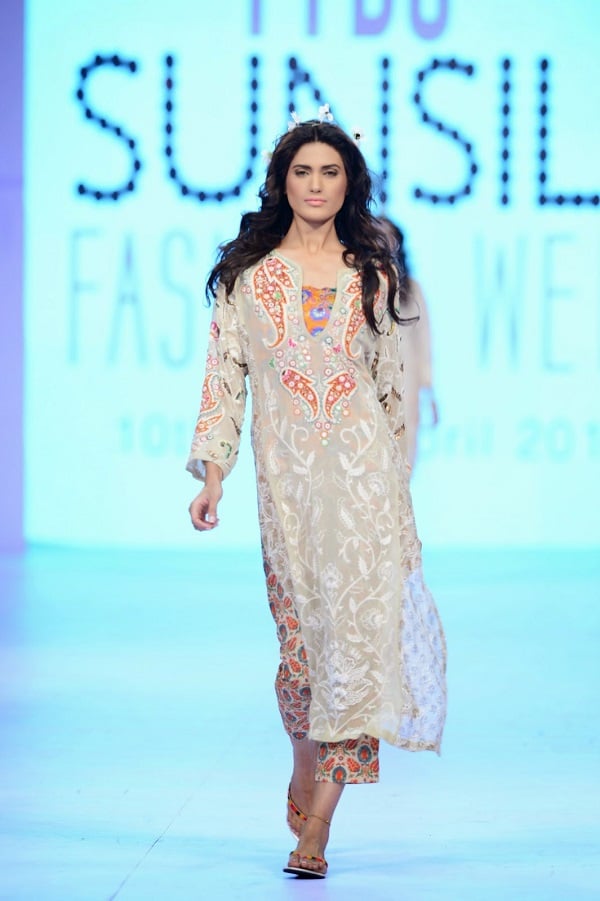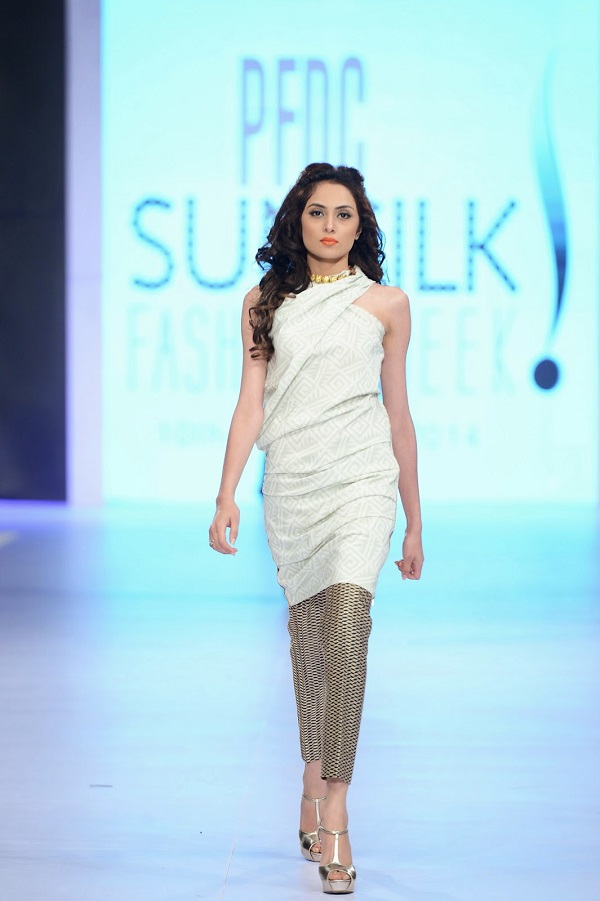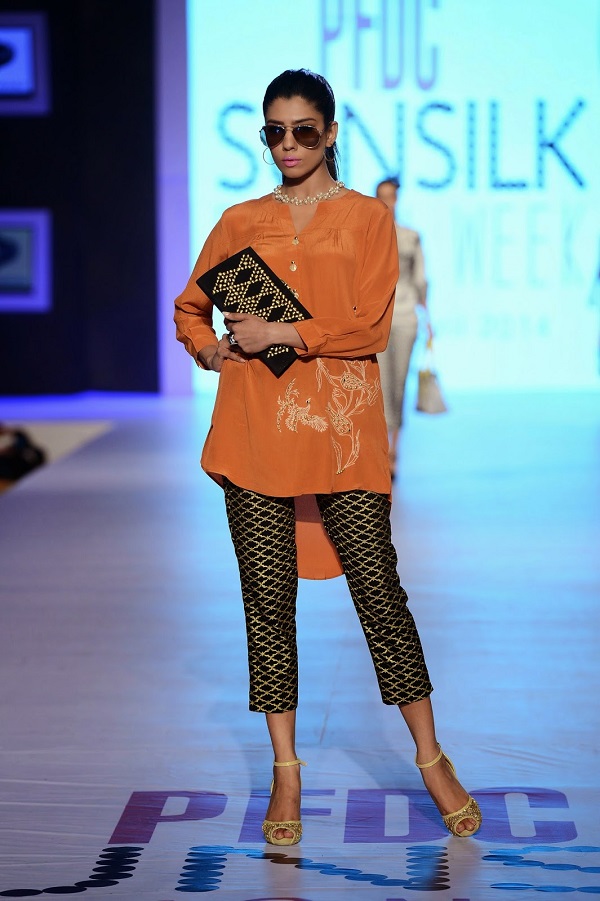 While Beach Tree, Khaadi Khaas, designer Sania Mastakiya, Shehla Chatoor gave the glimpses of loose long tunics with printed cropped parallel pants, designer Nickie Nina and high street label too highlighted the similar trend using long palazzo pants with long slit kurtis. High street label Kayseria brought a new twist to the trend with wide-opened parallel salwar worn with loose printed ethnic kurta, exuding the puppet art feel of Rajasthan. We just love the colours. The House of Arsalan teamed the kurtis with Harem dhoti pants.
[sc:mediad]
The Whirl of White…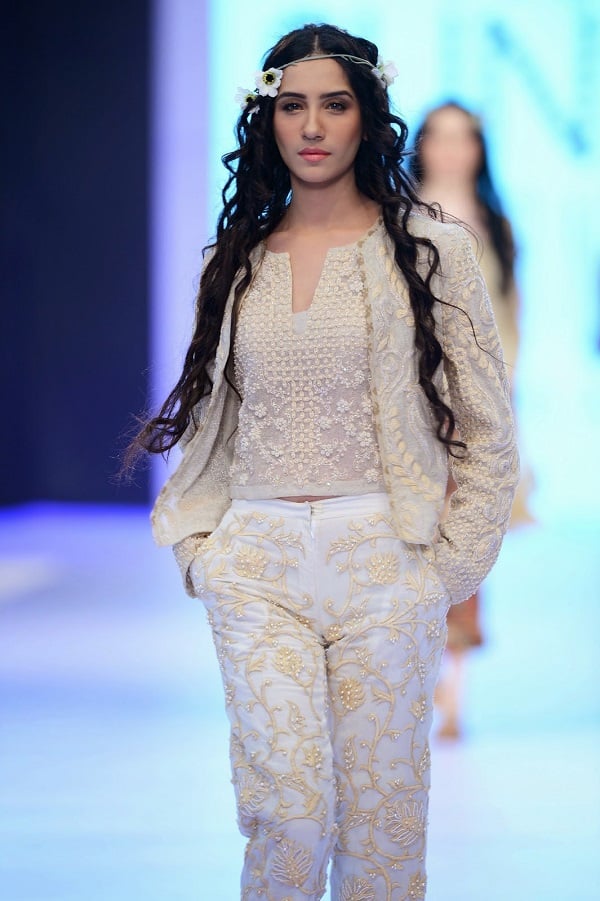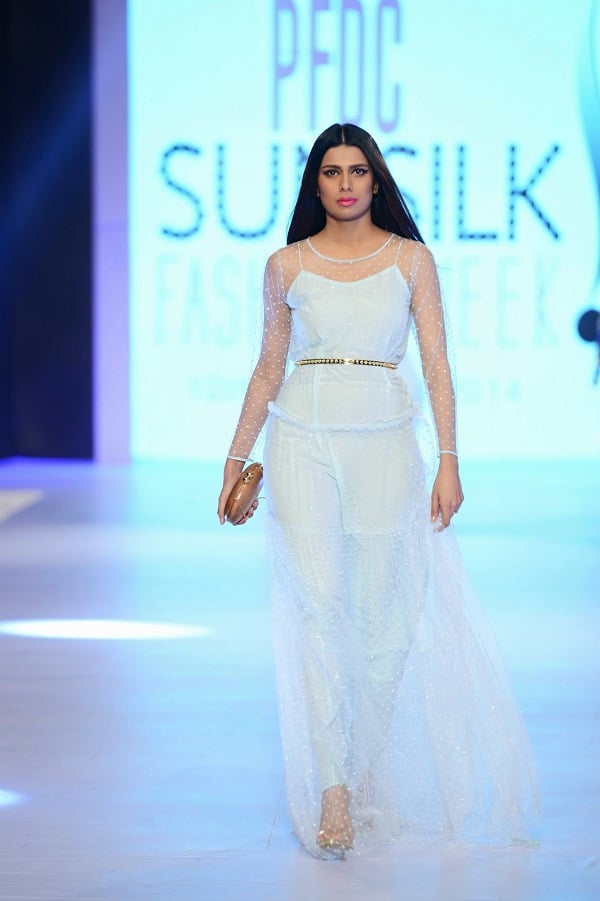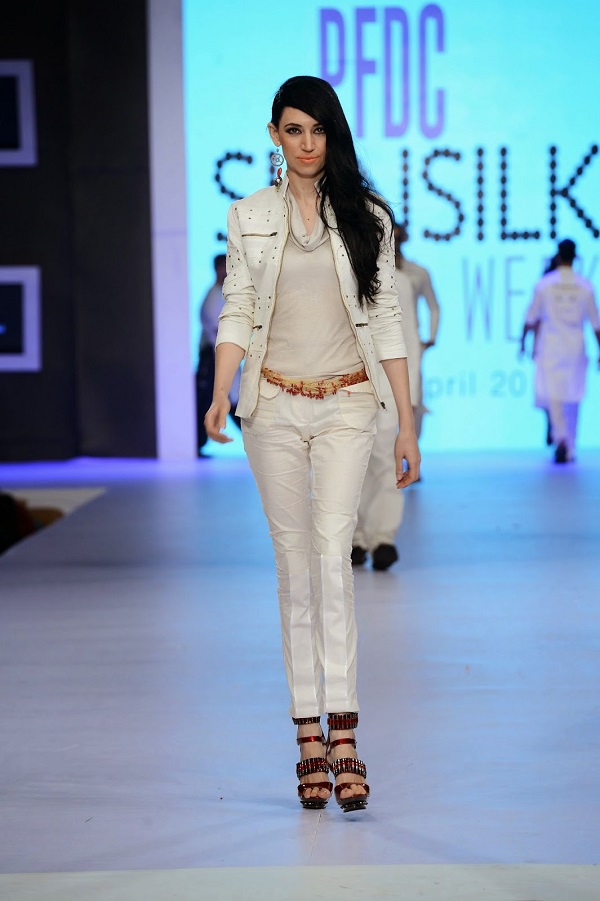 Nothing looks as fluid as pastel does. The colour white seems to be synonymous with spring summer and Pakistan fashion tends to speak out the trend loud. Almost all participating designers have gracefully chosen the colour in their collection.
You can choose to either adorn only white or accessorize your white dress in any of your favourite pastel hues. You can also opt for a little bit of soft prints in your white outfit.
Crop Top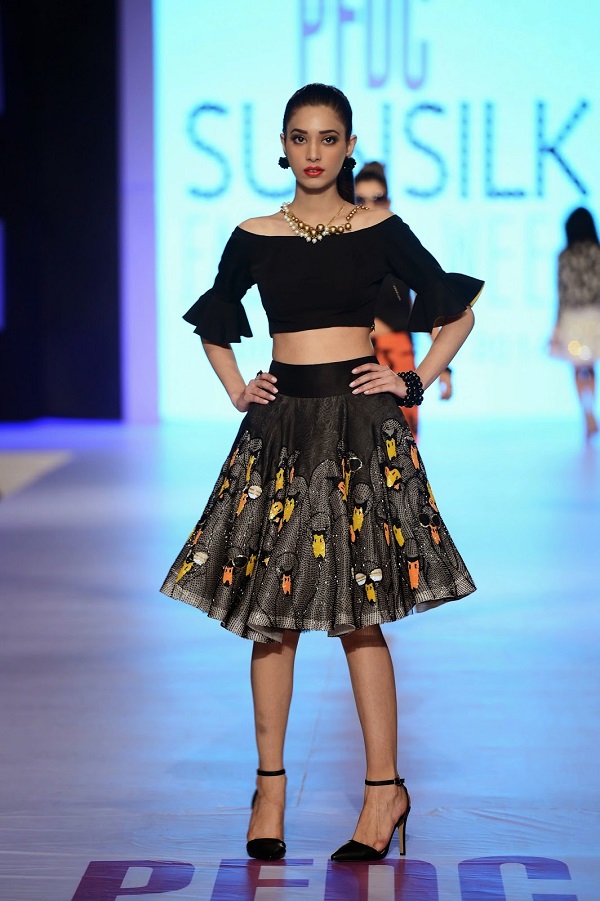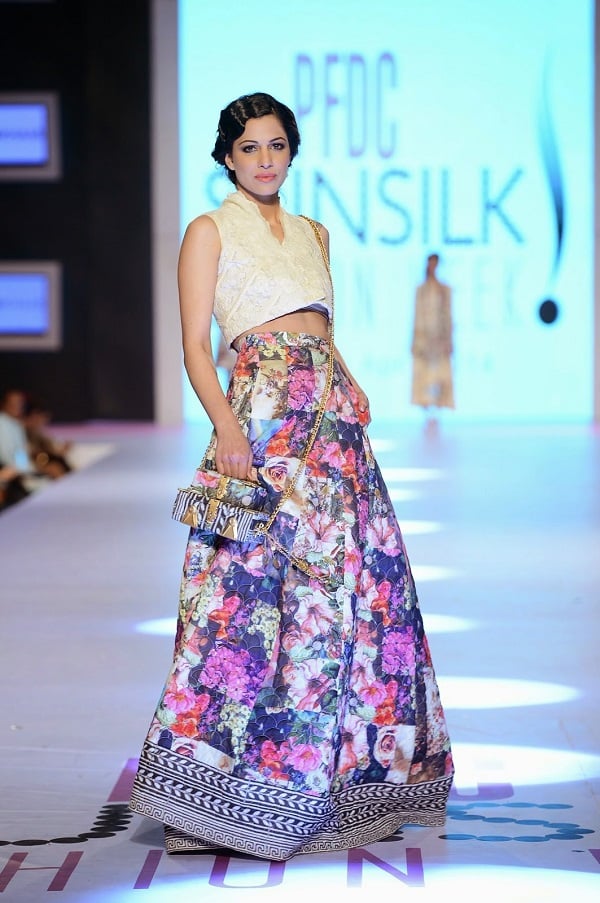 It seems that fashion in Pakistan is in sync with fashion globally. As crop top is already a hit this year and much in demand. PFDC Sunsilk Fashion Week too witnessed the trend taking the audience or fashion aficionados to a joyful ride.
Designers Moeed Yousuf and Faryal Aftab of the label Muse along with designer Nida Azwer and Khaadi Khaas chose to style their crop tops with long skirts, designer Mohsin Ali of Libas took a different route through pairing it up with palazzos.
You can pair up crop tops with jeans and short skirts too, as it is popularly worn internationally!
Layer It Up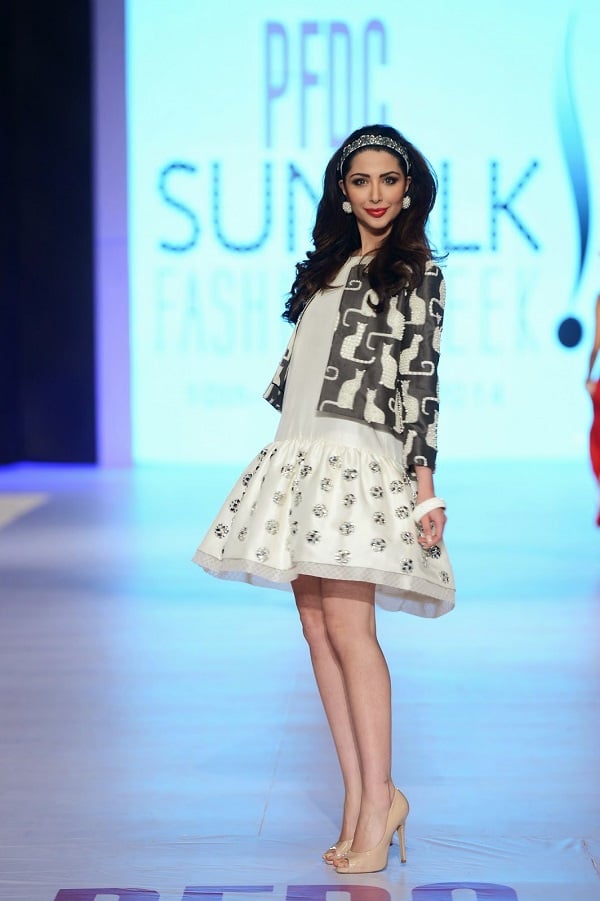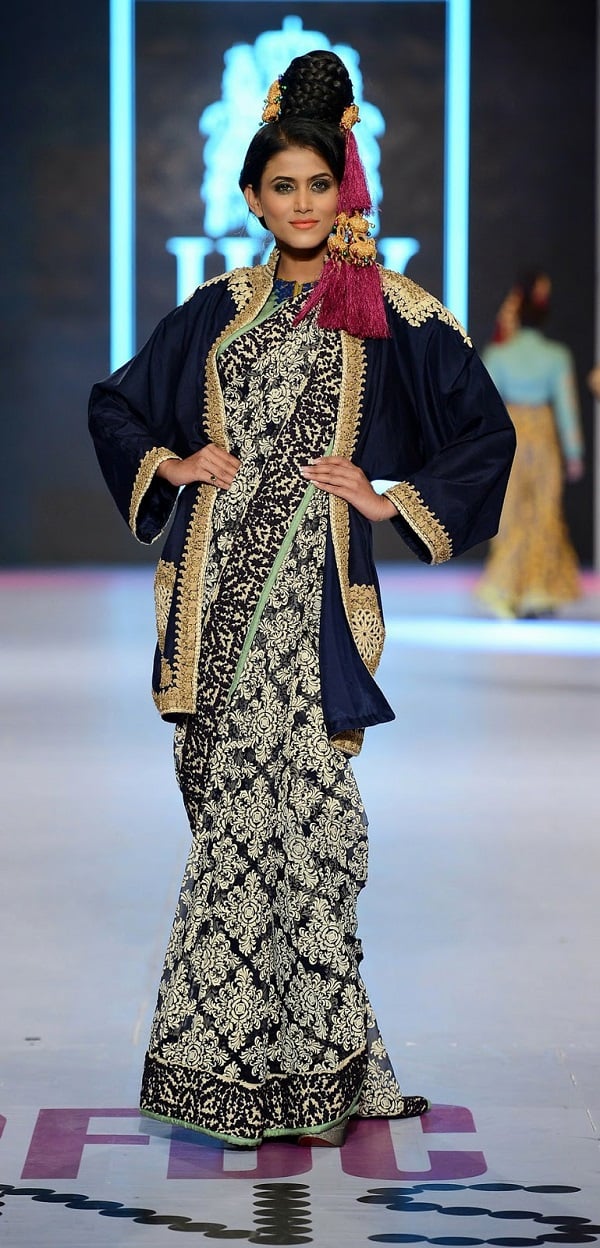 Layering has been a popular fashion trend and choice in winters but this time around summers are seeing it too. Designer Sania Maskatiya's soft organza over lay Shrug is one to fall in love with this summer. Nothing can ooze elegance as much as these over lay shrugs do for it can be adorned over kurtis with pants or gowns or dresses, such is the charm! We loved it totally.
While designer Shehla Chatoor opted for long printed trenches that can be styled over on any kind of outfits. They add extra edge to your personality. She also presented a cape style layering over top, which we found a unique piece to own. Designer Deepak Perwani also highlighted the similar trend while HSY styled it differently over a sari.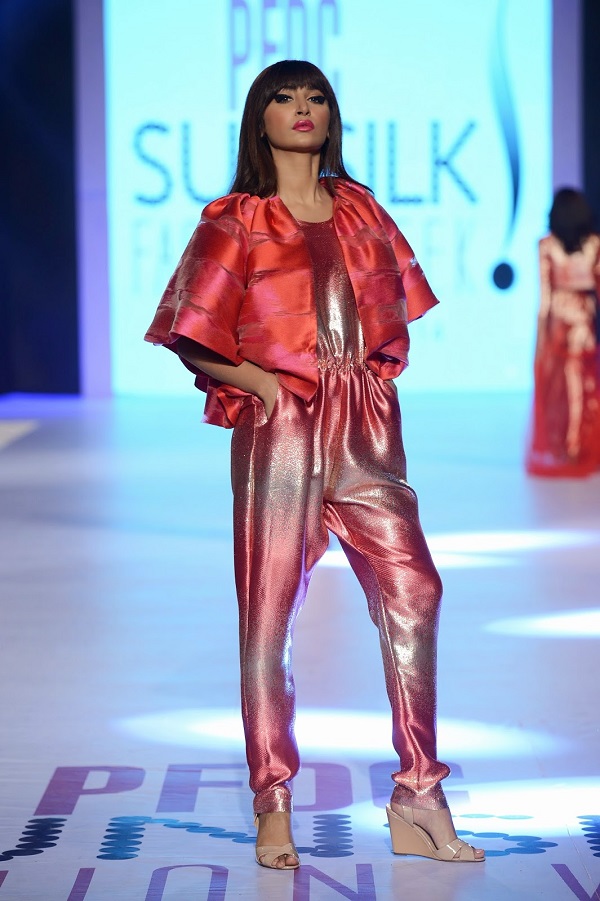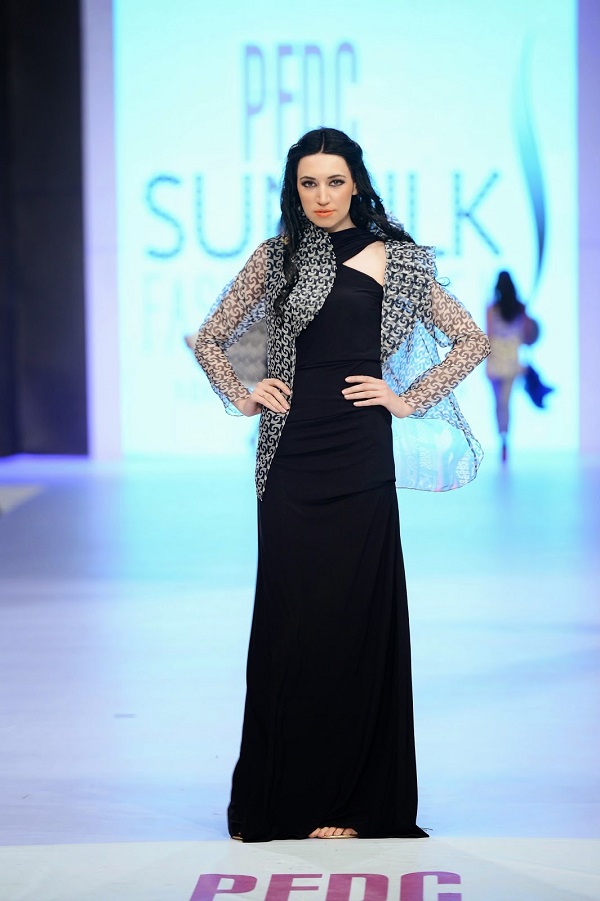 Boleros are doing well in fashion trends. Designer Nickie Nina showcased a unique bolero styled jacket, which caught our attention. Also designers Nida Azwer, Ittehad textiles, HSY and Muse too emphasized on boleros as styling accessory in their shows.
We also love what Mohsin Ali of Libas came out with i.e. a long thick threaded achkan styled over lay piece. It looks different yet one can carry it off stylishly. The long over lay pieces in softest fabrics were most prominently showcased by Ittehad textiles and designer Nickie Nina.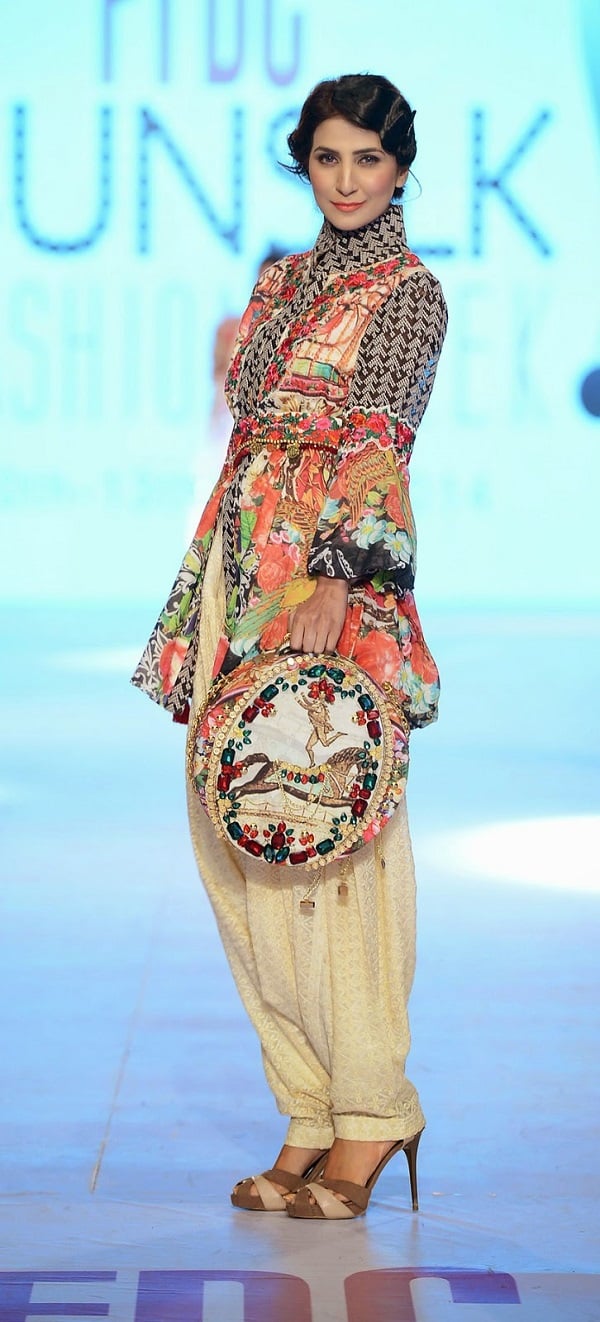 If you are not sure, where to buy the Pakistan's designers' outfits here in India, you can visit 'The Boulevard' in Delhi, the store dedicated to only PFDC's registered designers or check out the collections in their websites or simply buy out the matching trend in your nearest high street fashion market!
| In 2012, Pakistan Fashion Design Council opened its standalone store at Delhi in India. The store named 'The Boulevard' has collection of 18 Pakistani Designers. The multi-label retail store in South Extension-II is franchised by Mini Bandra of BV's (Bindra Ventures). The store showcases designs from labels like Karma, Libas, Kamiar Rokni, Hassan Sheheryar Yasin (HSY), Elan Design House, Sana Safinaz, Asifa Nabeel and Sonia Azhar |