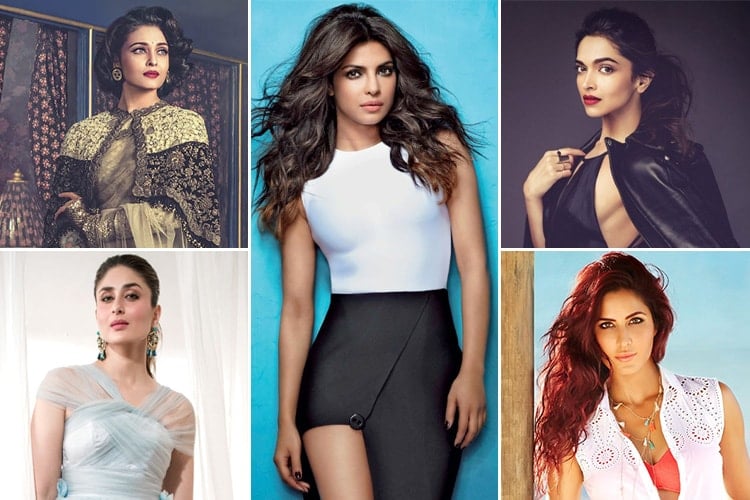 How do you rate beauty? By mere looks, or by performance? By attitude, or by grace? By simplicity, or being bold and adventurous? Is beauty genetic and God-gifted, or acquired as one goes along the profession? One could get lost in the list of clauses and sub-clauses, but the correct definition of beauty and prettiness could be a union of all these.
Which leads me to a cardinal point – who is the most beautiful bollywood actresses 2016? Once again, the debate could hover around white skinned or wheatish complexioned, tall or average in height, the colour of eyes, skin and hair etc. Etc.
[Also Read: Let's Learn From 5 Bollywood Divas On How To Dress Like A Lady Without Trying Too Hard]
Most Beautiful Actress In Bollywood
Before you scratch your brains any further, let me make your task simpler by unveiling most beautiful actress in Bollywood. I will also throw light into beautiful actress in Bollywood without makeup, which will prove how beauty is skin deep.
1. Kareena Kapoor Khan
Born on September 21, 1980 in Mumbai, Bebo has proven her absolute star power in a wide genre of films – from her first film Refugee to Jab We Met and now Udta Punjab. Her showmanship skills came upfront in her romantic, comedy and crime dramas. Indeed, she is the most beautiful actress in Bollywood who has fit in any role that came her way in her celluloid career.
Incidentally, Kareena is a beautiful actress in Bollywood without makeup too. Her porcelain skin actually puts all the makeup to shame.
Yes, while she has won umpteen awards for her meaty roles, she is also one of the highest paid actresses in Bollywood. Her marriage to Saif Ali Khan is a feather in her cap on the emotional side, which she is enjoying every bit of it.
2. Katrina Kaif
In ways more than one, she has a true Barbie doll-like image which the Bollywood industry acknowledges. The British-Indian film actress and model that she is, Katrina has the looks to be voted as most beautiful actress in bollywood.
At the tender young age of 14, Katrina Kaif won a beauty contest in Hawaii, and got her first modelling assignment in a jewelry campaign. That possibly explains why she is the official brand ambassador of De Beers diamonds in India.
3. Aishwarya Rai Bachchan
There is nothing strange about Aishwarya as most beautiful Bollywood actresses 2016. It is given, considering her phenomenal looks which have made her a true Indian, yet global at heart.
Having walked the red carpet at the Cannes for 15 years continuously is no small achievement. And given the fact that Ash is a global brand ambassador of L'Oreal products only goes to show how the Bachchan bahu has the spark of a diamond.
[Also Read: Deepika Padukone Tattoo]
4. Priyanka Chopra
Born in July 1982 in Jamshedpur, Piggy Chops as she is fondly called is not just a Bollywood actress, but the winner of the Miss World pageant in 2000. Whether in her filmy roles or on her red carpet dos, you will certainly spot out a tattoo on Priyanka's wrist, saying "Daddy's lil girl".
Priyanka Chopra was the female lead in director Abbas-Mustan's romantic thriller Humraaz in 2002. Ever since her career graph shot up manifold, so much so that she landed up with a pivotal role and 'People's Choice Award for Favorite Actress in a New TV Series' for Quantico.
Such is her beauty quotient that Priyanka Chopra has ranked on ninth position in top 10 most beautiful women of the world 2016.
5. Deepika Padukone
The highest paid Bollywood actress of today, Deepika Padukone is not just a sex symbol but a style icon as well. Her tall figure and slender neck are some of the distinctive physical features that make her stand out of all the beauty queens of Bollywood and Hollywood too.
Deepika Padukone not only has two Filmfare awards in her kitty, but also the lead role opposite Vin Diesel in Hollywood movie "xXx- The Return Of Xander Cage".
How did you find most beautiful bollywood actresses 2016? Drop in your views on FB, Insta and Twitter and let us know your unanimous opinion.