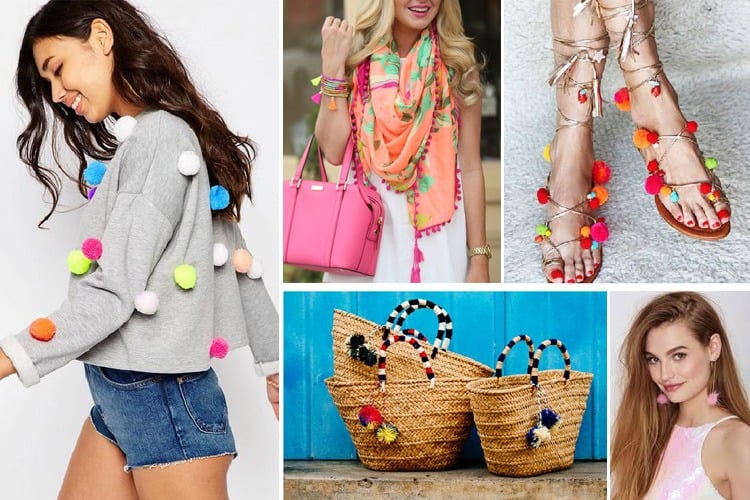 Gone are those days when you thought pom poms were only for cheerleaders. In fact, the pom-pom trend has taken the fashion world by a storm and everyone seems to be rocking it with élan.
What Is The Pom-Pom Trend
The pom-poms have become the hottest trend this season and we are thrilled that fashion designers have actually seen the potential in these colourful balls of fun. The pom-pom pieces have sprouted up on almost everything, including this season's shoes and bags. Fortunately, you have come to the right place and you will soon know how to rock the pom-pom look. Thanks to some far-thinkers in fashion, the pom-poms have also been added as tassels onto our blouses and even sun hats and clutch bags.
So, if you want to rock an island/beach vibe without going to the island or the beach, then you should know how to wear the pom-pom fashion. And in this article, we will tell you all about how to rock the pom-pom trend!
Pom-Pom Bags
You saw them first on Kylie Jenner's phone and you wondered what that was. It looked like a rabbit's fluffy tail. Soon, the fashion forward teen began sporting the pom-pom trend in so many different ways. In fact, we think that she was one of the first fashionistas who actually brought this trend to the forefront. Take a look at some of the pom-pom bags that are in the fashion circuit right now. We are sure you would love to pick up at least one of them!
Les Petits Joueurs Fox Fur Pom-Pom Leather Top Handle Bag ($1,282)
A little on the expensive side, this bag is the classic top handle bag with a simple black pom-pom.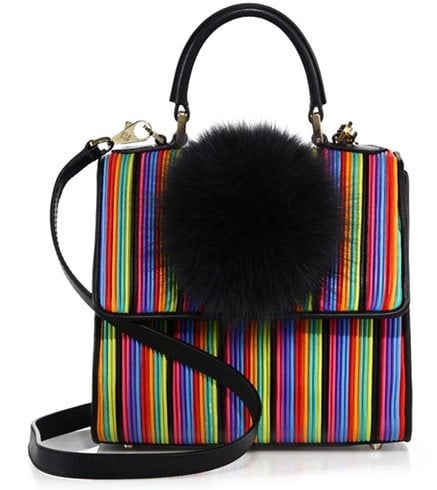 Sophie Anderson Lia 1 Clutch-Multi ($335)
Planning for a day out with your girlies or a casual lunch date? This bag can be your perfect companion.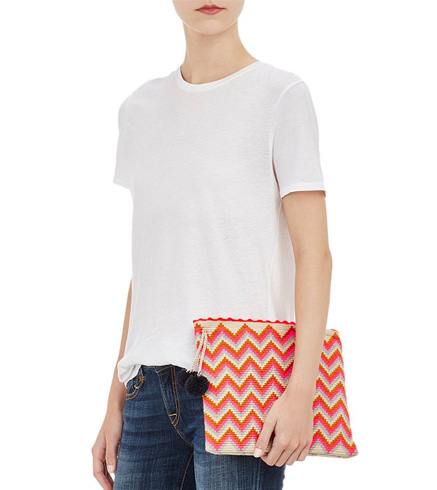 Cuccumia Light Blue Single Initial Cuccubeach Bag ($280)
For an actual day out at the beach, go for this straw bag with some colourful pom poms.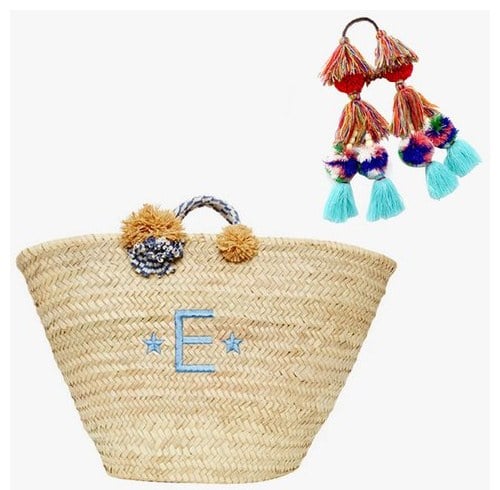 Pom Pom Dresses
The best way to channel that Coachella vibe or that boho look is to wear long, flowy dresses with pom poms. You can go with dresses which have a subtle hint of pom poms or you can go head on with the pom-pom fashion – we will give you all the choices, and you can choose the best one, depending on your love for pom-pom!
Pitusa Gypsy Maxi Dress ($140)
White, beautiful and so peaceful – exactly the kind of dress you would want to relax in at the beach. The hard to spot pom-pom trend is on the sleeve though. So if you want to go low key on the colourful balls, this dress is for you.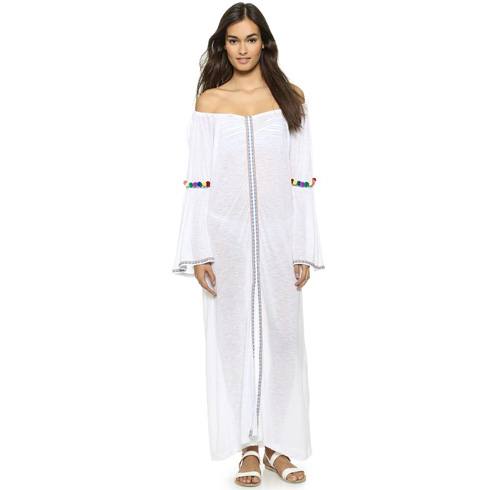 Rosantika Michelita Belt ($380) And Natash Zinco Jumpsuit ($2180)
We would say this is elegance with a twist. Not exactly a dress, but the jumpsuit can be a perfect companion with the gold belt at a high tea or a luncheon with some wine.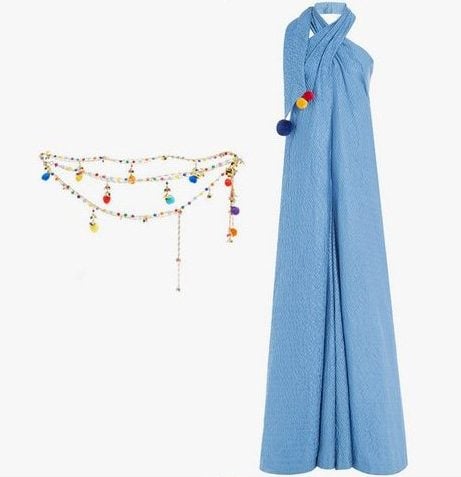 [sc:mediad]
Pom Pom Tops
If t-shirts and tops are your staple wardrobe items, then infusing the pom-pom trend with it will not only notch up your style quotient but will also magically transform your wardrobe. You can also try out DIY projects to make your old and boring tops look new by adding pom-poms.
French Connection White Blouse ($148)
For a more formal look, this lace blouse is perfect. The pom-pom trend is subtle here too and you will love the way they flutter in the breeze.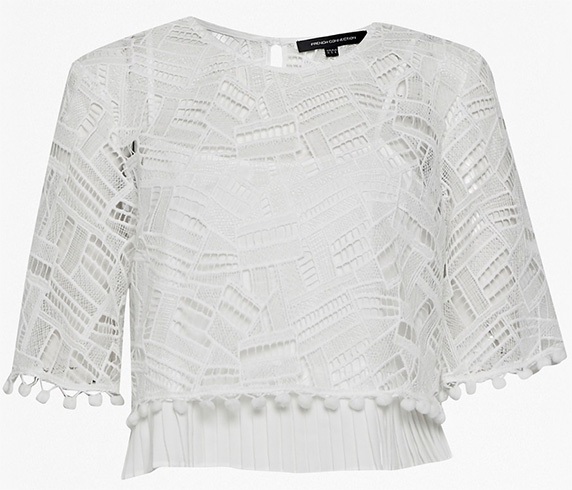 Oscar De la Renta Earrings ($590) With Trademark Pom Pom Top ($348)
This is a classic mix and match. If you want the pom-pom trend to be not-so-evident, but you still want to be in the game for pom-poms, then this classic combo will be perfect for you. Though the earrings are on the pricier side of the spectrum, you will love the attire!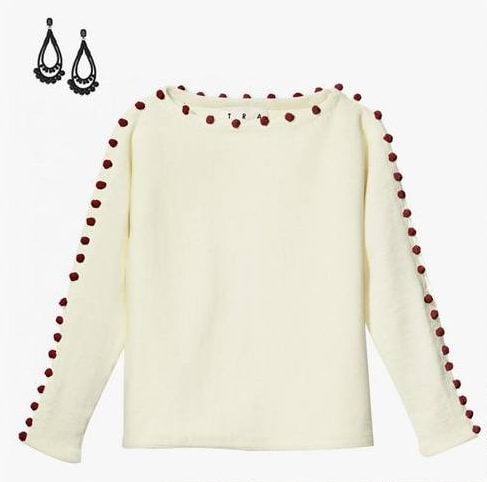 Now that we have enlightened you with trendy pom-pom pieces, you can easily nail the pom-pom trend. Remember, not always is more the merrier. So, choose your outfits with care. You certainly do not want to look like a pom-pom clown, right?
Images Source: popsugar.com, vogue.com