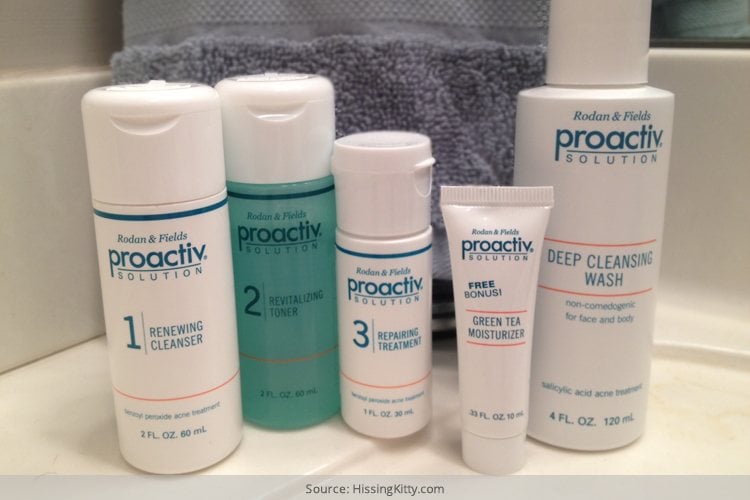 Blame it on the obscene amount of marketing or all the famous band of celebs endorsing the brand and its products, Proactive today is a name to reckon with regarding skin care products especially acne treatment system. Numerous proactive reviews, as well as proactiv plus reviews claim of them being crafted of ingredients gentler than ever but giving you results at a speed which may well make your jaw drop! Undoubtedly one of the leading brand but a little confusing because of its vast range, we decided to make things easy for you. We have listed six of our pick of top proactive skin care products and their uses.
[Also Read: Does Proactiv Work? Understanding The Science Behind Proactiv]
1. Proactiv Renewing Cleanser
Undoubtedly one of the cornerstone proactive products, this proactive face wash might just be what you need to be completely cured of your acne problem of any degree. The cleanser supposedly has micro beads which exfoliates the skin and gently removes all dirt and debris from your face. Apart from it, its benzoyl peroxide ingredient is a wonderful but mild antibacterial agent while its chamomile extract is an amazing skin moisturizer and balancer. While this is a part of the whole skin treatment kit, its shows amazing results in standalone mode as well. It counts amongst the top products to show the amazing proactive results on the face. Use it on a daily basis to give your face a clean and healthy vibe!
2. Proactive Deep Cleansing Wash
An advanced and gentle cleanser than the proactiv renewing cleanser, it provides advanced cleaning both to your face and body which not only heals acne and pimples but also prevents it from eruptions. Combining the skin peel ingredient, salicylic acid with a skin scrub ingredient, the polyethylene beads help remove dead skins as well as heal and fade any blemishes and marks. We would suggest not using it with any other acne treatment solutions and discontinue its use in case you feel some itching or burning sensation. Remember to wash thoroughly. Within a week, you yourself would know the answer to does proactive work!
3. Proactive Refining Mask
Packed with some unique proactive ingredients like sulfur, kaolin clay, hydrated silica, Vitamin E, tea tree oil, lemongrass extracts and geranium extracts, it is a wonderful mask to get the zing back on your face. Some suggest using this cream overnight but beware – the mask gets really tight! We definitely advise it to use spot-on to really remove those deep seated grime, excel oil and all conceivable dirt to leave a glowing skin with much tightened skin. Its strong sulfur sell might make some feel queasy. You can easily carry it in your bag and in just 10 minutes, you can get a facial like glow with this.
4. Proactive Green Tea Moisturizer
The benefits of green tea are so often touted that it barely requires any further highlight. Simultaneously we need to stress on the importance of moisturizing your skin. Combine green tea extracts to the moisturizer and pamper your skin with a pea sized portion! Its anti-ageing and boosted toxin flush will leave your skin well nourished rejuvenated and tighter and firmer than ever. It works as an amazing proactive repairing lotion to give you a supple and smooth skin that is bound to be the envy of all. However, the green tea extract may not be happily accepted by some sensitive skin and thus a reaction test is definitely recommended. It may not prove to be an ideal proactive sensitive skin product.
5. Proactiv Oil Free Moisture With SPF 15
A great multipurpose product, it is terrific for all those of you who are fighting an acne problem with a combination skin with some distinctly dry areas. This extremely lightweight formulation with some terrific ingredients like Dimethicone, octinoxate and zinc oxide, it nourishes the skin well without leaving an oily and greasy look and feel! Apart from the nourishing and hydrating properties, this cream also provided adequate protection against the harsh sunlight rays. It not only fights flakiness and keeps pores clog free but also works well under any makeup.
6. Proactiv Repairing Lotion
A part of the Proactiv 3 step treatment, it is a gentle yet highly effective topical disinfectant for the skin. With prescription grade 2.5% benzoyl peroxide as its main ingredient and soothing and other anti-skin irritant ingredients, this is definitely a cream to covet for! If you are challenged by blemishes and scar marks, this proactive solution may be your arsenal to fight it victoriously. And yes – do not fall into the pitfall that proactive is just meant for teenagers. Proactive for adults is extremely viable and offers some terrific results. This extremely light and oil-free formula is bound to appeal to people across all generations.
For those of you itching to try them but not sure of where to buy proactive, online shops can be your safest bet. Is there any of your favorite proactive product that we have missed? Do share your take on this with us.