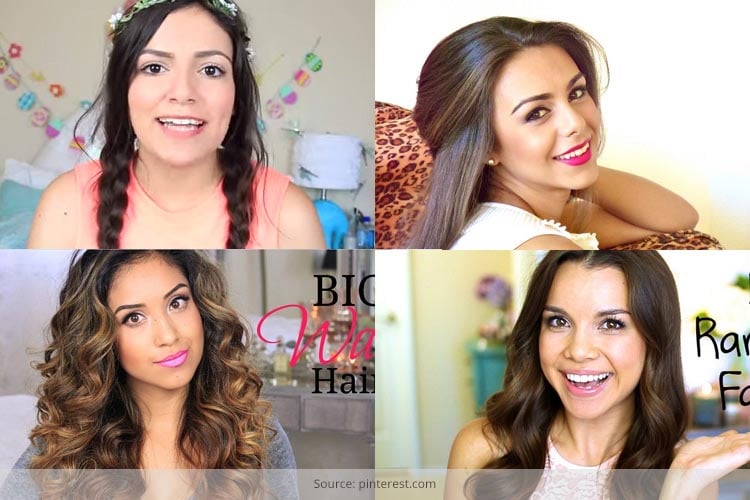 Accept it or not, when it comes to makeup tutorials, nothing works better than videos. A visual learning is always easy and quick to grasp rather than reading a step-by-step blog post.
This is the reason, the DIY video tutorials are viral among the beginners, who are enthusiastic on having a hands-on experience in the beauty world. No matter whether the beauty gurus are teaching on how to get the perfect cat eyes or fishtail braid or their fashion tips for various occasions say Diwali or Thanksgiving, their tutorials are among the most watched videos on YouTube.
Remember, how the late 13-year old kid Talia Joy Castellano's makeup videos had gone viral on YouTube as well as on all the social networking sites? Even though the budding makeup artist had more to offer for her fanfare, destiny had some other plans for her.
Even though her videos are among the most viewed, we won't discuss about her in this edition for the time being, as we are planning to post a full-length edition about this angel who was on earth for a brief period. Now moving forward, we have rounded up Top 5 YouTube Makeup Gurus You Must Start Following Now, whose tips are so effective to get a dramatic makeover and suggestions are straight from the fashion runways. Continue reading!
JLovesMac!
If you ever go through this girl's videos, you're bound to have giggles apart from getting some hot beauty tips. We sure think this she is one of the best youtube beauty gurus. Her raunchy way of giving makeup tutorial is one of the most interesting ways to learn and a fun way to get out of the boring environment at times. This is one of our favorite beauty channels that we've ever come across.
Apart from JLovesMac beauty tips, you'll sometime catch up her with some great dance moves, her outfit inspirations and secret to get a great body. The girl is versatile in giving tips and does not mind if she goes beyond giving some cues on fitness as well, while occasionally opening up on girl stuff.
Her youtube makeup tutorials are a must to watch as the girl incorporates some great sense of humor apart from hot makeup dopes.
Missglamorazzi
You are surely going to be impressed by the lively personality of this online makeup guru, Ingrid. She prefers to put her DIY classes as GIY i.e. glam it yourself.
Her interesting YouTube makeup tutorials will just make you hooked up with her beauty YouTube channel. She not only gives lessons for beginners, but gives genuine reviews on products, latest beauty techniques and trending fashion. Her reviews makes it easy for us to search for makeup items and brands. Her DIY videos offer beauty suggestions in a nutshell in an engaging way.
Watch out her "Get Ready With Me" videos and I'm sure you'll fall in love with this girl!
DulceCandy87
Apart from Dulce's unique fashion sense, her simply and easy YouTube tutorials on how to apply makeup can transform any fresher to a skilled beautician. She teaches you everything from how to get Kim Kardashian's smokey eyes to how to look beautiful on your D-day and other important events. She lets you understand your profile and choose makeup accordingly and not to mention apparels as well.
[sc:mediad]
The girl helps you get ready for a date to Valentine's Day and the recently Thanksgiving parties. She also shares some useful suggestions on hairstyles and how to get rid of bad hair days.
Carlibel55
Watch Carli's youtube makeup tutorials videos and you'll just live everything about her. This uber chic is not only beautiful but offers an array of variety in her videos, ranging from latest trends and runway looks to perfect hair do and gorgeous eye makeup.
You can easily feel the passion this girl shares towards beauty and fashion. She just loves to share her know-hows and anything she feels may be useful for the newbies. While  she is a favorite among teens, her demonstration can just attract anyone looking for some quick beauty and fashion tips.
If you are looking for some dramatic makeover for your upcoming party look or just a subtle element for your family event, she is always there for your rescue.
We love this Youtube Makeup Guru too!
AnnieJaffrey
This makeup tutor is keen on giving some test-proven lessons on skincare as well. Annie not only helps you in getting the perfect contours in your cat eye makeup, she also helps you in maintaining a flawless skin and healthy hair. Her YouTube beauty channel is a complete package to stay beautiful and fashionable at the same time. Her ability to teach her online students is impressive, engaging and motivating enough to take care of your body and skin.
She gives you genuine preferences on beauty products and stores to shop online. While the YouTube makeup guru strongly believes in getting natural beauty upfront with great body, skin and hair, her tutorials also radiate the same.
So, these were my top 5 YouTube makeup gurus you must start following now and I'm sure you would surely have a great time going through their videos. Inspiration to all, they can be just your guilty pleasure!