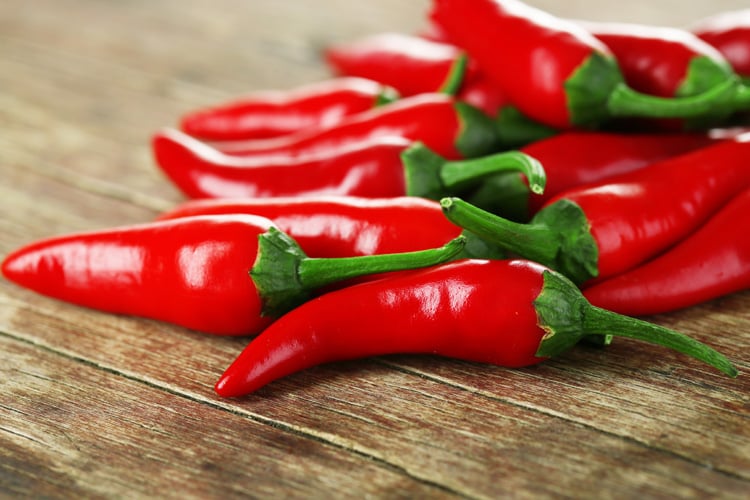 In India, Cayenne pepper is not a very common ingredient in the food, but we do use it to add flavor to our food. The red, hot pepper is an amazing condiment and actually has a host of benefits for you and your body. In fact, research has indicated that because of its benefits, cayenne pepper has been used for 9000 years!
In this article we will talk about all the benefits that you will get if you introduce cayenne pepper into your diet.
Read more about it below:
But before we go into the details of the benefits, let us read about what really cayenne pepper is.
What is Cayenne Pepper?
Cayenne pepper is known by a variety of names including – Guinea spice, cow-horn pepper, red hot chili pepper, aleva, or bird pepper. The name Cayenne is derived from the city capital of French Guiana called Cayenne and all over the world, it is mostly used in its powdered form.
In its powdered form, Cayenne is used to cook spicy dishes and flavor various kinds of food. It is also used as a herbal supplement since it has a large number of benefits for the body. In the below section we will talk about all the benefits and uses cayenne pepper can have for the skin. Read on.
Benefits and Uses of Cayenne Pepper for Skin: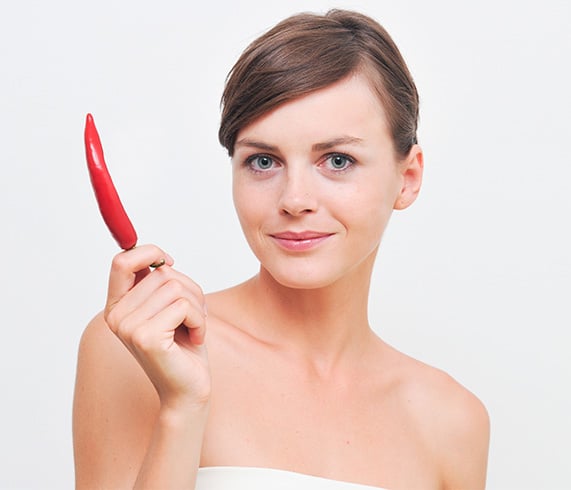 1.Treats Acne:
Cayenne is known as the 'Prince of Spices' because it contains ingredients that have amazing properties. The number one ingredient in the pepper that makes it fight against acne is the presence of 'capsaicin', an active ingredient, reduces the acne discoloration and soothes the redness of the skin. It also helps in making the dark spots disappear. Capsaicin also clears out the bad blood and cleans out the toxins which in turn prevents acne and pimples.
Things you need
Directions:
Mix all the three together until it becomes a smooth paste and apply on your face.
It will work to remove the impurities from the skin and also fight bacteria.
Tip: Wash off the paste and moisturize the skin for best results.
2. Beautiful Skin
Besides Capsaicin, cayenne pepper is also rich in Vitamin C, Vitamin E, Antioxidants and Vitamin B6. All these are very good to improve the health of your skin and promote collagen production that increases the elasticity of skin. The anti-fungal and anti-allergen properties of cayenne pepper also make it a great cleanser.
Things you need
Directions
Make a paste of the cayenne pepper powder and lemon juice and apply it lightly on your skin.
Wash off with cool water in about 15 minutes.
Tip: Test the paste on your hand before using it on your face. Sometimes it is best to get a patch test done before applying it on your face.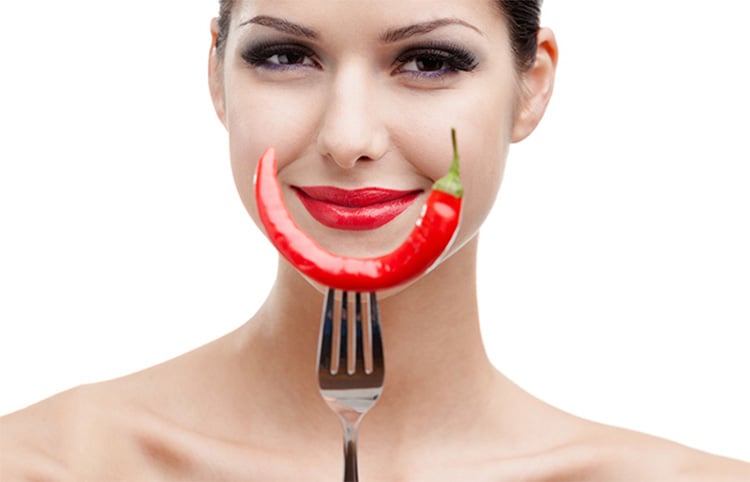 3. Fights Inflammation
We mentioned before that the properties of cayenne pepper make it very good as an anti-fungal, anti-bacterial as well as an anti-inflammatory ingredient. It helps to make your skin healthy and supple.
Things you need
1 tsp of cayenne pepper powder
Directions
Mix all the three ingredients together and make a smooth paste.
Put this paste on your face and let the mixture stay for half an hour.
Wash off with cool water.
Tip: Cayenne pepper mask may not be recommended for everyone. Your skin might not take it well. Always do a little bit of a patch test before putting the whole mask on your face.
Benefits and Uses of Cayenne Pepper for Hair
Just like it is very beneficial for your skin, cayenne pepper also has a lot of benefits for your hair. Let's check some of the best uses: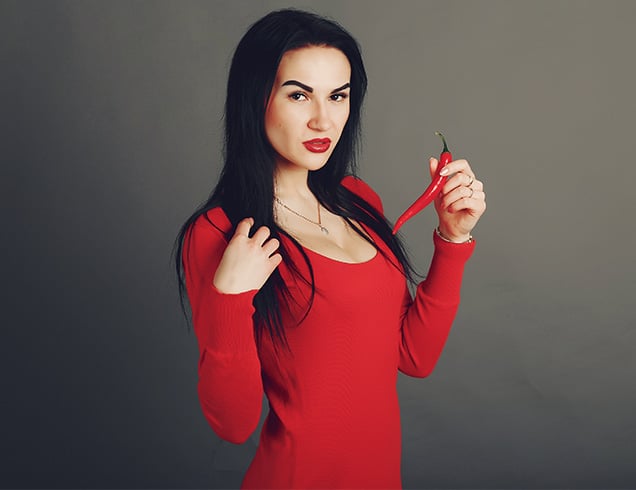 1. Shiny and Voluminous Hair
Things you need
Cayenne pepper – freshly ground
Directions
Mix cayenne pepper and honey and apply it directly on your scalp.
Now use a cellophane paper to cover your hair
Wash it off after half an hour
Tip: Apply this paste once for at least 3-4 weeks to see a difference in your hair
2. Hair Growth
Cayenne pepper is also a great way to increase the growth of your hair. The Vitamin A that is present in Cayenne Pepper is great to repair damaged hair cells and hence helps for quick growth of hair.
Things you need
Directions
Stir in eggs and honey and make it into a smooth paste.
Now add the rest of the ingredients into this mixture and use the paste on your hair roots.
Use a cap to cover your hair and let the mask sit on your scalp for at least 40 minutes.
Wash off with a mild, organic shampoo
Tip: You this mask at least once a month to get your hair to grow faster.
Benefits of Cayenne Pepper for Health:
By now you have seen how many benefits cayenne pepper has for your hair and skin. In fact, cayenne pepper has also great benefits for your overall health. The section below talks about all the properties of cayenne pepper that makes it such an amazing ingredient to have in your kitchen.
Read on to know more: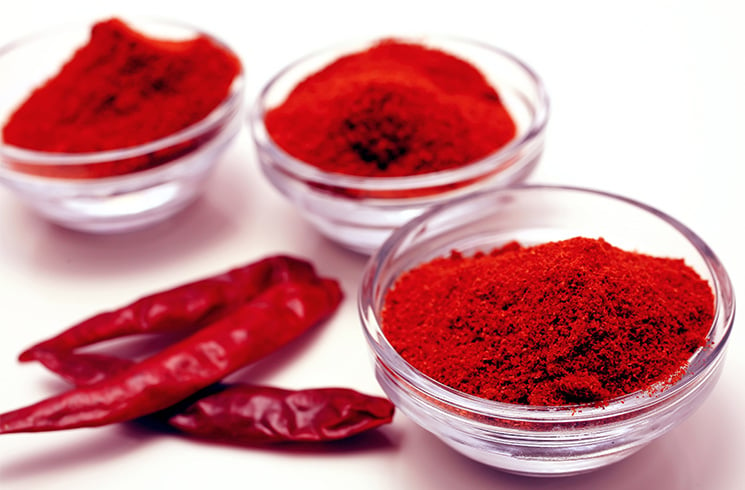 1. Anti-cold and flu
Cayenne pepper's most important property is the one that is imparted from capsaicin- an ingredient that makes cayenne pepper a great decongestant. Mix some lemon juice, honey and hot water and have this concoction until your cold subsides
2. Anti-Migraine
Again, the main ingredient in cayenne pepper- capsaicin is responsible for bringing relief from headache. It reduces substance 'P' that is activated during a headache and stops the neurotransmitter from sending pain signals to the brain
3. Good for digestion
Cayenne pepper stimulates the enzymes present in the digestive tract and helps to digest food much faster and easily. It is also useful when you are suffering from gas and helps relieve a gassy stomach.
4. Detoxing agent
Adding some lemon juice, a little bit of honey and cayenne pepper to a glass of warm water is a great way to detoxify your body at the beginning of your day. You should drink this every morning to help make your digestion better.
5. Prevents Blood Clots
Cayenne pepper's properties make it very effective in preventing heart attacks because these properties encourage fibrinolytic activity that helps prevent blood clots.
6. Supports Weight Loss
The best thing about cayenne pepper is that it assists in your digestion and increases metabolism so that the food gets digested better and your food regime is monitored.
7. Relieves Joint and Nerve Pain
The active ingredient in cayenne pepper is capsaicin that is a proven analgesic and often prescribed to people who have been diagnosed with arthritis. Having Cayenne pepper in your diet can help relieve these nerve and joint pains.
8. Works as Anti-Irritant
Cayenne pepper is a natural anti-irritant because of the presence of capsaicin that helps to reduce the irritants in your system.
9. Boosts Metabolism
The compound capsaicin present in cayenne pepper produces heat that boosts the metabolism in the body. This produces extra heat in the system which in turn is helpful to burn calories.
10. Reduce blood sugar levels
Cayenne pepper is a spice that helps to reduce the blood sugar levels and promotes healthy insulin levels in the body
11. Source of Vitamin A & E
The levels of Vitamin A and E are very high in cayenne pepper and this helps to keep your skin healthy. These two vitamins are also power anti-oxidants that promote a healthy body and mind
12. Treats Psoriasis
Again the compound capsaicin is essential to treat psoriasis and in many cases regular use of cayenne pepper in your diet can actually help to treat this.
13. Anti-Allergies
The best property of cayenne pepper is the fact that it is a natural anti-irritant and can suppress your allergies to a large extent.
14. Anti-Fungal Properties
Cayenne pepper not only prevent fungus from forming, but it will also destroy the pathogens that may cause fungal infections to reappear.
15. Possible Anti-Cancer Agent
Research has shown that the ingredient Capsaicin in cayenne pepper can help kill cancer cells especially that causes prostate cancer.
16. Anti-Redness Properties
Cayenne pepper is a natural anti-irritant and helps remove redness that may be caused due to any kind of allergies
17. Helps Produce Saliva
When you include cayenne pepper in your diet, you will see that your salivary glands are functioning properly and this helps increase the production of saliva. As a result, you will have better digestion of food.
18. Promotes Longevity
All the properties of cayenne pepper also make it an excellent item that promotes longevity. Capsaicin, antioxidants and vitamins all help to increase your longevity.
19. Helps Sore Throats
Cayenne pepper, as mentioned before has anti-inflammatory properties and also is a natural analgesic. Hence it can help you in case you have a sore throat. Just add it with the tea you drink or gargle with it for instant relief
20. Anti-Bacterial Properties
The pungent flavor and aroma of cayenne pepper actually indicates that it has anti-bacterial properties and is often prescribed as a natural remedy in case of an infection.
21. Promotes Heart Health
Cayenne pepper is a power stimulant that helps to improve the condition of the heart and helps it to perform better. As a result your heart is in a much healthier state
22. Topical Remedy
In some cases, cayenne pepper applied topically can also help relief pain and arthritis. The only important thing you should keep in mind is that you should not have broken skin because otherwise cayenne pepper will burn a lot.
23. Remedy for Toothache
Capsaicin in cayenne pepper can help with pain relief and anti-inflammation. Just apply a lit bit of the powder on your tooth
24. Prevent Blood Pressure
Mixing cayenne pepper in a glass of warm water and drinking it opens up the blood vessels and helps blood to flow faster. As a result, it will reduce blood pressure.
25. Helps Cure Ulcers
Peptic ulcers can be easily cured with the help of cayenne pepper, make sure you add some to your daily food to prevent ulcers.
26. Improves Oral Health
When you regularly have cayenne pepper, you will be able to see that there is an increase in the salivation and as a result oral health is also promoted.
Cayenne Pepper Nutrition Facts
Cayenne pepper has these nutritional facts:
Principle
Nutrition Value
Percentage of RDA
Energy
318 Kcal
16%
Carbohydrates
56.63 g
43%
Protein
12.01 g
21%
Total Fat
17.27 g
57.56%
Cholesterol
0 mg
0%
Dietary Fiber
27.2 g
71%
Vitamins
Folates
106 mcg
26%
Niacin
8.701 mg
54%
Pyridoxine
2.450 mg
39%
Riboflavin
0.919
71%
Thiamin
0.328 mg
27%
Vitamin A
41610IU
1387%
Vitamin C
76.4 mg
127%
Vitamin E
29.83 mg
199%
Vitamin K
80.3 mg
67%
Electrolytes
Sodium
30 mg
2%
Potassium
2014 mg
43%
Minerals
Calcium
148 mg
15 %
Copper
0.373 mg
41%
Iron
7.80 mg
97.5%
Magnesium
152 mg
38%
Manganese
2.00 mg
87%
Phosphorus
293 mg
42%
Selenium
8.8 mcg
18%
Zinc
2.48 mg
22.5%
Phyto-nutrients
Carotene-ß
21840 µg
–
Carotene-α
0 µg
–
Cryptoxanthin-ß
6252 µg
–
Lutein-zeaxanthin
13157 µg
–
As you can see, cayenne pepper has so many good nutrients and minerals that having it as a part of the diet is always preferable.
Read below to know how to add cayenne pepper in your diet.
How To Incorporate Cayenne Pepper Into Your Diet (For Health Benefits)
Cayenne pepper can be used in your everyday meals, or you can also add it to a glass of warm water and drink it every morning. If you like it in your tea, you can also add a pinch of the powder in your tea. Cayenne pepper can be added in different meals, especially in meat and vegetable curries.
Possible Side Effects:
Too much of anything is bad and you should always have spicy food in moderation. Including too much cayenne pepper in your diet may lead to these side effects:
Skin irritation, burning and itching
It can also irritate the skin of the nose and the mouth
Do not bring it near damaged skin as it might lead to severe burning
Tips, Prevention and After Care (If any):
Though cayenne pepper is safe to use by everyone, sometimes you might get severe irritation or burning, especially if your skin is broken. In such cases, wash off the affected area with cold milk or cold water to prevent the burning sensation.