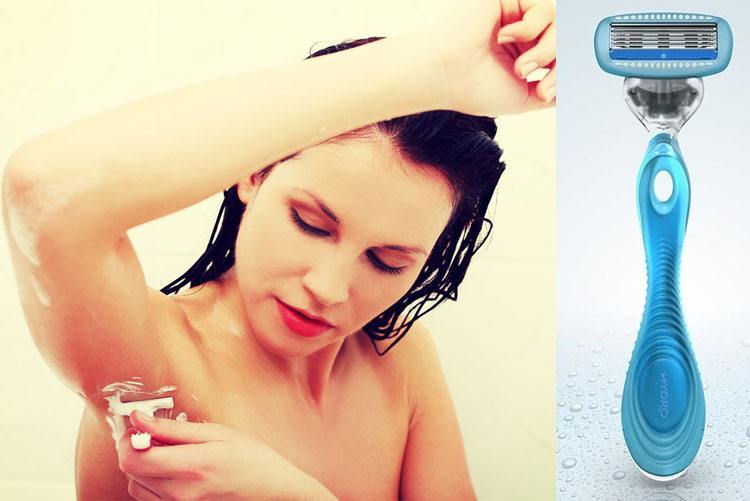 Summers are quite blissful. You have all the reasons in the world to look and feel carefree. The outfits can be worn to knee length or above, the tops can be worn sleeveless, the makeup can be nude. But did you look at the hair growth on your skin? You ought to grab the first razor before you end up looking a girl from the old block. So stop feeling dejected and invest in a good quality razor to make your skin look hairless and smooth.
[Also Read: Shaving Nicks and Knacks Every Girl Must Know!!]
Women actually have different body contours than menfolk (you know the 36-24-36 on paper). Hence there is a need to have different types of razors as far as women are concerned. Also, women's hair is less coarse and less dense than men's hair. To make shaving convenient, women's razors come in both disposable and electric versions.
Electric razors for women come with slow motors, as their hair type is thin and less as compared to men which need fast motors. But despite that, there are good electric razors for women that come with a fast motor which allows for faster shaving. Pivoting heads look into prevention of nicks, cuts and irritation.
Let's take a look at some good shaving razors for women.
10 Best Women Razors
1. Gillette Venus Embrace
Disposable and with a rounded head, five cushioned blades and a moisture strip , Gillette Venus Embrace razors make you embrace your skin with soft-grip handle and a travel cap. Designed for sensitive skin, many users have reported no cuts when shaving in a hurry, it is one of the best lady razors. The shaving instrument comes with a Shower Pod, which holds your razor to your shower wall, so there is no need to worry about its re-usability. All in all, Gillette Venus Embrace gets you the smoothest shave ever.
2. Gillette Venus Breeze
This is a great razor to keep in your gym bag.The set comprises of a razor and two blades. Each of them are surrounded with shaving gel. It's easy to use and great for on-the-go.
[Also Read: Is Shaving Body Hair Safe For the Skin]
3. Noxzema Bikini Shavers
Enjoying a beach bath with your boyfriend can be easy, smooth and trouble-free once you have done your shaving right. That's because our bikini areas can be hard to shave considering the nicks and cuts that happen. Noxzema razors are wide enough with an easy-grip handle and soothing aloe vera lotion featuring in each blade. What will please you no end is the money-back guarantee that these razors come with. So if you wish to return them, you can do so and get a full refund on these ladies razors.
[Also Read: Do's And Don'ts Post Bikini Wax]
4. Schick Intuition Plus Renewing Moisture Shaver
This razor comes from a reputed family of female razor brands (Well, the mens razors are reputed too). This quality razor for women comes with built-in deep moisturizing shave gel and 2 razor refills promising you weeks of silky-smooth shaving. Each razor is equipped with four thin blades and a pivoting head that is easy to use on every bend and curve of your legs, right from ankle to knee to bikini line.
[sc:mediad]
5. Schick Silk Effects Plus
If you like the Schick Intuition razor but feel uncomfortable with the gel-coated blades, reach out then for Schick Silk Effects Plus. It gives you the same smooth shave with aloe effect instead of the cream becoming the best girl razors. Moreover, each blade comes fitted with tiny wires that shield you from razor burn and cuts.
6. Schick Quattro For Women
These are the best reusable razors you can pack in for travel and throw them away after one use.They give you a decent shave with its pivoting head, four sharp blades, a comfortable grip and a long handle for ease of use.
7. Zafirro Iridium Razor
At $100,000, it's a razor only an Arabian princess can buy. It has rust-resistant sapphire blades, the handle is made of iridium, a rare metal used to make space rockets. Would you want to leave this precious razor behind in your hotel room? Nah.
[Also Read: Men's Grooming Products That Every Girl Ought To Use]
8. Gillette Venus Swirl Razor
With a unique flex ball that lets the razor swirl in different directions, this is one of the best women's razor that reaches every nook, corner and curve of the body effectively. This five-blade razor provides a close shave and is totally comfortable to hold and glide. This is one of the best safety razor for women as it has rendered high customer satisfaction with its features and efficiency in providing one glide shave.
9. Bic Soleil Bella Disposable Razors
This travel friendly and the best disposable razor disposable razor is a must have of every women out there. It reaches out to all the difficult areas like knees and ankles with absolute ease. Easy to hold and use, this razor is available in scented and unscented versions. It provides a close shave and is totally budget friendly. Aren't these features enough to add it to your toiletries?
10. Remington Smooth Glide Wet/Dry Shaver
So far, we have seen manually operated razor and their quality and we are amazed by its effectiveness. Now, here we have a women's electric razor by Remington that has four blades that provide close shave. In or out of shower, this rechargeable lady shaver will eliminate every trace of hair. The almond oil strips moisturize the skin during the shave for comfort and easily becomes one of the best rated shavers.
Now that you have so many options in best ladies shavers/razors, let us know which of them suited you the most. Happy Shaving!