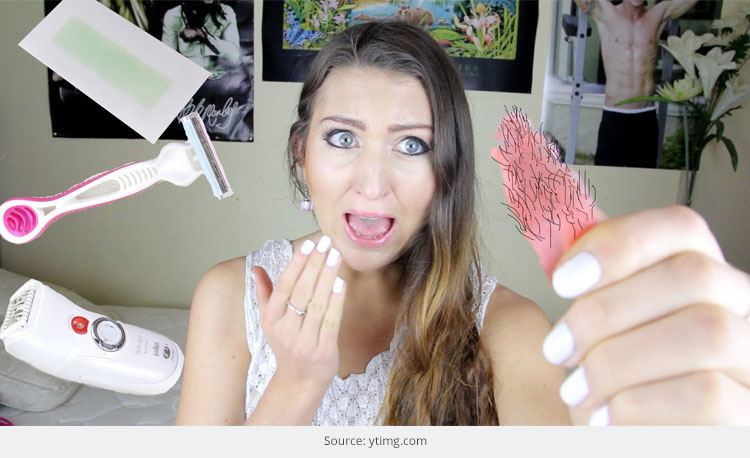 Waxing hurts, creams have chemicals in them, and even before the first menses cycle begins, we girls are told by our moms (mostly) to shave. Areas to focus on would be the pubic zone, the underarms, the legs and maybe (rare cases) other parts of the body too. Waxing isn't for everyone, because some skin types are so sensitive that post waxing the skin begins to sag! So what do we do? Shaving is the only painless way out to get unwanted hair removed, unless of course for a one-time pain and splurge, you would opt for laser treatments!
Let's talk about shaving
The hair on our bodies (girls) is a normal thing to have ever since the days of puberty. While most feminists rant about body-hair removal being anti-feminist and so not the body-respect being given, more than the cosmetic effects, hair removal helps with grooming and hygiene too.
Should you be thinking on removing your body hair, and if this is your first time too, we would ask you to speak to mom first or maybe an aunt for guidance. Let them explain to you the pros and cons of shaving, through their experience. And if you still need guidance and help, check with an expert dermatologist who would have a scientific explanation on if your skin would accept shaving or not!
Hairy scary tales
To shave or not to shave is the big question here, especially around the most sensitive spots and zones of the body; namely the pubic region and the underarms. Sometimes, with excessive shaving, the zones may turn dark. So what if you are a hairy damsel and would need help, would waxing or laser be the right answer?
Body hair removal isn't a hard and fast rule for you to be a PYT and a diva at the same time. Till the mid 1900s, women still didn't do it and yet they looked super-fab!
In India, most women wear long gowns, skirts, trousers, sarees and lehengas or salwars and yet do not think of shaving the pit or the pubic region as a ritual to follow.
Should you be wearing skin-revealing clothes, in that case, shaving would be a must for aesthetic reasons.
Why not wax?
While waxing since the days of grandma was known to be the best way to remove body hair, the process can be done at a parlour or at home, and no geniuses needed. The best part is that the hair is pulled out completely and the regrowth isn't a pin-pokey deal to experience later on. Waxing though can make the skin loose and non-elastic!
Should I use depilatories?
Shaving is better than using depilatories, simply because the gel or cream in use is filled with chemicals that can damage the skin and create more problems for sensitive zones. Such creams not only are chemical based but they leave behind a smell not too pleasant as well!
[sc:mediad]
Tips on body shaving
Shower and shave, because the skin isn't rough and dry while showering happens
Use a gel or a woman's shaving cream
Shave not in the opposite direction of hair growth
Never share razors, even with big sister or mom!
When shaving around the pubic zone
Be very gentle
Use hot and cold water in equal measures
Use a gel or a cream and lather well
Never use gels of creams with fragrance in them
Always dip the razor in warm water and then wash with cold water while shaving
Never use the same razor twice
Never share razors
[Also Read: Everything About Bikini Wax]
We hope you now understand the pros and cons of boy hair shaving, and why it takes an upper hand over waxing and other methods of body hair removal. Once again, if you do not feel the need to shave your body hair, no one's forcing you! Be the natural beauty you are, and your talents would speak for itself!