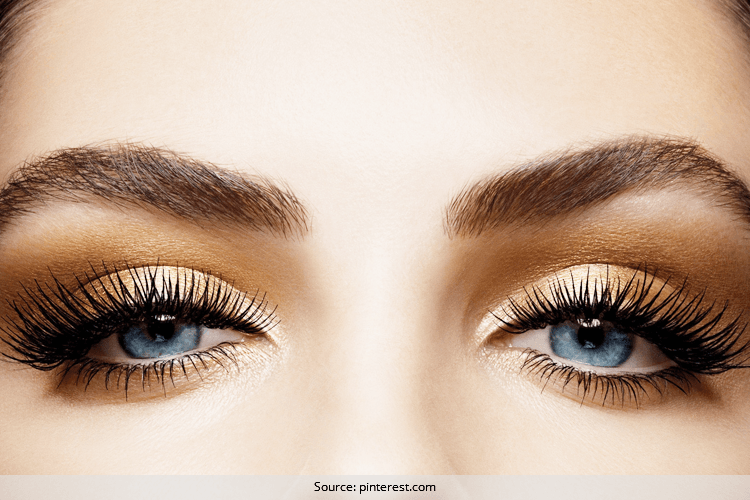 The sixties and seventies trend
Remember those beautiful divas from the sixties and seventies who made your heart flutter with their doe-like eyes? Eye make-up was intense with the long, curling eye liner, double coats of mascara, bold eye shadows and prettily batting eyelashes. Fake eye-lashes were popularly used and made a world of difference!
Fake lashes – Making a huge comeback
Then somehow they vanished, were declared to be tacky and unfashionable and now have made a huge comeback! When Jennifer Lopez turned up at the Oscars in big, curling lashes made of mink, a new trend started! Now fake eyelashes are turning out in outrageous and grandiose avatars – the long and fuzzy, feather style, bejeweled and fur styled ones.
Now that fake eyelashes have returned to stay, you can add another routine to your eye make-up. If you love the fuller eyes, dramatic look, then opt for fake eyelashes which can be worn on special occasions, parties, evening out with friends and whenever you want to look like a glamorous diva.
We give you cool fake eyelashes tips and suggestion on how to apply fake eyelashes, the ways to keep them intact and also learn how to avoid the disaster of discovering your fake eye-lashes dangling midway at a party or between a meal.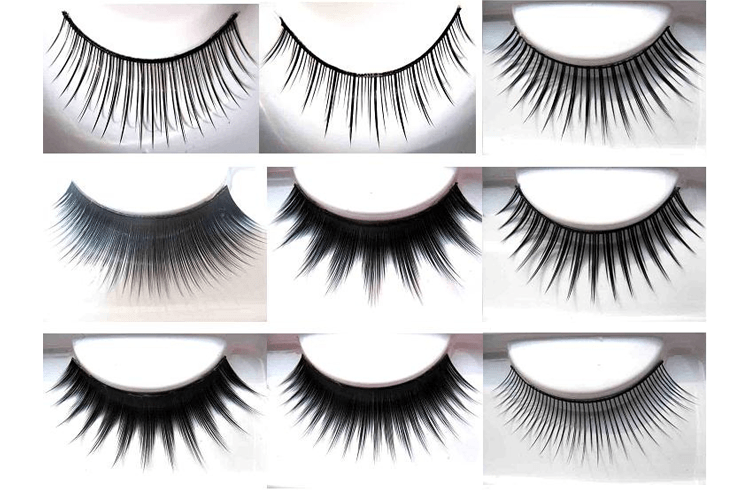 Here come the fake eyelashes tips and suggestions for safely applying fake lashes and keeping them pretty & perky all the time.
Natural is in: Gone are the days of stiff, synthetic and theatrical looking eyelashes. The modern avatar of fake eyelashes is natural in appearance and extremely flexible. While buying them at the store, make sure you buy lashes which are light and have spaces between the lashes. This helps immensely in easy blending with your original eye lashes. This is one of the most important tip for wearing fake eye lashes, for beginners
Cutting up the lashes: When you buy the fake eyelashes, you will get a whole, long lash strip. The trick is to cut a single lash into half with cuticle scissors. When you cut the eye lash strip, ensure that each lash piece has one end with short bristles and the other with long bristles. This will help you recreate the doe-eyed and lovely retro look.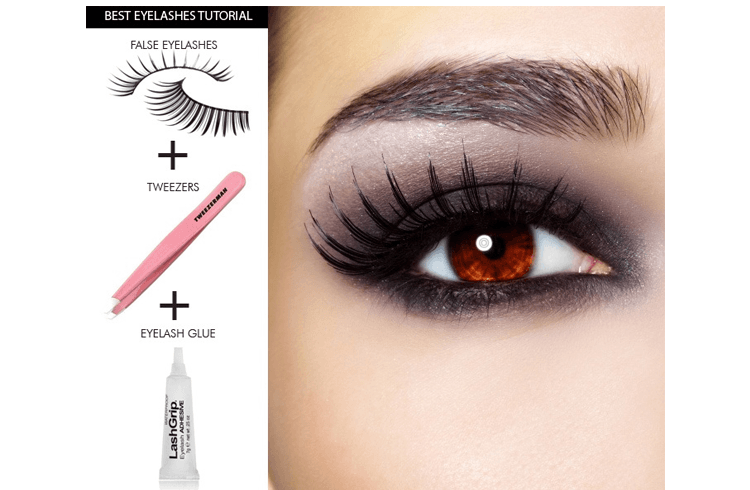 Shaping the lashes: It is important to shape the fake eyelash and mold it before applying it. Squish the fake lashes inwards, pull the eye lash band down on one side and up the other side to make it flexible.
[sc:mediad]
Check the length: Before sticking the eyelashes, it is important to keep them against the eyelids and check if the length suits your eyes and matches the requirements. In case it is longer, you can always trim down the extra bit.
Apply eyeliner & eye shadow: Apply a generous coat of liquid liner to give you an idea where should the lashes start. This helps you in keeping within the lash line and avoids deviations. You can also apply eye-shadow before sticking on the fake lashes to avoid a mess later.
Use adhesive slightly: Do not slather huge quantities of adhesive to stick on the fake lashes. Instead, apply a neat line of adhesive onto the band of fake eye lash. Wait for some time after applying the adhesive as it sticks better and then fix it to your eyelids.
[Also Read: How to Get Long Beautiful Lashes]
Handling the bristles: Ensure that the short bristles come up halfway along the eyelid and the longer bristles reach the end of your eye. While fixing the eyelash band, make sure you are sticking it from above the eye lid and not the front. The idea is to get the fake lashes as close as possible to the lash line.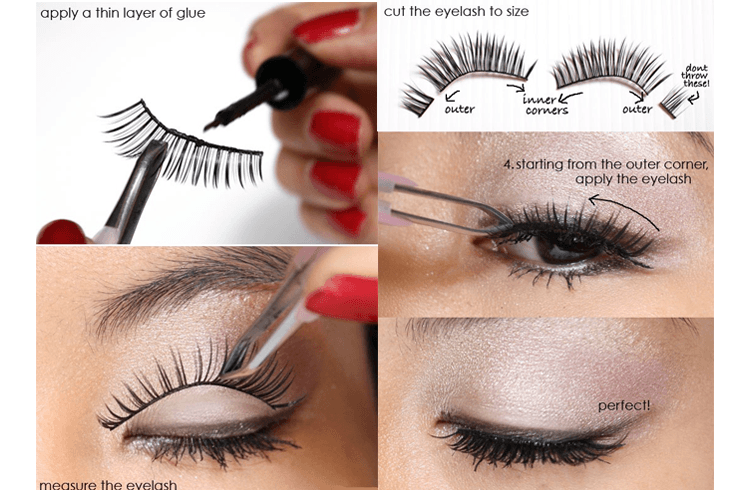 For a fuller look: Use a brush with a thin handle to press the false eye lashes in and upwards. This will create a fuller and noticeable look.
Coats of eye liner and mascara: Again apply a fresh coat of eyeliner to ensure that the false eyelash band is covered successfully. Also, apply generous coats of mascara on the fake and original lashes to blend them in.
Removal, cleaning and storing of eyelashes
Removal: It is important to remove the eyelashes properly. Dip Q-tips into eye make up remover, run the q-tip along the lash line and you will see that the lash band will loosening out. Once it becomes loose, gently move the lash band with your thumb and index finger.
Cleaning: First use makeup remover and tissue to take out the traces of glue and mascara from the lashes.
Storing: Store these eye lashes in a plastic tray . But if you have worn them continuously for too long or slept in them overnight, its best to  dispose them.
Hope you found this post on How to Apply Fake Eyelashes useful!