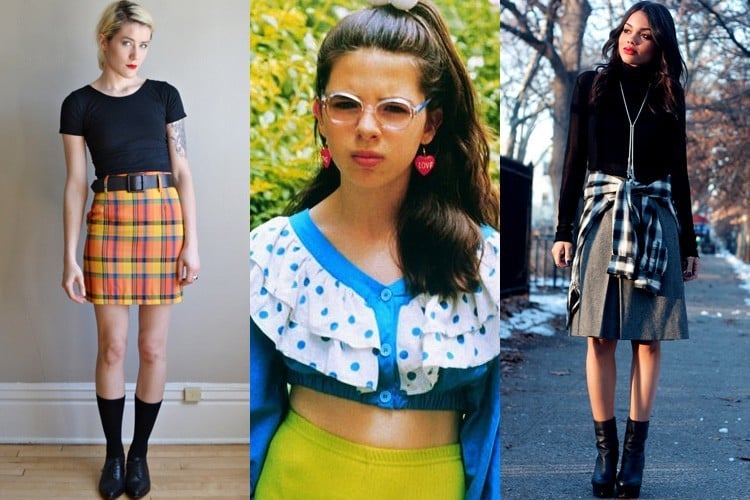 Without much talking and shocked as we are, but over the past few years women and PYTs across the globe have been bringing back the ugliest of 80s and 90s fashion trends. Guess what? They are a rage now, and are being worn with a mix and match combo too. From Sonakshi Sinha sporting the ugly bandana in her song AAJ MOOD ISHQOHOLIC HAI to Jennifer Anniston being caught red handed in red mules, OMG! Believe it or not, those ugly trends are back! Here are a few more to stark and sock your senses with, quite shockingly though!
[Also Read: Fashion Items That Shouldn't Be Kept In the Wardrobe Post 20]
Mules
We love our pumps and flats, or even block heels, but what about mules? Hated them much? Be shocked because celebs are now wearing them.
Flashy Logos
Beyoncé flaunted FORMATION, her label in flashy styles and with logos that made us blind. Yes the flashy logos are back in monogrammed tones.
Hated Those Bean Boots
Girls from the 90s would resonate with this, and how they hated Urmila Matondkar daning in Rangeela wearing bean boots. Newsflash girls: they are back!
Bandana Hair Scarves
Much like a stole but made from flimsy rayon material, the banadana was a rage in the 90s amongst rappers and girls from the hood; they are back too- Sonaskhi Sinha sported them in her latest song!
Statement Hats
Cher the famous singer of the 90s wore them like there's no tomorrow, but tomorrow has come and 2016 is seeing more of the statement hats being flaunted!
Boxy Flannels
Hello, the 90s are back and with boxy flannels too!
[Also Read: What To Wear Under Flannel And Still Look Sharp!]
Tracksuit Jackets
Terrycloth and cotton based, the tracksuit jacket was known to be sexy and sensual back in the 90s amongst the younger lot- they are back and in neon shades to matte tones this time! Why?
Overalls
Unisex and very chic back then in the 80s and the 90s, overalls in cloth and denims are making inroads into wardrobes this year!
High-Rise Girlfriend Denim
Skinnies and ciggy shaped denims are losing the charm, because the 90s blast is back with high rise denims for women.
Those Colored Shades
There was a time when shades in colors and hues of every denomination were seen on most faces in the 90s- boom, they are back!
The Choker
From velvet ribbons to tattoo neckpieces and metallic wires around the neck as fashion statement neckpieces, they all are back as chokers!
Hipsters And Halters
If you've been carefully watching American sitcoms of the 90s- CHARMED and BEWITCHED, you would have noticed the charmed sisters and Hilda from bewitched wearing hipsters and halters like there's no tomorrow. They are back!
Plaid Mini
Yes the plaid mini skirts are back and this time they aren't leaving. Women and PYTs of all age groups own them and pair them up with crisp shirts!
[sc:mediad]
Platform Flip-Flops
From the flatform to the platform flip-flops, the 90s is when they ruled our feet and now they are back to make waves once again. The next time you are in Goa or Bombay, you would notice most girls wearing them.
Birkenstocks
Ugly, clunky and hippie like, Birkenstock footwear was a rage in the late 90s and died a death, only to be resurrected once again this time.
Nylon Fabric
Iridescent for sure, the nylon fabric trend for all age groups in just about anything street style to wear with flashy holograms are back! Why?
Salsa Tops
Welcome to the world of latino fashion, where ruffled salsa tops rule. They ruled back in the 90s and PYTs wore them with denims, pants, skirts, shorts and just about anything- they are back once again this time.
[Also Read: Fashion Trends That Need to Die Immediately]
So here were some of the trends back from the 80s and the 90s we had sworn in the beginning of 2000 not to wear ever. However, fashion is a circle- a vicious one that no one knows would spin in which direction. If you have your own nightmarish fashion trends of the 90s worn and would like to share, do write in with pictures. You never know, by sharing you may create your own trend.