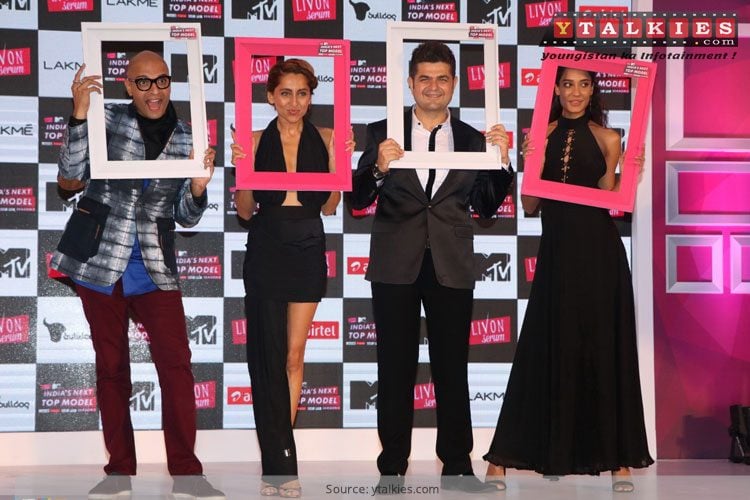 To see Lisa Haydon (1st left), a stunning dark-skinned successful model, as one of the judges does a lot to break this fascination that people in India have with fair skin." Rajyasree Sen, Livemint.
Black Is beautiful Too
When we say black, we talk about all shades of ebony to dusky, sultry tan to the olives too. Conditioned by the societal so-called norms, it was once told to us that only fair skinned amongst the many Indian skin tone types were 'beautiful'.
The trend is now changing and for good, there is a revolution of sorts happening across social media and in the real society too. A change where women of all Indian skin tone types are coming forth and embracing the tones they have been born with. Indian women of the new-age no more are looking for 'skin lightening' treatments and products galore; they in fact are happy with their skin color and tone, and want a glow. A glow doesn't necessarily mean WHITENING of the skin.
[sc:mediad]
From Fashion Lady
At Fashion Lady, we have told you how to remove tans, to even out your skin tone, but never ever in our posts have we discriminated against any Indian skin tone types, on the basis of its color. We shall never do that, because everyone is born beautiful in their own ways.
India Needs To Wake Up
We are a nation that is supposedly the largest in consuming skin whitening products. This was read in a report by the esteemed Guardian tabloid, where in 2012, 233 tonnes of skin whitening products were bought and used. What does this say about our insecurities? A LOT!
One Campaign Is Changing It All
DARK IS BEAUTIFUL. If you haven't heard of this campaign, it is time you check them out on social media and join the bandwagon. It is time we broke the nomenclature and stereotyping of skin types, because Indians have a wide range of skin tones to embrace and love. Thanks to the founder of the campaign, Kavitha Emmanuel, dark is beautiful as a campaign has gained plenty of footage and for good reasons that too.
Not Just Fair
What's with the fair skin fixation? Is it only the men that want their Indian spouses to be fair skinned or is it society at large that dictates the same? Gone are the days when only fair skinned Indian models were chosen for ads and crowned top models, the world now is a cross cultural pot, and India too has a market of all Indian skin tone charts to explore. This is why at Fashion Lady, we have always written for every skin tone- from makeup to bridal looks, cosmetics to lipsticks, colors to wear and flaunt, and just about anything in between as well, FASHION LADY stands by you, no matter what your skin tone or where on the Indian skin tone chart you blossom!
Famous Dark Skinned Beauties
Naming some of the sultry dusky to very dark sirens from India, we cannot forget names such as Madhu Sapre, Noyonika Chatterjee, Ujwala Raut, Meghna Reddy, Monikangana Dutta, Jesse Randhawa, Nandita Das, Deepika Padukone, Lara Dutta, Rochelle Maria Rao, Priyanka Chopra, Nicole Faria, Bipasha Basu, Koena Mitra, Rekha, Kajol and the list can go on. These are Indian super models and celebrities that aren't fair skinned, but have they lost their mark? The answer is of course NO!
Dear Indian Ladies, Wake Up
We have to stop being obsessed with the fair skinned ideal, which we have been told is beautiful. All skin types and tones are beautiful, only if you take the time to appreciate it, look after it and care for it. We are fed up of reading matrimonial ads asking for a fair skinned bride, we are done watching television commercials where fair skinned ladies are only spoken about. Why do we give into such ads? Why are we allowing the evils of society to take over? Why is dark skinned average looking, or at worst the ugly duckling but the fair-skinned one considered a queen or a princess. Read the ancient Indian texts, and you would know that your dark skinned color was the color of Gods and Goddesses.
[Also Read: How To Lighten Dark Skin]
Take pride in getting to know your skin colour, because beauties with dark skin are beautiful too, and Black Beauty saved her mistresses life, didn't she?