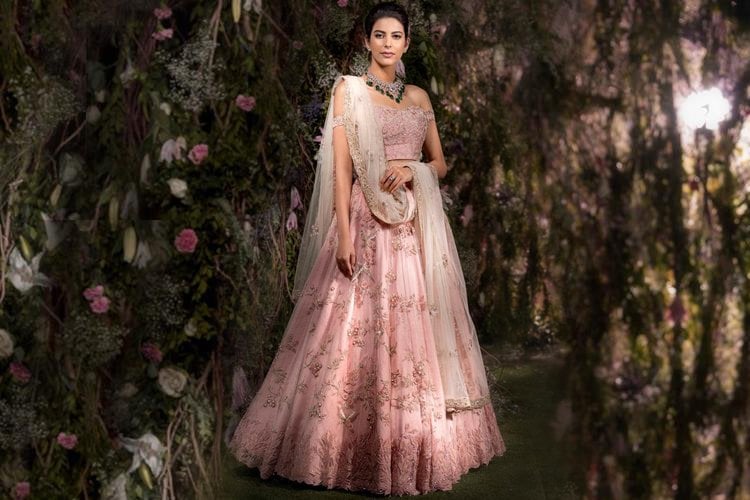 So you've made an appointment for fitting and now comes the moment when you slip on your wedding ensemble for the very first time- that special moment! But, what about the innovative bride who's always dreamt of creating a customized wedding lehenga? She would love to showcase her style on the wedding and create a personalized wedding ensemble as unique as her.
So how does she go about it? Well, here is the answer- a degree in designing is not needed to create a custom wedding lehenga. All it takes is a little creativity to stand out in a sea of red and pink.
For brides who like to take charge, especially with their wedding trousseau styling is most likely to take matters into their own hands. They are most likely to have an idea about customizing their own lehenga. Whether it is crafting the designs from artisans or working in sync with a designer. But at the same time, it is essential to keep few tricks in mind.
Here are 12 tips reserved to achieve your vision to design your own lehenga:
1. Be True to Yourself
A wedding is once-in-a-lifetime experience. So it is really important to begin planning your lehenga ideas keeping your true personality in mind and also the theme of the wedding. It is best to avoid changing your taste and appearance just to suit the occasion.
2. Accept Your Body Type
No matter how bitter the truth is, it is best to accept your flaws. Sure, top models look amazing in whatever garments they are wearing, but accept to tweak your wedding lehenga to suit you. You are going to be cynosure of all eyes at your wedding. So while it is great to seek inspiration from celebs, be open to modify the designs entirely to suit your body shape.
3. Learn the Art of Concealing and Revealing
Allow the lehenga making to reveal your best features-waist, neck, shoulders, etc. And allow it to conceal your negatives like lumps and bumps.
4. Stick to a Makeup Palette that Suits your Skin Tone
For your wedding, it is best for brides to go the classic way. Select palette that brings your natural glow like the pearl diamond gold powder skincare they showcase in advertisements. If you have a darker skin tone, select deep saturate colors rather than choosing light pastels. Colors like lilac suits maximum of the women, so select a great palette that you comfortable in.
5. Classic Remains a Favorite
Remember classic never go out of style while fashion trends are fading. So when you flip back to your wedding photos, you'll always remain the perfect example of a quintessential bride. We are not discouraging you about not trying on new trends. But you may reserve the trendy silhouettes for other pre-wedding function.
6. Do Not Go Overboard with your Lehenga Expense
Investing on long term haul like gold or diamonds is a sensible choice. But remember that your wedding lehenga is not to be taken as an investment. It may add beauty to your big day (of course!) but it cannot ruin the wedding, either. So be realistic in your approach of how much you want to spend for your lehenga.
[sc:mediad]
7. Repurpose your Wedding Lehenga
Have no clues what to do with your wedding lehenga, before and after? Well, here is a golden tip. You can totally repurpose your wedding lehenga and make the maximum use of it. Pair the lehenga with a white silk tunic for an engagement. Pair the dupatta with a multi-colored kurta for sangeet, and wear the top with an ombre saree for a cocktail evening.
8. Select a Lightweight Lehenga
Do yourself a favor and choose a graceful, but superlight lehenga. There are no prizes reserved for brides wearing the heaviest lehengas. You will only end up welts on waistline and an exhausted body. So wear something that is suitable, which can maintain your lit face.
9. Incorporate an Element that is Borrowed or Gifted
Most brides have a story behind their wedding ensembles. And it's an awesome idea to add an element that is passed down from generations into this special ensemble. It could be jewellery, sari border, or a dupatta.
10. Request your designer for Toile
It was the French who invented the term 'Twall'. It is a replica of the actual cloth made from muslin or plain fabric, before creating the actual garment. If you are planning for a customized lehenga with the help of designer or tailor, then request them to get a toile done. This may cost you a little more, but this is the best method to understand how fit and shape will work on your body.
Or, if you are taking help from a seamstress suggested by someone, then get an inexpensive garment made in a similar material to your wedding fabric. This will give you the most accurate idea of fit, finish, and cut. Then you can move on to entrust your wedding lehenga to the seamstress.
11. Don't Go on Crazy Diets
No designer likes a bride who comes for fittings and shows up looking like a different person three months later after drastically losing weight. Another jolt is a bride who insists on losing weight and instructs the designer to make everything tight but end up looking the same at her fitting day. Aiming to have a fit body on your big day is not bad. But do not push yourself to lose some pounds.
12. A Simple Lehenga Works Any Day
Always remember to keep your ensemble simple, especially if you are customizing the lehenga yourself. A simple lehenga will be easier to execute than replicating Pinterest perfection together in a lehenga.
Remember, there are lots of technical know-hows and an experienced hand required for recreating a work of art. And ultimately- Indian wedding lehenga that is uniquely, undeniably you.