Tube tops have been ruling the fashion arena for a while now. Tube tops have been what our favorite Instagram models have been slipping into for most of their photoshoots that later fetch the hundreds of thousands of double taps.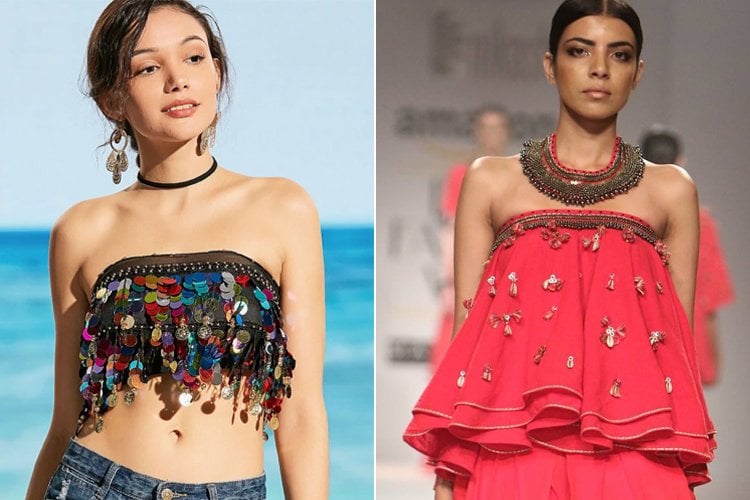 Women's tube tops are easily available, and whether you pick a sleeveless one or go for tube tops with sleeves, it's a garment piece that we all so dearly admire. However, it can prove to be quite confusing while wearing it ourselves. "Is this going to suit my body type?", "Will it match well with this look?" "Am I showing too much skin?", "Is it place appropriate?" are just a few questions that cloud our minds every time we pick a tube top. We understand your dilemma, and so here we are trying to help you with ideas to wear that tube top you have been eyeing all this while.
How To Wear Tube Tops
Here is a list of 10 ways you can wear tube tops to look stylish.
1. Tube Tops Over Skirts:
You may have a mini skirt or a long one. A flared one or one that is a slim fit, plain, checkered or printed. But you shall never go wrong with teaming it up with a tube top. The combo of a tube top with a skirt stands perfect for all body types. You may pick a skirt with more fabric if you are on the heavier side of the spectrum and a slimmer one if you have curves that you want to show off. Always pick a tube top that contrasts well with your skirt color. If the skirt is a printed one or is multicolored, the best option is to go for a tube top that is solid.
2. Tube Tops Over Jeans:
You can always throw on a tube top over your denim and call it an OOTD. But if you want to go for that extra dose of styling, opt for a statement belt or a neckpiece. A statement neckpiece is the best way to accessorize a tube top and denim look as the neck is left open to be claimed by a heavy and chunky jewelry. To be on the safer side and to avoid looking a little too risqué, opt for high waist jeans.
3. Tube Tops With Shorts:
Summers are here and what better way to throw on some tube tops than teaming them up with shorts. We'd say be a little playful with it. You can always wear a cotton tube top with denim shorts, but, here at Fashionlady, we'd encourage you to be a little more experimental. Reach for shorts in vibrant colors – even better, go for those with bright floral prints all over. Remember the drill, always wear contrasting shades – if the bottom has a darker color, the top needs to be lighter and vice versa.
4. Tube Tops For Night Outs:
No better place to flaunt your curves in a tube top than the nightclub. You don't have to worry about "am I showing a little too much" because the surroundings are pretty forgiving in a club. Bring in your glittery tube tops, the more the bling the better it is. We say pick colors like wine, rose gold, blue or purple for this occasion. A flowy glamorous skirt and strappy heels will complete the look. In fact, if the top is a little longer and you want to go a little risqué, this is the best place to try out. Wear the top as a tube top dress.
5. Tube Tops For Gym / Workout:
Tube tops also make for great gym wear as they are super comfortable. Always opt for tops in pure cotton when wearing them to a gym. Tube tops can actually make workout sessions fun and stylish. Get yourself a matching headband, wristbands, and a colorful water bottle also.
6. Tube Tops With Lehenga:
Giving the tube top a traditional twist, let's wear it as a choli over a lehenga – what say? Hell yeah – we say. Pick one with loads of heavy embroidery, sequin work or mirror work. Don't stop yourself from getting attracted to some real gaudy shades because Indian celebrations, where you'd be wearing them, are mostly over the top. Get a lehenga and a dupatta that complements your tube top and load up with silver or gold jewelry.
[sc:mediad]
7. Tube Tops With Saree:
You can also wear tube tops as saree blouses. If your saree has a lot of heavy embellishment on it, keep the top simple. The casual saree look would entail bindi, a nude lipstick and a generous dose of kohl. Keep the neck bare and reach for some chandelier earrings. A pair of shoulder dusters won't hurt either.
8. Tube Tops With Patiala:
Pair a white tube top with a floral print, leheriya or bandhni Patiala pant. This will allow a lot of movement and air and will turn out to be the best summer attire. This tube top with Patiala can be the next best thing when it comes to Indo western fashion trend.
9. Tube Tops With A Jacket:
Want to slip on that tube top but not sure about the nosy padoswali aunty? Pair it with a jacket – a denim jacket to be specific. It's a safe choice. Also, this is a style that will work in winters also. Help yourself with a muffler or a scarf to keep yourself warm.
10. Tube Tops For Office Wear:
Just like you paired your tube top with a denim jacket, you may pair it with a formal jacket and you are good to go for corporate meetings. Even black tube tops are wonderful for office wear. Alternatively for office, pick a nude, white, cream, or some other neutral color top. You can wear tube tops with a slim skirt, or a pair of cigarette pants or straight trousers. For office again, a silk scarf will be a fine accessory. A medium sized hoop earring or a pair of diamond studs will complement the formal look perfectly.
Here are a few more examples of styling a tube top. DO give these pics a look and see if any of these styles appeal to you.
Now, we hope you are no longer worrying about how to wear tube tops. As we have shown you how you can style simple tube tops in a zillion easy ways. You can wear them to markets, gyms, a stroll down the street and even for special occasions as long as you are comfortable in your skin. To get all these super tips on style and fashion keep checking this space.