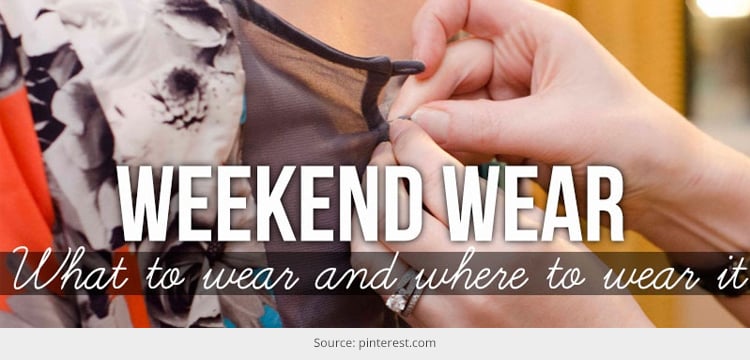 The weekend is here! Now, did I hear a big sigh of relief from our fabulous readers? We know it must have been a tough week with hurried schedules, irritating traffic jams and disastrous work days. But, fear not, for the weekend has finally arrived in grand style.
It is time to raid the wardrobe, hunt for cool outfits and paint the town red with your super cool fashion statement. Now, that we have established that it is time for fun, relaxation and a bit of glam quotient, then have you decided what you will wear this weekend?
You might have already lined up an assortment of things to do over the weekend: watching that movie you have been desperately waiting for, chilling out with friends at the cafe, a romantic dinner date, fun shopping spree with your girlfriends, a happy family get-together, an important wedding to attend or a cool party at your friend's place.
Whatever the occasion be, prepare yourself for dressing in style, looking good and feel comfortable this weekend.
Fashionlady brings to you cool weekend outfits to make you look hep, stylish and at ease. Here we go on what to wear at!
What to Wear to a Movie
Its movie time at your favorite cinema!  Dress in style for this weekend movie outing with your friends or family –
Girls, bring out those denim jeans, fitted cotton pants and capris from your wardrobe. Match them with weave tops, funky tees with witty one liners, smock tops or tops with batwing sleeves. Rock the casual look and arrive in style at the movies.
Be adventurous and experiment with the latest trend in jeggings – these are now available in vibrant and funky colors like orange, royal blue, neon pink, brick red, purple and so much more. Put on a printed top or a solid colored tee.
Do the basic, everyday make-up and keep the accessories minimal. Slip on some belle style shoes or gladiator sandals to complete the look.
For the ethnic look, put on a pretty kurti paired with fitted jeans. Accessorize with hoop earrings, wooden bangles and a watch. Put on some kajal and lip gloss to complete the casual yet stylish look.
What to Wear to a Dinner Date
Butterflies in your stomach? Feeling nervous? Thinking of how important first impression is in the dating world? Well, do not worry for we have 2 choices of outfits lined up for you to wear at your much-awaited and romantic dinner date.
For the western look and appeal, go for a knee length cocktail dress or a tuck detailed dress for the lovely evening look. Pair this with a lovely yet elegant necklace, a simple bracelet and delicate watch. You can go for dramatic eye make-up – Time to get out those blues, purple, silver and gold eye shadows. Try a colored eyeliner instead of the regular black one. Put on peep toe pumps or stilettos to look gorgeous.
[sc:mediad]
If you want to try something bolder, then opt for the smoldering evening look with a halter dress or a strapless dress. Later in the chilly evening, you can put a lovely stole or shrug over the dress.
For the fab Indian look on your date, wear a lovely chiffon saree with a halter blouse. You can even try a geometric print saree with a sleeveless blouse. Wear tasteful and modern jewellery with these sarees to achieve the contemporary and stylish look. Add drama to the outfit with a thick coat of eyeliner, dark kohl and mascara.
What to Wear to a Aamily Get Together
Hooray! Its time for a fun family get-together and you need to look real hard into your wardrobe. With your entire Khandaan being there, you do not want to be caught on the wrong foot (rather wrong outfit!).
Who says you cannot be fashionable in front of your conservative family? Fashion is always about comfort and looking good in whatever you wear.
Firstly go through your wardrobe: Remember that ethnic skirt? You can always wear it with a pretty kurti or a solid colored tee. For a relaxed yet ethnic look, bring out a patiala with small prints and pair it with a sleeveless knee-length kurta in comfortable fabrics like cotton and linen. You can accessories with simple metallic jewellery.
If it's a low-key family function, please do not bring out those heavy anarkali suits and lehengas, Opt for a nice, free flowing A-line salwar kameez or churidar in pretty colors, simple embroidery, patches or mirror work.
Hope this helped! We wish you a beautiful weekend ahead!
Click away pictures, have great times and get recharged. After all, you have earned it!