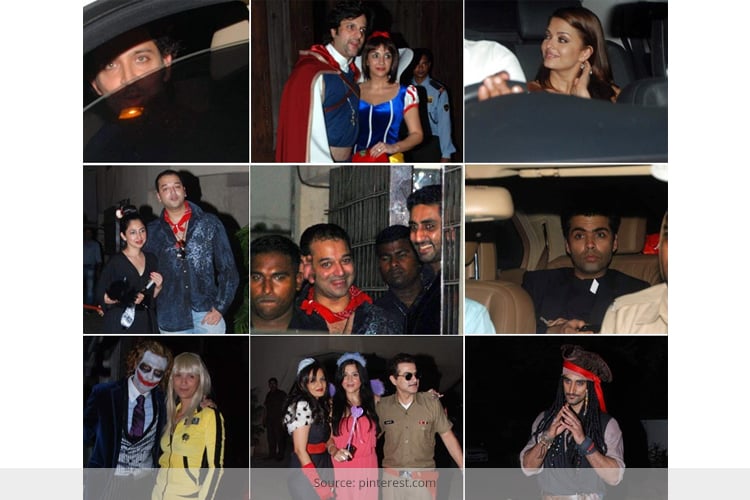 With Halloween round the corner, the West is all geared up to flaunt their lousy outfits and monstrous fashion this year. India which is hugely influenced by Westernization, has started showing signs of this part of Indo-American culture as well.
It's not a hidden fact that the American Halloween parties are these days largely crowded with fancy Indian costumes. After Heidi Klum's controversial Maa Kali avatar for her last year Halloween, the demand for Indian mythological and fabricated outfits have dramatically increased. The Indian jewelries are the integral part of this migrating fashion influence, which have paved their way to Halloween as well.
Having said that, let's now focus on India, which is now beaming with global fashion. Blame it on the rising MNCs, followed by cosmopolitan culture and the westernization, we can now largely witness the western fashion, cuisine, lifestyle and now their annual celebration alike. However, the Halloween party is now confined to MNCs and the NRIs. But it's not impossible to expect that this annual celebration can soon become an integral part of our transnational culture.
Have I now just completely deviated from what I had mentioned at the beginning of this post? Apparently not!
When it comes to costumes, how could we just resist our fashion designers? I was just wondering did ace designers like Ritu Beri and Manish Arora showcase an Indian version of Halloween in the recent PCJ Delhi Couture Week?
The question, which I've just popped up may not be politically correct but then imagination has got its own wings. And our country has imparted us with freedom of speech. So, you may take this as an opinion.
The recently organized Delhi Couture Week was a huge success with designers completely surprising the audience with their awe-inspiring creations. I am still intrigued with the shows promulgated by Manish and Ritu. Ritu Beri was pampered with all praises by the critics for her dramatic collections, which were hugely inspired by Victorian era fashion with a Punjabi twist.
On the other hand, when Manish Arora put forward his show dedicated to the Indian bride, I was taken aback. Because as far as I know this designer through his collections, bridal and Manish don't really go together. It was pretty obvious to notice some completely out of the box designs which were far from the typical Indian bridal looks. While his collections would shock the bride's elderly family members, the bride herself can just have a roller coaster ride of Indian fusion fashion.
Since it was all about opulence, Manish did not hesitate to add his signature kitsch elements – the glittering leggings which were transformed into churdiars, the carousal skirts which were fashioned into anarkalis and not to mention his amour of accessories.
[sc:mediad]
If Indian fashion domain has experienced a histrionic change then Manish can be greatly credited for this change. This nonconformist designer exactly knows how to extract the superlatives of kitsch and quirky elements in his singular modus operandi.
There is no doubt how Manish effortlessly induces the quality of his imaginative demeanor through a flawless presentation. Like Alexander McQueen, Manish is popular for surprising his audience. While his gold-sequined leggings were drool-worthy and kitschy, his eye wears and hair accessories have only provoked me to relate them to Halloween fashion.
Even Ritu Beri startled her audience with her outstanding creations on the 4th day of PCJ Delhi Couture Week 2013. The large Pipal tree with its golden trunk and leaves on one side and the gigantic peacock were the center of attraction until her model began her show walking with 4 other models holding the 4 corners of her veil.
[Also Read: Makeup for Halloween]
The impeccable scarlet-red velvet Victorian gown with bold, wide golden borders with mysterious face mask have just sharpened my perception, urging me to tag her show as a Halloween-inspired show. However, the elaborate use of gota work, zardosi and crystal embellishments in jackets worn over fish-cut lehengas and ballroom gowns and the exaggeration of ruffles gave a soothing comfort to my inquisitiveness.
Whether both the designers' collections were bold enough for an Indian bride or the reflection of a modern Indian dulhan, I thoroughly enjoyed the show packed with heart throbbing designs and mystical elements.
Hope you enjoyed this post! Do share your views!!