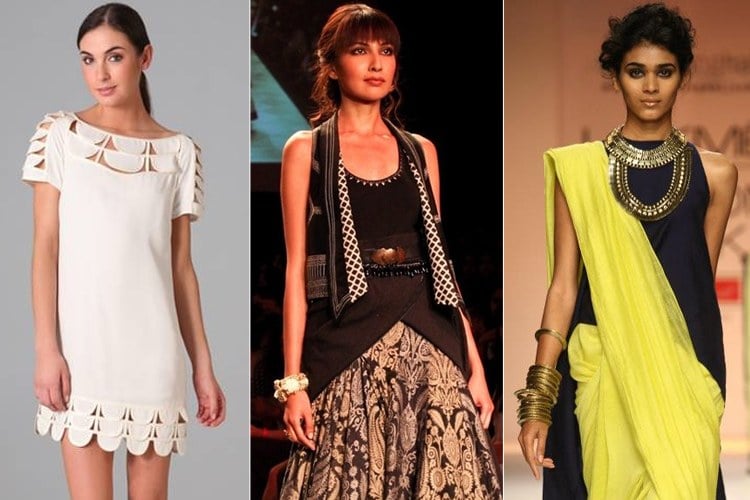 Weddings are always special. All the grandeur, the people, the food, the decorations, everything about weddings are enticing. The excitement grows double fold if this Big Fat Indian wedding involves people close to you. However, with changing times, the wardrobes are revolutionizing and casual sense making way like never before, be it in our attitude or wardrobe.
There are a few no-go areas when it comes to wedding guest attire and since it is happy occasion, you just might want to ease out on the eye sore. Knowing what to wear to a wedding is as important as dressing beautifully. You don't really want to "uninvited" to the rest of the weddings in town, do you?
[Also Read: Top 7 Wedding Guests Dress Ideas from Runway]
In this article, we are going to walk you through some colors and outfits that You Should Never, Ever Wear to a Wedding.
First up, is a list of awful wedding outfits you should be avoiding at any cost:
You could be walking in directly from office wearing a casual suit and that's okay if you wanted to attend the wedding bad and the time crunch only allowed a swift visit. But, on any other scenarios, weddings have a certain loosely demarcated dress code that you need to abide by. It is just like how you have to follow an official dress code from Monday through Friday in office, while on weekend, you could afford to have fun and experiment.
Jeans And T-shirts
Though, this is something that always in style and it almost looks flattering on almost every body type, but, it does not suit every occasion necessarily. For instance, you should never really go to a wedding wearing a jeans and a T-shirt, no matter how comfortable or decked up it is. No matter where the wedding is and how casual the hosts are attending the wedding in jeans and a T-shirt is not an option. If you are bothering to show up, make the effort of at least putting on a decent salwar-kurta since otherwise you might just turn out to be odd one out amongst the hundreds of others in expensively ornate lehengas and sarees.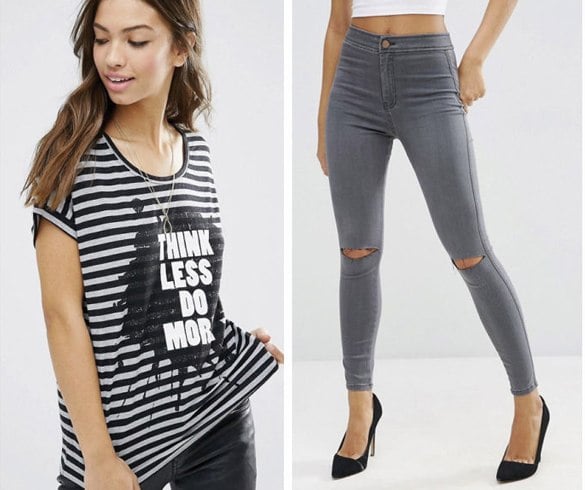 Dresses
Maxi and midi dresses are in, but for Indian weddings casual numbers are just not in options. You don't want to end up on the list of wedding dress fails of the year, do you? If you are in love with the one piece trend why not go for ethnic floor-length ensembles readily aware at any designer wear outlets.
[sc:mediad]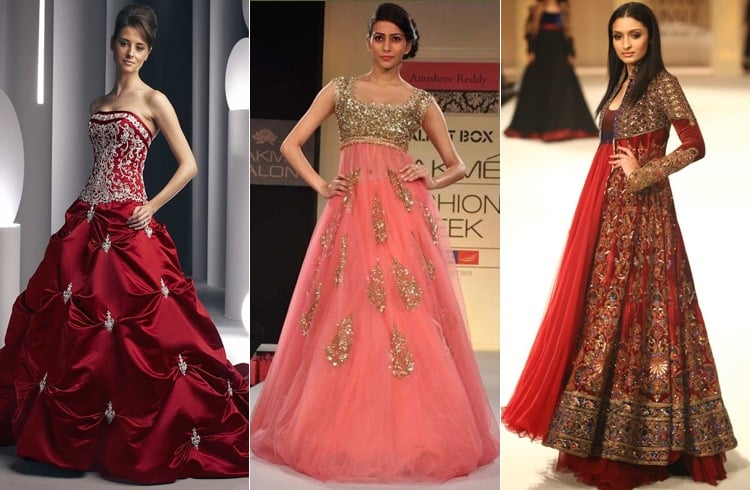 Just About Apt
Everyone wants to be the center of attraction on their wedding day and rightly so. So, it's best that you leave the attention to the bride for the day. People are there to look at the bride, not your over-the-top saree, purse, shoes or makeup. Donning both loud and garish apparel and chunky accessories or wearing a nearly skimpy blouse or an almost see through fabric is a surprisingly common method of obnoxious women trying to upstage the bride. We aren't against showing off your assets and toned body but dressing like that to a wedding comes across as a sign of poor taste in fashion or a desperate call for attention. You'll only end up getting The-shaadi-waali-aunties talking about you for the wrong reasons. Wear something that is beautiful without going overboard.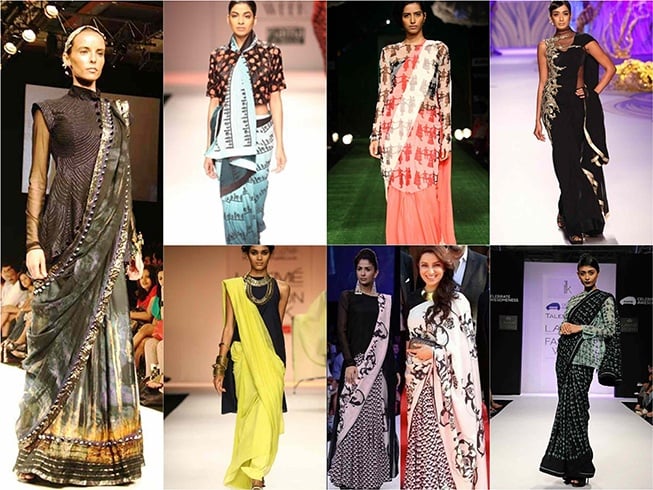 Having stated these, here are a few colors you can't wear to a wedding:
Black
We know black is like a staple color in your wardrobe but like all good things, it too has its limitations. Seems like wearing nature's darkest (read best) color to one of life's brightest events isn't one of the best ideas. Though, it is almost certain that when you look across you'll almost certainly catch an -abundance of dark clothes at any get together, but black is traditionally a no-no color at weddings, especially so for women. Black generally associates itself to ominous proceedings for many people, therefore it is advisable that put the black back on the rack and get into something more colorful and fancy.
However, if nothing appeals you like the black hue, go in for some bling. Select dresses with a dash of gold or silver threadwork or foil print etc. This will look glamorous yet beat the dullness of the shade.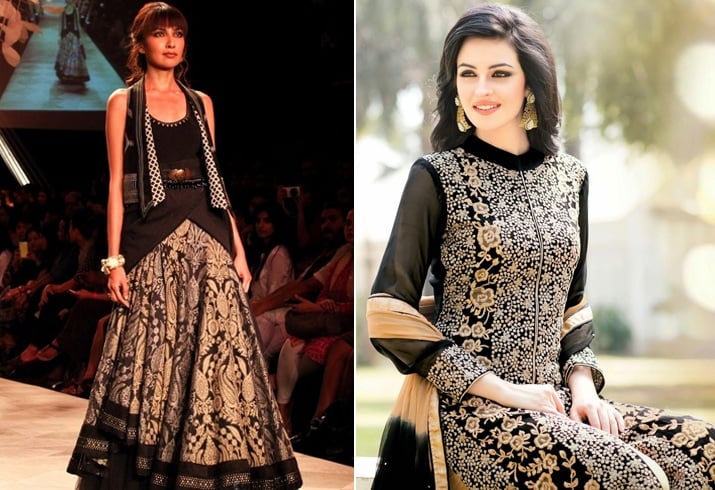 Very Bright Hues
As discussed before, it's not really a good idea to wear anything that could possibly over shadow the bride. So, some brighter hues like neons and electrics in general should generally be avoided since it can prove to be quite an eye sore, especially when your entire outfit is solid neon colored and intricately designed to top it. Although, these colors are fine when toned down with suitable complimentary colors or minimalistic jewelry, it is advisable that you get your friends to final trials once before turning up on the D-day.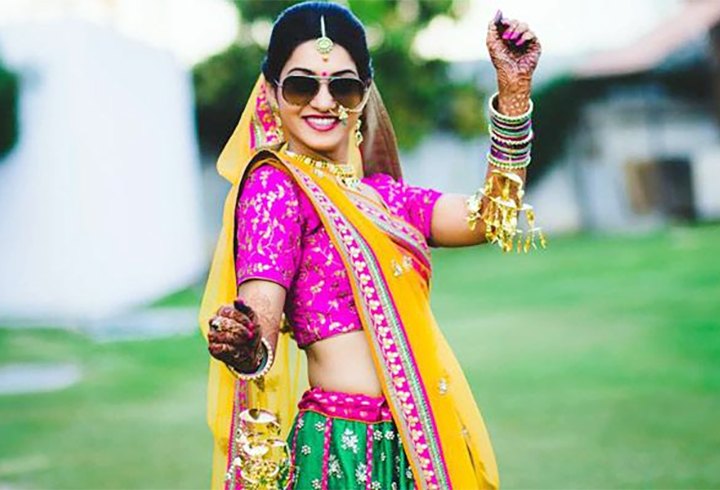 Now, that you are aware of the outfits and colors that You Should Never, Ever Wear to a Wedding, dressing up for a wedding should never be a problem.