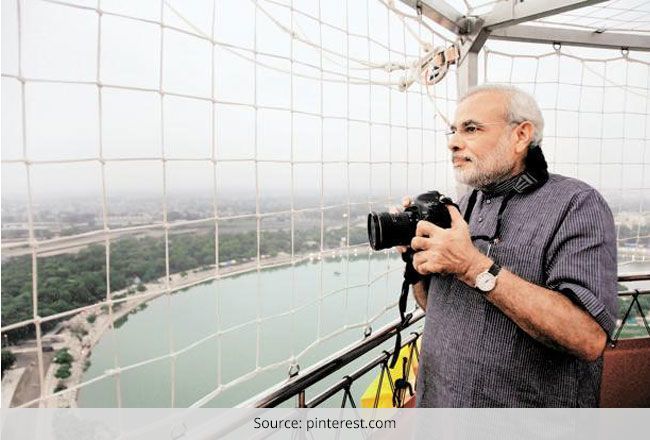 India has a new political fashion icon, who is also admired internationally for his dressing style with the trademark 'Modi Kurta'. Mr. Narendra Modi, India's newly elected prime minister has taken political fashion to a completely new level.
This is not the first time a political leader has set a statement in a clothing industry, see MK Gandhi's dhotis, Ms. Indira and Sonia Gandhi's sarees, Pt. Jawahar Lal Nehru's famous 'Nehru Jacket', all made of traditional khadi wears. However, Modi's strategy stood out in popularising him as a style icon as well as reaching to people's hearts. Clothing as a medium of communications!
On the eve of his birthday, FashionLady presents the Style Statement that Mr. Modi makes, no matter where he is and whom he meets.
Mr. Modi's sartorial sense was found when he got promoted from the post of pracharak in uniform with the right wing RSS to BJP in 1980s – is when he started getting kurtas stitched from his tailor Bipin Chauhan.
What do the other Media houses have to say about Mr. Modi's style?
New York Times says –
Even by the standards of a world that has seen blogs devoted to Michelle Obama's dress sense, the pre-election makeovers of François Hollande and Dilma Rousseff, and the canonization of Nelson Mandela's shirts, the image-craft of India's new prime minister, Narendra Modi — and its fashion fallout — has been something of a case study.
Washington Post says –
Move aside, Michelle Obama. The world has a new fashion icon. And no, it's not Vladimir Putin, despite his fitness regimen — it's India's new Prime Minister, Narendra Modi
The politician has dominated headlines since his campaign and victory in India's election, and his wardrobe has been no exception. Countless articles have been written about his look, from his vast collection of hats to his iconic long tunic, the #ModiKurta. Yes, it has its own hashtag.
TIME Magazine says –
Narendra Modi is apparently the next big thing in Indian fashion. With his shortened tunic, or 'Modi Kurta,' Narendra Modi is becoming as celebrated for his style sense.
Fashion Lady decodes the Modi's style!
1. The Trademark 'Modi Kurta'
Mr. Modi likes it crisp and neat! Named after him, 'Modi kurta' is a revise version of the classic cotton or silk Indian tunic shirt with half-length sleeves, which NaMo wore during his election campaigns in various Indian states. The fabrics used communicates the nationalist image of the politician.
According to NDTV –
Modi is very particular about his look and has "shunned the shabby and crumpled kurtas and dhotis/pyjamas — the staple political costume of the traditional Indian politician.
Modi's kurtas are designed by his personal tailor Bipin Chauhan, the proprietor of the clothing chain Jade Blue, who is also planning to promote it in Britain, US and Southeast Asia. Commercialisation of the style is also evident with e-commerce site called www.modimania.com, offering merchandise of Modi's look.
Mr. Chauhan says, "Modi had once told me, he cannot compromise on three things — his eyes, voice and clothes."
2. The Traditional Hat-Trick
Where ever he went, he wore a traditional headgear of that particular state. Either take Jaipur's printed headgear on his visit to Rajasthan, Bamboo hat in Assam, horn bill cap in Arunachal Pradesh or Dastar in Punjab! For him, the hats were the medium to communicate his likeness towards the diversity of Indian culture imbibed in different states.
Mr. NaMo's donning different hats pushed him to the fashion forefront!
3. The Sleeveless Nehru Jacket
Nehru Jacket as the name hints is named after Pt. Jawaharlal Nehru, who used to don this bandhgala jacket during his Prime Ministership tenure. Since then, it has been pretty popular. The look of donning a Nehru Jacket over a Kurta is a trend that Mr. Modi has also been following for a long time.
He is also seen carrying different types of shawls with his attire but not too often.
As per Myntra blog –
The sleeveless bandhgala jacket came to be known as the "Nehru jacket" and became synonymous with effortless semi-formal style. The jacket that became a rage during the 60s Mod movement has been rediscovered by Bollywood hunks in recent times. It is a great alternative to the blazer, for those who want to change it up and embrace the desi chic style.
4. Colours play a Vital Role
Saffron! As it is one of the main colours of Hinduism and also that Party that he represents. When NaMo was a chief minister, he would mostly wear bright colours. During his prime ministership campaign, his inclination moved more towards wearing light tones and pastels. As per to Boston Review of Books' article, the only colour absent from Mr. Modi's wardrobe was a dark green, which represents Islam.
Bipin Chauhan, Modi's tailor says –
Modi actually does not ever wear green — the color associated with Muslims — and prefers to wear saffron, the orange-yellowish colour of the BJP and the Hindutva ideology. But these days, Modi prefers to wear more muted shades, "silent" variations of saffron.
5. Luxury Connect
While he continues to wear Indian silhouettes and fabrics, Mr. NaMo shows equal intrest towards the European brands when it comes to accessories. Bvlgari glasses and Movado watch are the two brands that Mr. Modi wears with his traditional look, which gives a peak into his pro-business and professionalism ideology.