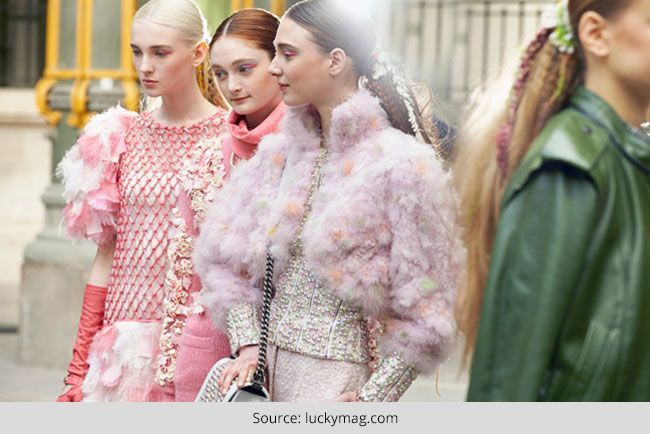 If you're looking for any website that gives you access to all the major fashion forecasts and upcoming as well as ongoing events then you're at the right place. Because FashionLady always updates you with fashion related news apart from sharing style diaries and beauty tips. In today's report we're going to highlight the top 7 Winter/Fall trends for 2014-15.
Do have a read to find out what's trending at the runways!
While Nicolas Ghesquière debuts for Louis Vuitton, other fashion connoisseurs like Chanel, Christian Dior, Elie Saab, Giorgio Armani Prive, Jean Paul Gaultier, Valentino and Versace to name a few reign supreme once again on the runways. I have gathered top 7 trends from the winter/fall 2014-15. So continue reading and stay inspired!
1. Kimono-inspired belted waists
Accentuated waists have eventually surpassed last year's trends of boxy shapes. 2014-15 trends are all about the waist. While top fashion houses like Burberry showcased statement-making belt, Stella McCartney flaunted jackets that were nonchalantly tied at the waist.
On the other hand, Osman sent down their models in kimono-inspired wrapped outfits. Even TopShop Unique also displayed heavily belted oversized coats.
2. Sports-inspired shoes
Gravity-defying high heels have always been a sign of high-end luxury, but this season this most coveted footwear is surpassed by a more practical choice. The sports shoes were seen ruling the runways for winter/fall 2014-15.
Brands like Dior and Chanel showcased their latest collection of physical trainer-inspired foot wears at the fall/winter 2014-15 show. Chanel gave a classic makeover to the trainers with their signature tweed fabrics. Dior at the other hand designed athletic-inspired platforms flanked by multi-colored chunky soles.
3. Nude color blocking
Unlike the usual color blocking, the winter/fall trend for 2014-15 comes with a twist. This year, the fashion gurus have rather experimented with nude color blocking in soft hues. While Marc Jacobs sent down his models in creamy caramels, Chloé chose pretty pastels for their slouchy shorts and over-the-knee boots.
Leading fashion houses eschewed bright colors for low-key shades this year to create a difference. Because of the subtle shades, the beautiful textures of the outfits were much more highlighted just like Helmut Lang's juxtaposition of knit-wears and leather elements.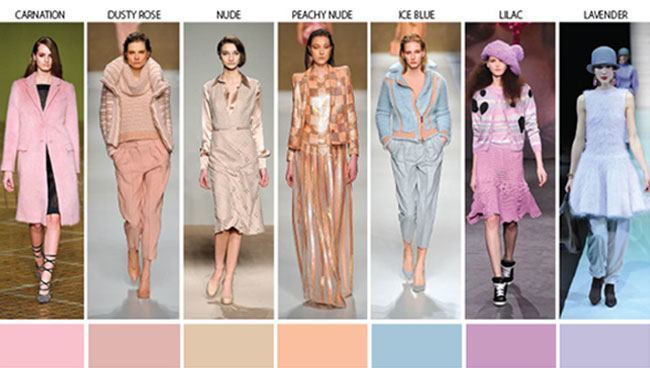 4. Robust tailoring
This season robust tailoring was seen everywhere on the women's wear. However, the androgynous interpretations were given a passé, instead feminine aesthetic was brought under the spotlight. Stella McCartney's models were seen wearing tailor-made suits with flats, flaunting their splendid hourglass figures. And how could we discount Paul Smith's boxy tailored feminine suits in silk fabrics and rich shades?
[sc:mediad]
5. Abstract Paneling
Modern art has certainly influenced the fashion world and it's pretty evident from this year's fall/winter collections. While Jonathan Saunders displayed simple yet superb bias-cut designs, Roksanda Ilincic gave mismatched lengths a striking effect and Roland Mouret on the other hand took it to another level by patching together a variety of materials to create an intriguing look.
[sc:mediad]
6. Chunky adornments
While embellishments have always been an integral part of fashion, this year they were exaggerated with huge, chunky detailing on dresses, jumpers and jackets. While metallic elements were seen on Mary Katrantzou's creations, Matthew Williamson's outfits were bejeweled and Perspex were used at Céline.
7. 90s-inspired psychedelic prints
90s resurfaced on the ramp, thanks to Manish Arora and Marc Jacobs who went all the way back to the timeline only to bring back bouncy sneakers, bum bags, trippy slogans etc.