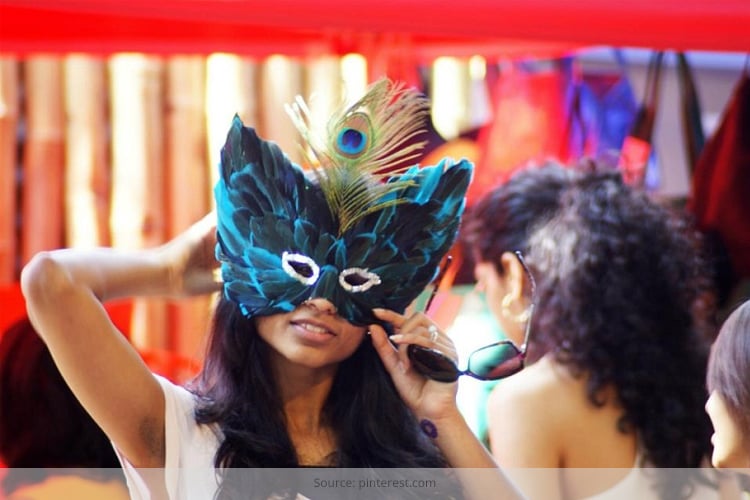 Even after Durga Puja and Bakrid, the flavor of the season is still festive with same level of enthusiasm and excitement in the air. When you're almost perplexed in what to splurging to look best this Diwali then here is answer for you.
Where to shop in Bengaluru this Diwali?
If you're a shopaholic plus a bargain hunter, who loves collecting quirky keepsakes and kitsch accessories which are both sophisticated and cute as a button and not to mention high on fashion then Souk on the Move is your ultimate destination. This is one of the booming top-shelf flea markets of Bengaluru, which ahs been attracting large crowds lately.
The Kitsch Mandi is another one-day bazaar to bank upon. It is without doubt another promising flea market dealing with hot trends which are not available in branded stores at such affordable rates.
Stockpiled with haute trendy stalls and flanked by live entertainment shows, this one-day market has become quite a buzz with the new-age buyers.
The Souk on the Move is certainly a sweet little desire for every fashionista, who wants to grab runway dresses but without a designer tag. Here, the high-end merchants are told to take a back seat, thereby enabling the craze of simple fun to unleash.
Here, enthusiastic shoppers come and celebrate the tinsel in a good old duck soup fashion savoring tempting food and fiesta and shopping with a fashion fad of sorts. Such markets have been a roaring triumph on Desi shores.
This fabulous idea was conceived by Deepika Khare and Brinda Gita Popuri years ago and is organized once in every 4 months and chooses a new eclectic locale every time. The most recent event was hosted on 15th September at the Counter Culture resto-bar in Whitefield.
Although it was a quite visit, it had come loaded with all the latest trends and right ingredients. The event was dotted with vibrant cute stalls with local designs, funky accessories, handmade artifacts, kundan jewelries, linen and even organic produce.
[sc:mediad]
Apart from fabulous apparels and accessories to don this Diwali, you can even take home some great pieces for Diwali decoration as well. You can find an array of astounding fabric-made lamp shades and antique lanterns in varied shades, aptly suiting the festive mood.
You'll also find a good collection in silk and jute and can buy some pieces for gifting purpose. Even hand-painted cutches were a special attraction last time and I'm sure you'll find some great pieces this time even.
The celebrity caricatures, such as of Marilyn Monroe and Mr. Bean were among other highlights. The organic soaps from Pondicherry were sold at quite cheaper rates than you would usually find in a Body Shop. The showstopper of last event was the stall, "Silver Nut Tree" by Angeline and Rituparna.
They sold some refurbished antique items such as used wine bottles adorned with art work and unique card holders made from 90's audio cassette covers to name a few. You can pick some items from such unique collection and use them as Diwali gifts.
You can visit their official website to follow up with their upcoming show, so that you can have your Diwali shopping in length from those stalls. Each stall speaks of thousands words about soaring creative knack in our country. Such one-day bazaar gives their customers an enhanced shopping experience and a great platform from start-up merchants and designers.
Apart from the delightful shopping experience, you'll also enjoy an eclectic live performance by a musical band and a fashion show before the curtains finally come down to end the day.
Hope you have a blast at such flea markets! Do share us your shopping experience and also tips if any!