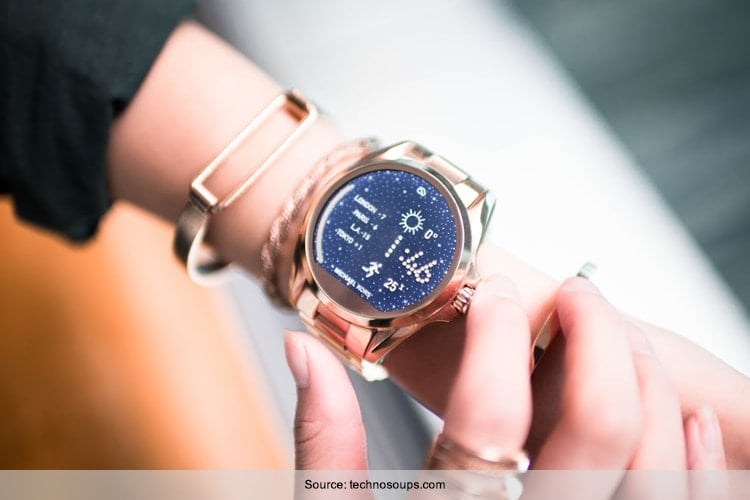 Your timepiece can say a lot about your style. Even though our phones can tell the time, most women still prefer the comfort and the style of a traditional watch. But of course, you won't be seen dead wearing a 'rexin' band in 2018, however, hipster that might look! In this article, we will elaborate the latest women's watch trends 2018 and how you could take your style game up a notch with these amazing timepieces. So read on!
The Rose Gold Trend that Refuses to GO:
And we aren't complaining that rose gold watches are still in gold. Rose gold or champagne colour as most of us refer it, is a trend that is here to stay. The iPhone may have stopped manufacturing that colour, but people love it on watches. If you are planning to buy branded watches for women 2018, you could choose some of these:
Splurge on: Patek Nautilus 7010/1R-011
If you love the bling of a diamond and the glitter of gold, this one won't disappoint. Encrusted with 46 diamonds and with a silvery opaline dial, it also boasts a gold coating. It is shiny, gorgeous and it has a 60m-water resistance feature to ensure correct time and durability. But you should not take it out for a swim though.
Save on: ASOS Skinny Marble Watch
ASOS's skinny marble strap watch comes with slight rose gold overtones and is a good choice for those who don't want to burn a hole in their pockets with 46 diamonds. Rose gold and marble prints are anyway a rage everywhere and this one does the job for a mere Rs. 2000 – cheap, stylish and effective!
Boyfriend Watches:
You've heard of boyfriend jeans and hoodies, but what in the world are boyfriend watches?
Well, just like the clothes, boyfriend watches are best stolen! Just kidding, boyfriend watches are a mix of feminine and masculine trend characterized by big, bold and chunky dials. Big dial watches have been in trend for a long time, but have been recently sported by celebs, making this trend hotter than ever! Not just that, but big dials are also very beneficial and you can have a ton of designs in them! So your entire wardrobe goes for an overhaul depending on the kind of design you are sporting.
Splurge on: IWC Portofino Automatic Day & Night 37
With a heavy sounding name like that, you wonder what this one packs. The IWC Portofino Automatic Day & Night 37 watch has a 42-hour power reserve when it has been fully wound. It also features a 24-hour secondary time display and 3 bar water resistance.
When it comes to style, it has a dark blue alligator leather strap and stainless steel case and in case you love that bling, this one is set with 66 diamonds. And not just that, it also has a white mother-of-pearl dial with 12 diamonds so that you can make a very shiny statement!
Save on: The Unisex Tiger Watch from Kenzo
Channeling your inner tigress can get a little bit easier with this big dial Kenzo white watch that features a white panel with a tiger face. It also comes with dials in radium that light up in the dark. You can surely be quite a rage at those neon parties. It is a little difficult to match with all outfits, but you can pair it with informal jeans and white Paul Smiths to complete the look.
The Watches That Double Up as Jewelry:
Tired of wearing three or four bracelets that keep jingling on your arms? Well, women have always been the smarter species so they came up with a trend where their watches could actually act as a statement piece too! So now you don't have to wear too many things and you could just make do with one timepiece that acts as a timekeeper and also a wonderful jewelry piece.
Splurge on: Jaeger Le Coultre Rendezvous Tourbillon
Wondering if diamonds could have ever looked brighter? Well, this one is a sight to behold and is the watch you were looking for to notch up your bling statement. The watch has been manufactured to be 5-bar water-resistant and has a case that is 39mm in diameter and 12.35mm thick. Made entirely of white gold, it also features an automatic and self-winding movement and has a gem-set dial with Rhodium-plated numerals. Can you even guess the number of diamonds this one has? Well, a whopping 1209 diamonds is the number. It might probably cost you an arm and a leg (or perhaps your kidney too), but hey – you just need to wear one single thing on your wrists!
Save on: Fossil Georgia Three Hand Stainless Steel Watch in Rose Gold
Looking for some bling but without having to lose an arm and a leg, well this Fossil timepiece is just for you. The delicate rose gold watch has American diamonds and Swarovski crystals encrusted in its entire dial, but it features a very delicate steel band. It is not too chunky on the wrists but can do the job of a jewelry pretty well, thanks to its encrusted dial.
Art Deco Watches:
Somehow, vintage style always comes back in fashion and art deco watches were lost until a little while ago but suddenly they are booming again. Art deco watches are reminiscent of the 1920s and feature eccentric dials and colourful gemstones and sometimes come with even ornate and delicate carvings. They are a colourful mix of Oriental and Western cultures and look good on any sized wrists. They are similar to the ornate watches, but even more eccentric.
Splurge on: Rolex Pearlmaster 34 Goldust Dream Roman Diamonds
[sc:mediad]
One of the most expensive watches that will ever be in the Rolex fraternity, this one literally takes the cake. The Pearlmaster has been manufactured with patented, 18ct pink gold alloy (it's a rare finding and of course costs a bomb). It has an exquisite chocolate dial that has hour markers made of 18-carat gold. The bezel has been set with diamonds and has a certified Swiss chronometer. It also features Rolex's caliber 2235, which is a self-winding, mechanical movement that makes the watch one of a kind in the watch fraternity.
Save on: Frederique Constant Art Deco Watch
The Frederick Constant is elegant, silver and comes with an oval dial that makes it look extremely good on slim wrists. It's more of a simplistic art deco watch and is the best for women who are not looking for too much bling on their wrists.
The Art of Minimalism:
If there is a trend that needs to remain, it's the art of minimalism. Minimalistic designs are very Spartan, clean and have a sleek look to it. Most people are now embracing this design because it is not too chunky and of course, the upkeep is easier too. There's not much bling, but these just feature smart, sleek and very minimal designs. If you are a lover of minimalism, make sure you add one of these to your wardrobe.
Splurge on: Chopard Imperiale
When it comes to luxury watches, Chopard seems to have nailed the simplistic and elegant look. The Chopard Imperiale watch has an 18 carat rose gold and stainless steel bracelet and comes with a simple, yet very chic 36mm case. The silver-toned dial comes with finely curved hands and the design of the watch has been inspired by the Age of Empires and thus has Roman numeral markers. It also boasts an amethyst set in the crown and has rose gold overtones.
Save on: Nomad
Only three things would come to your mind when you think of Nomad's simple beige leather watch = modern, subtle and very minimal. The picture will do the talking for you here!
Smart Watches for the Win!
Hey, we are in the digital era where things are transforming at a rate that's impossible to keep track of! Of course, we will embrace the love of digital and smart watches and there are a plenty of trendy and smart watches that make up women's watch trends 2018! Not only do these watches help you keep the time but they also come with fitness trackers or sleep trackers or even measure your heart rate!
Splurge on: Bvlgari Diagono Magensium
If art watches and smart watches come together, the result is this – a supreme piece of art that is also digitally smart. You couldn't have asked for a better combination!
The watch features a self-winding mechanical movement (ETA) and has a sapphire crystal and ceramic bezel and also comes with a PVD-coated stainless steel back. The case itself is made from magnesium and hence the name! And this is not even the most impressive part about this watch! The Diagono also uses this fancy polymer that is called PEEK (PolyEtherEtherKetone), which forms the side brackets of the watch. The smart part about this watch is the NFC chip that can be very easily used to make payments, and even open doors or help you carry electronic documents. You can also use the Diagono to link up with your tablet or your smartphone with an app called Bvlgari Vault.
Save on: The Apple Watch
Yes, we agree, this is not exactly what you would save on, but it still makes an impressive case and has a ton of features that are pretty handy for most iPhone carrying women. It's waterproof and has GPS too, making it a pretty good fitness tracker for those who want to use it as one. Plus, for the fashion conscious, it also comes with a host of different band styles, including one from Hermes!
And that's a wrap! These were our best picks for branded watches for 2018. We have given you two choices in each category – so splurge if you want to or save up on pretty but inexpensive watches.