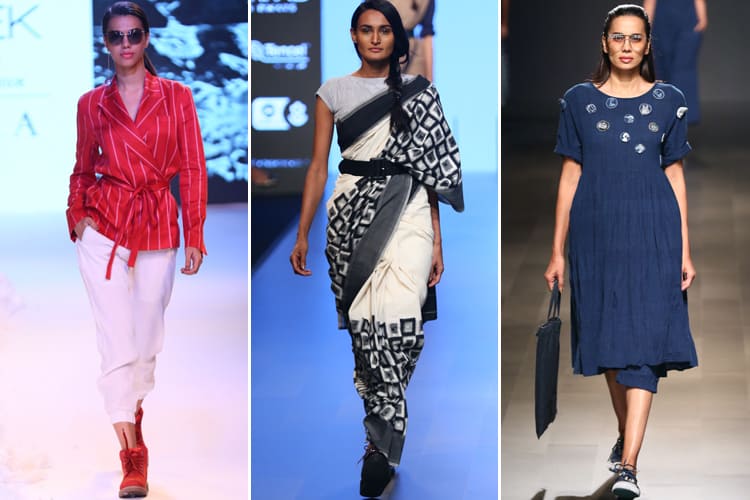 Day 2 at Lakme Fashion Week 2018 was a low-key affair with 'Sustainable Fashion' being the theme base. The fashion here is always exciting, and shines a spotlight onto the latest and greatest Indian designers. It is no surprise that the events draws an exceptionally well-dressed crowd.
We set our eyes on too many gorgeous outfits and it's only fair we take you into the details of it.
Here you go –
#NORTHEASTMOJO by IMG Reliance
The collection was a curation of different minds putting in their best to showcase the weaves of the North Eastern states. The clothes represented Manipur, Sikkim, Meghalaya, Nagaland, Tripura and Assam. The accents of funky features induced into the outfit were mind blowing to say the least. Beautiful traditional pieces in fiery colours graced the runway and kept the fun element alive within tradition.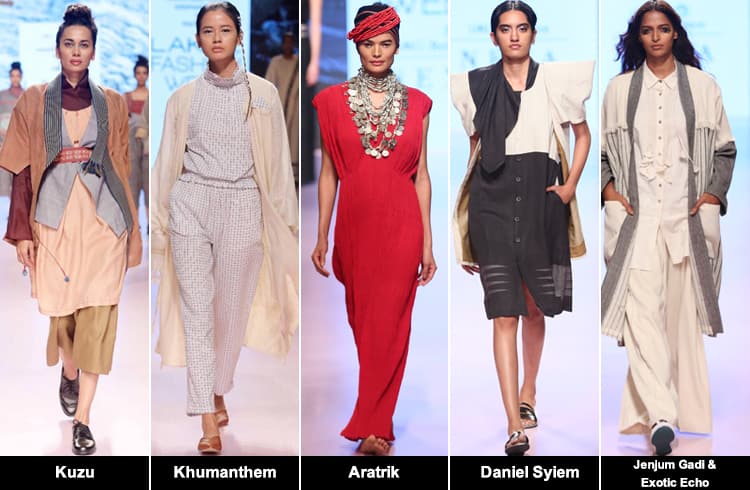 FASHION FUNDA with Parmesh Shahani
The collection was inspired from the world of weaves with an insight into the nations cultural hub. Well, it worked in creating magic on the ramp for sure. Being titled 'Fashion Funda', this journey consisted of simple shirts and separates that embraced the loose fit. This label always has high hopes pinned onto it for a quirky element each time and lives up to it, without a surprise.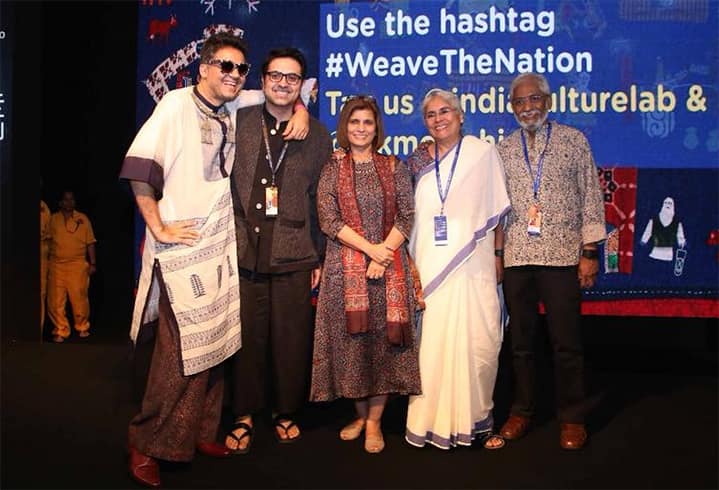 The Good Loom
Presenting the collection in slick tailoring, fashion statements were made in sustainable fashion. Playing around with Indian staples, the whole theme seemed cool and elevated. Dark colours, stylish waist bands and mix n match took domination on the ramp. The pairing of separates was a clean and elegant affair. This dark affair was surely the classiest Indian statement of style today.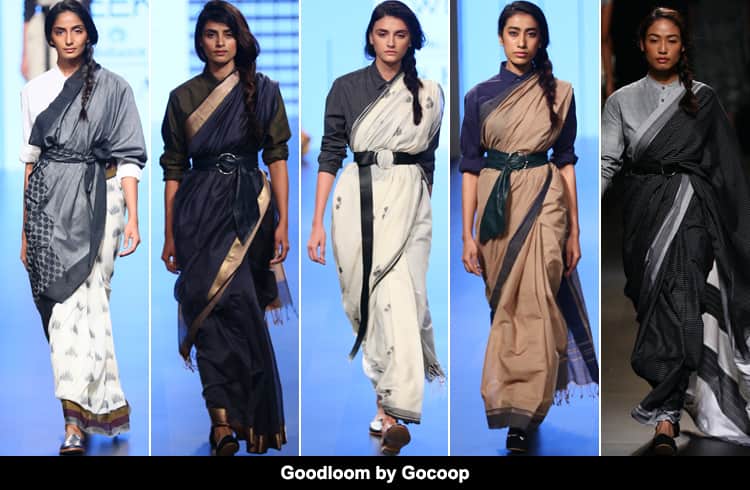 MAKU
The title 'In Transit' speaks volumes about the entire collection, as it has been entirely carved out into relaxed and easy styles. The women palette oozed plenty of monochrome shades, indigo and khadi textiles, each looking like a breath of fresh air. The comfort and ease of the outfits pointed towards the wealth of knowledge the designers posses while curating the pieces.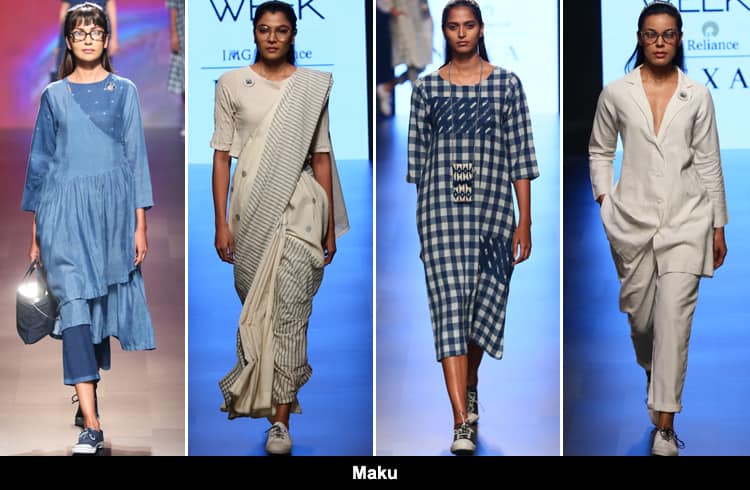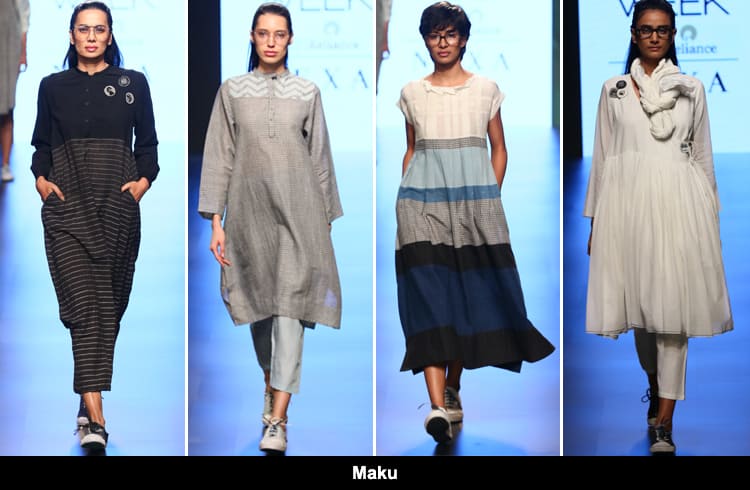 [sc:mediad]
USHA SILAI
Four designer have collaborated into the Usha Silai project which made its debut at the fashion week this year. Local stitching skills along with modern ideas were showcased in a new avatar in the form of deconsrtucted separates. The details stuck to minimalism and the tailoring showcased the uplifting of fashion right from the rural villages.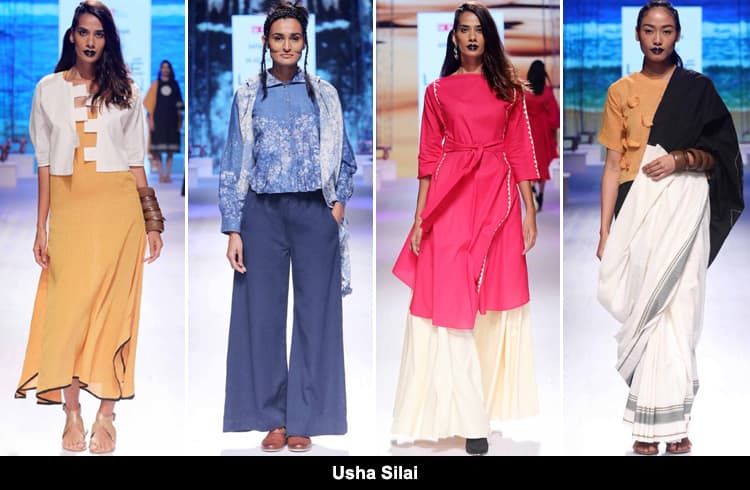 RAJESH PRATAP SINGH
The designer worked brilliantly with the blending of yarn with silk and Tencel fiber. Contemporary fashion witnessed a twist with the bright modern suits, kurtas and dresses. The innovative juices were cleverly induced into the sustainable theme and were clearly what the crowd was looking forward to. The various textiles and silhouettes were a grand treat to the eyes. A flutter of colour and asymmetrical cuts of fashion lightened the ramp.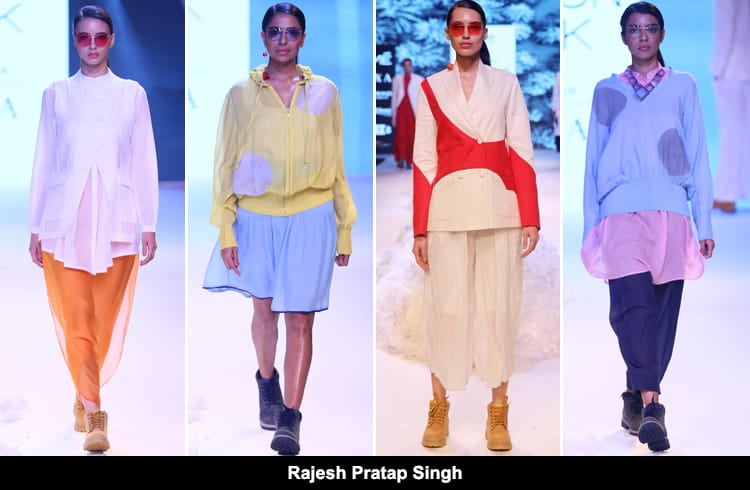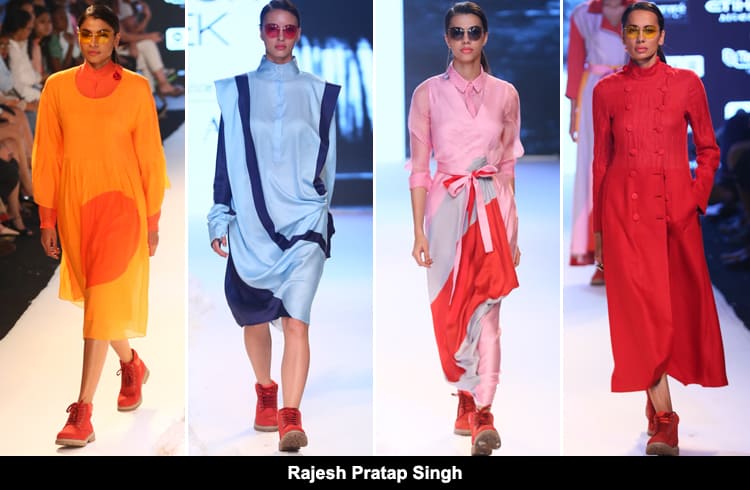 That's it for Day 2! Stay tuned for further updates.
Images Source: facebook.com/LakmeFashionWk, vogue.in