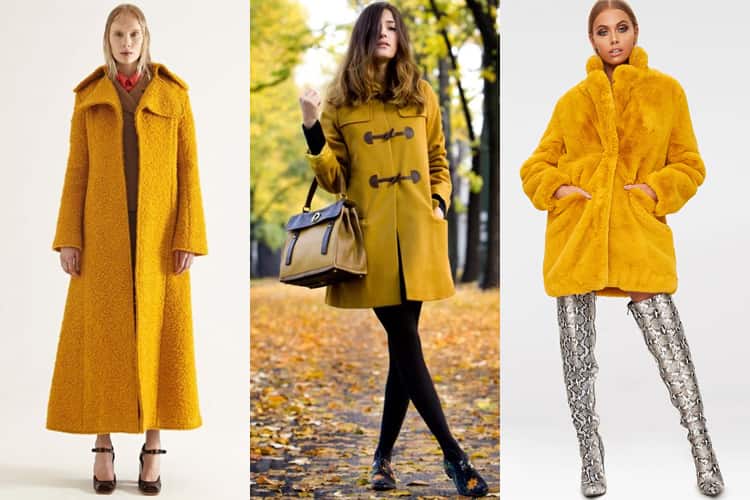 If we are ever in need of cheer – the yellow cheer – it is now. Caught in the trap of winters, the yellow coats and jackets 2020 trends are here to lift our spirits. Let us get started on our mission to explore ladies winter coats or ladies jacket 2020 in the universally applicable yellow.
I promise winters will never be the same again, as there is a whole lot of yellow warmth and yellow street style all set to dress up the diva you are with the yellow coats and jackets 2020 trends.
One thing is for sure – the hues of yellow i.e. Gen Z yellow is now the color of the season, which includes bright, muddy, sunny yellow, mustardy yellow, and sometimes also fluorescent yellow.
Keep these yellows in mind! Here we go.
1. Yellow is the new Pink. Take for instance, Ganni (Copenhagen-based art connoisseur and gallery owner) who has jumped on to the lemon bandwagon. Design houses such as Michael Kors in NYC to Shrimps in London have also picked sunshine to add to our lives. In short, yellow is the colour spreading its wings in every category – from clothes to accessories. BTW, its trending on Pinterest too.
Check out this colored Faux fur coat from Diane von Furstenberg's Fall '17 collection. As one of the standout pieces, this saffron coat is made from fuzzy faux fur. Layers easily over even the bulkiest of sweaters.
2. Go rock the yellow fashion street by adorning yellow mohair coat. Team it up with blue boyfriend jeans, white blouse and booties of suede khaki-brown.
3. Chill out in this yellow tailored coat. Looks fresh as the morning sunflower and is easy to style too. Try it with high-neck grey sweater and black trousers.
4. Hey chick, check out this chicken yellow collarless fur bomber. Doesn't it look awesome worn atop pale yellow shirt-dress? You need to thank Miguel Marinero for this look.
5. Anything yellow here? Yup, because the color of 2020 will be a lighter tone of Neon Yellow (move over millennial pink, better luck next time some time). Why yellow? Because consumers want clothes to be brighter and cheerful, whereas retailers need strong color stories when it comes to merchandising.
This trend is courtesy streetwear and workwear. So a wide range of women's apparel (as also men's apparel) will pick up yellow in 2020.
Guiding example?
This MadeMe Bomber Jacket at Urban Outfitters.
6. Mustard Premium Faux Fur Coat. A classic example of yellow coats and jackets 2020 trends but on the mustard side. Aren't you in love with this coat girl? Never mind the oversized fit, the contrasting textures are super lovelies. Wear this yellow coat womens with a simple white tee and black vinyl pants and you could find yourself shortlisted for a calendar shoot.
7. Okay, fine this blog is dedicated to yellow coats and jackets. How about sporting an oversized faux fur stole scarf in yellow? This Scarf by Urbancode ups the hotness quotient through its satin style backing. Do remember that this premium fabric deserves premium care.
8. For all the jacket ladies, here is this yellow ultimate oversized padded jacket. Meaning a jacket that comes in a yellow hue with padded fit and oversized style.
9. Long Coat phenomenon! Well, there are some coats that are found hovering at the ankle. There are also some coats that touch the ground you walk on. The long and short is that longer coats keep you warm, more of you warm. This Alexis Mabille's long suit coat is perfect for keeping you warm on your morning commute.
10. On a cozy sweater, wear a yellow coat womens. Even if oversized, it is still a fashion staple.
[sc:mediad]
11. On a green dress, wear a yellow embellished coat. It's all about looking yellow-n-green.
12. Mustard yellow skirt and coat is almost like inviting sunshine even in gloomy days.
13. Match a mustard yellow coat (you know the ladies winter coats) with printed dress and red heels and you could look a true blue beauty.
14. Slip into a colourful coat over a bright dress and chic look is yours for the asking.
15. This yellow coat womens is your new go-to outfit. Complete the look with a simple tee and stylish sunglasses.
16. Stay in trend through this cuffed jeans and yellow coat.
17. This Madewell Double Breasted Boucle Coat scores high with its long sleeves. Plus the bouclé weave adds a unique texture to this mustard color coat. Wear this coat season after season.
18. This ankle-grazing length of Octopus Pride Wool and Mohair-Blend Coat is great with heels and a skirt.
To sum it up –
A certain kind of understated glam will always be in. So the trend of yellow coats and jackets 2020 is also very minimal and 80s inspired.
Who cares if it's freezing and snowing? Raining or pouring all at once? Yellows are here to stay in 2020.
So dear, how did you find these combo shots of yellow coat womens, yellow jacket womens, ladies winter coats? Tell us what you desire in the comments section.