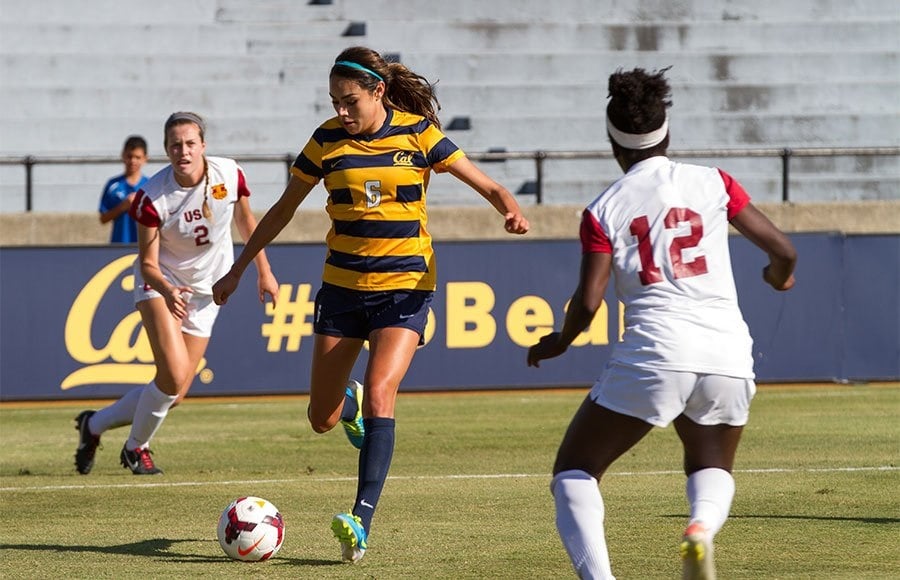 Since the FIFA 2014 fever is everywhere, I took this opportunity to offer you a post that is never before published by any Indian women-oriented blog so far – 10 greatest female soccer players in the history.
Fashionlady has time and again published inspirational stories of women across the globe. Moreover, we have always made sure to share with you about influential women excelling in their respective fields apart from fashion.
As we all know how football is the most popular game in the world and the FIFA World Cup is the most watched over even than Olympics in the world, so I dedicate this post to every football lover reading my posts.
In any event, the following 10 slides should be viewed as a celebration of women's soccer, so let's begin with the 10th-greatest player in its history.
#10 Renate Lingor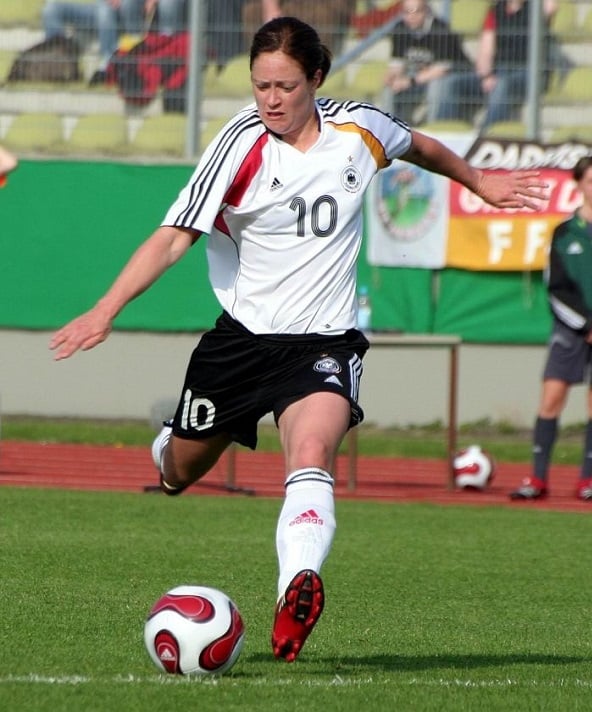 Even though Renate Lingor from Germany has retired from both club and international football in 2008, over the course with an illustrious 22-year career, the ace female footballer was the backbone of both FFC Frankfurt and the German national team.
Renate was a technical specialist, who was capable of taking a well-placed free-kick. The 37 year old player began her career in 1981. She has won five national titles, two UEFA Cups, three World Cups and a pair of Olympic bronze medals.
Only Bettina Wiegmann, Ariane Hingst, Kerstin Stegemann and Birgit Prinz have earned more than Lingor's 147 caps for a Germany side that was one of the women's game's first powerhouses.
Honours
FFC Frankfurt –
UEFA-Cup: 2002, 2006
German Champion: 1999, 2001, 2002, 2003, 2005
German Cup: 1999, 2000, 2001, 2002, 2003
National team –
World Champion: 2003, 2007
European Champion: 2001, 2005
Olympic Bronze medalist: 2000, 2004
#9 Christine Sinclair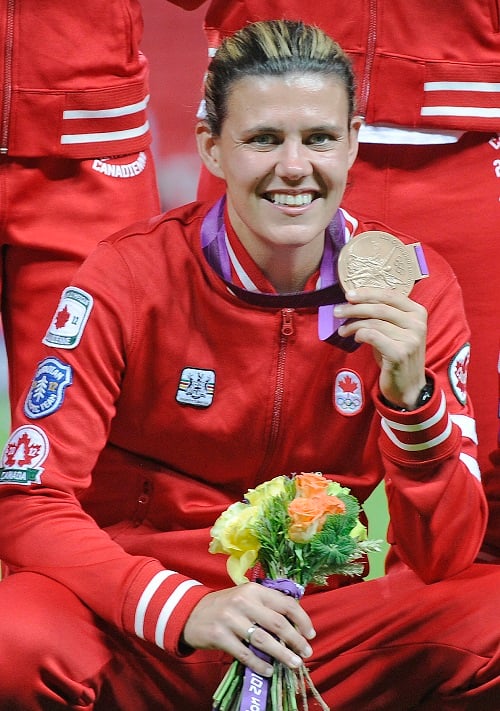 Christine Sinclair from Canada is captain of the Canadian national team. Sinclair is an Olympic bronze medalist and one of the most prolific scorers of all-time.
The Canadian soccer player has been with the national team for 14 years now. She has participated in three FIFA Women's World Cups (USA 2003, China 2007, and Germany 2011) and two Olympic Football Tournaments (Beijing 2008, London 2012). She is an 11-time winner of the Canada Soccer Player of the Year award and has been honored by FIFA as a nominee for World Player of the Year six times. The 30-year-old is also a two-time WPS champion and currently represents Portland Thorns at club level.
It is believed that Christine will become only the second player to surpass Mia Hamm's 158 international goals.
The record goal scorer had led her national team to the CONCACAF Women's Championship in 2010 and the Pan American gold medal in 2011.
Honors
Club –
FC Gold Pride
WPS Championship: 2010
Western New York Flash
WPS Championship: 2011
Portland Thorns FC
NWSL Championship: 2013
International
Canada
CONCACAF Women's Championship: 2010
Pan American Games Gold Medal: 2011
Olympic Bronze Medal: 2012
FIFA U-19 Women's World Championship Runner-Up: 2002
FIFA Women's World Cup Fourth Place: 2003
Individual
2012 Olympics – Women's Football Golden Boot Winner: 2012
FIFA U-19 Women's World Championship Golden Boot Winner: 2002
FIFA U-19 Women's World Championship Golden Ball Winner: 2002
Canadian Players of the Year Winner: 2000, 2004, 2005, 2006, 2007, 2008, 2009, 2010, 2011, 2012, 2013
Lou Marsh Award Winner: 2012
Bobbie Rosenfeld Award Winner: 2012
#8 Kristine Lilly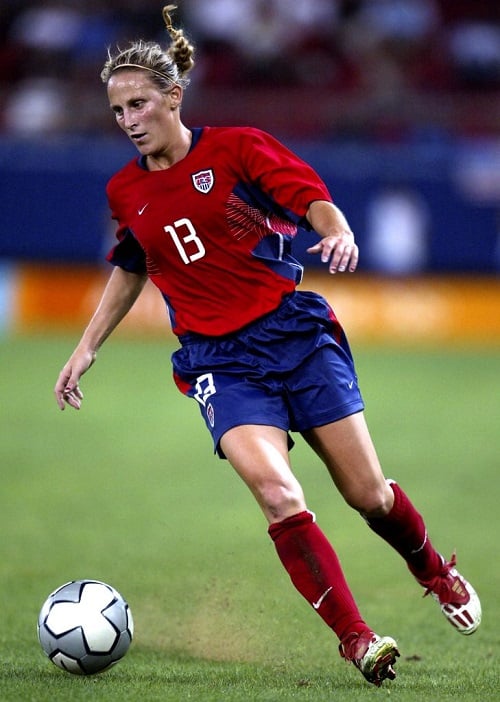 Kristine Marie Lilly Heavey from United States is a retired American soccer player, who last played for Boston Breakers in Women's Professional Soccer. She was a member of the United States women's national soccer team for 24 years. No American player has earned anywhere near Kristine Lilly's 352 caps, earned in a career that began in 1987 and ended in 2010.
She is the most capped soccer player in the history of football, a feat accomplished by no other men's or women's player. Her 352nd was the final cap against Mexico in a World Cup qualifier in November 2010. Lilly has scored 130 goals for the United States women's national team, behind Mia Hamm's 158 goals and Abby Wambach's ongoing tally of 160.
[sc:mediad]
The attacker had played in an incredible five World Cups (winning two of them) and is a three-time Olympian (winning two gold medals). At club level she represented Boston Beakers of the old WUSA for four seasons and is now a coach for the side, which competes in the NWSL.
#7 Cristiane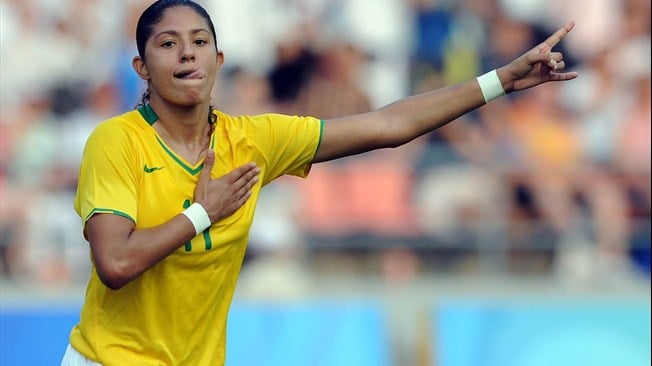 Cristiane and Marta are to Brazil what Lilly and Hamm were to the United States. Cristiane is a Brazilian association football player and currently plays for WFC Rossiyanka.
At the age of 15, she debuted for the Brazil Under-19 team and took part in both the 2002 U-19 Women's World Championship in Canada and the 2004 U-19 Women's World Championship in Thailand.
However, Cristiane had her international breakthrough at the Olympic football tournament in Athens 2004. With five goals, Cristiane was honored as the tournament's top scorer along with Germany's Birgit Prinz
The 28-year-old forward has silver medals from the 2004 and 2008 Olympics, each of which Brazil lost in extra time to the United States. In 2007 she earned a runners-up medal at the World Cup following a 2-0 defeat to Germany.
Her 31 goals from 45 international appearances make her standout as one of the game's elite goal scorers. At club level, she has won silverware with both Santos and Potsdam.
Honors
Club football –
Santos
Copa Libertadores: 2009
Copa do Brasil: 2009
1. FFC Turbine Potsdam
Bundesliga: 2005–06
National team –
Runner-up at the Women's World Cup: 2007
Gold medal at the Pan American Games: 2007
Silver medal at the Summer Olympics: 2004 and 2008
Sudamericano Femenino: 2003
#6 Sun Wen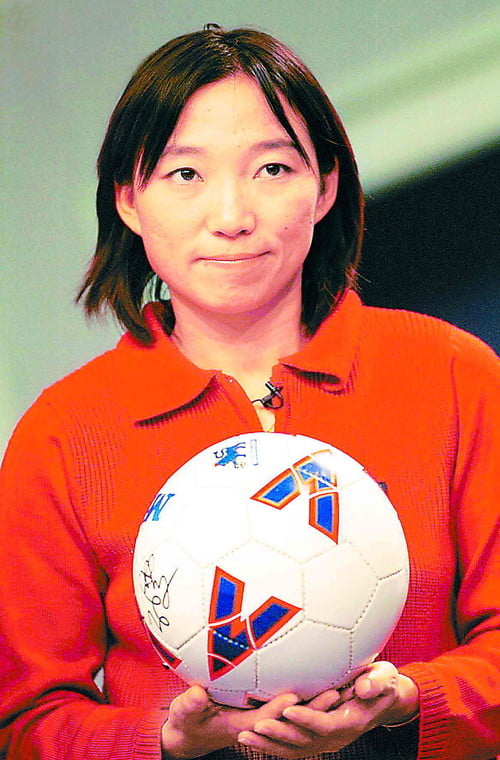 Did you know China were one of women's soccer's first superpowers?
They had taken Olympic silver in 1996, but lost the World Cup final to the United States on penalties in 1999, four years after a 2-0 defeat at the hands of the same side at the semifinal stage.
Sun is a retired Chinese professional football player, who had previously captained the China women's national football team and the Atlanta Beat of the Women's United Soccer Association. In 2000, she had won the FIFA Female Player of the Century along with Michelle Akers. In 1999 FIFA Women's World Cup, she won both the Golden Ball (top player) and Golden Boot (top scorer). She is considered as one of the all-time greatest female footballers of the game.
Wen scored 106 times for China in 152 matches in her career span. In 2002 she was named co-winner of the FIFA Female Player of the Century award alongside Michelle Akers of the United States.
#5 Abby Wambach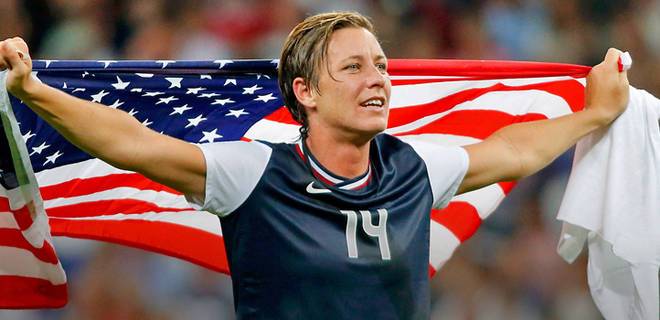 Mary Abigail "Abby" Wambach is an American professional soccer player, coach, two-time Olympic gold medalist, and the 2012 FIFA World Player of the Year. She currently plays for Western New York Flash in the National Women's Soccer League and for the United States women's national soccer team.
No female footballer has scored more than Abby Wambach's 160 international goals next to Hamm and Lilly, who are the only Americans with more than Wambach's 61 assists.
But what makes her 5th greatest female footballers is due to the 33-year-old's offensive production that comes at the very highest level, on the very biggest stages. Twenty-two of her goals have come in either the World Cup or Olympic Games, and she has twice found the back of the net in an Olympic gold-medal match.
Apart from the game, Wambach appeared in the HBO film, Dare to Dream: The Story of the U.S. Women's Soccer Team. She has made appearances on the Today Show, the Late Show with David Letterman, The Daily Show with John Stewart, and Good Morning America. She was featured on ESPN's In the Game with Robin Roberts in June 2012.
#4 Homare Sawa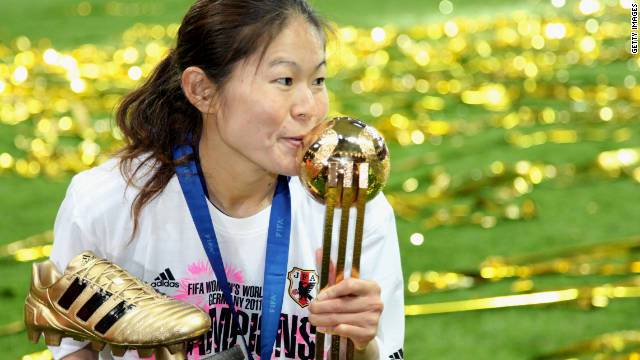 Homare Sawa from Japan is one of women's soccer's greatest-ever play making midfielders.
A prodigy in the centre of the park, Sawa had debuted for senior club debut quite early at the age of 12 and earned her first international cap for Japan within three years after joining.
In 2011 she won both the Golden Ball and Golden Boot when Japan beat the United States on penalties to win the World Cup, and last summer in London she helped her side to an Olympic silver medal.
Honors
Club
Yomiuri/NTV Beleza –
Nadeshiko.League (8): 1991, 1992, 1993, 2005, 2006, 2007, 2008, 2010,
Empress's Cup All-Japan Women's Football Tournament (6): 1993, 2004, 2005, 2007, 2008, 2009
Nadeshiko.League Cup (1): 2007
INAC Kobe Leonessa
Nadeshiko.League (2): 2011, 2012
Empress's Cup All-Japan Women's Football Tournament (1): 2011
International –
Japan
East Asian Football Championship (2): 2008, 2010
Asian Games Gold Medal (1): 2010
FIFA Women's World Cup (1): 2011
Olympic Silver Medal (1): 2012
AFC Women's Asian Cup (1): 2014
#3 Birgit Prinz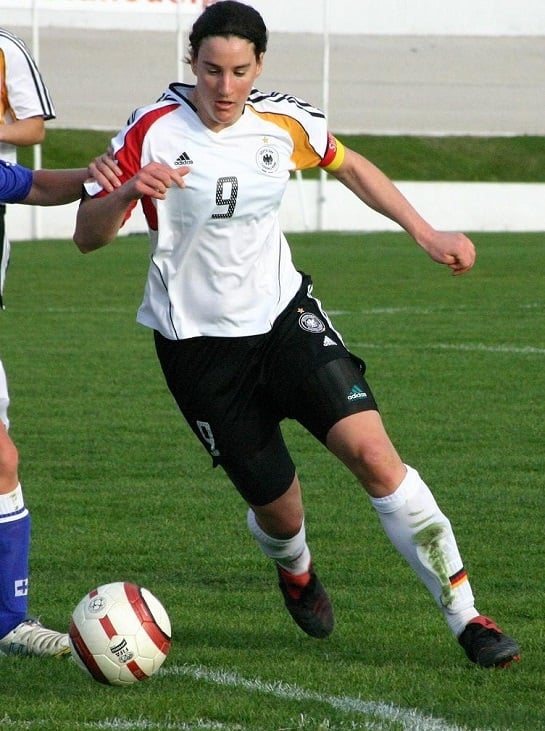 Birgit Prinz is a retired German female professional association football player, who has She played for 1.FFC Frankfurt and on the German national team. Prinz remains one of the game's most prolific strikers and the FIFA Women's World Cup all-time leading scorer with 14 goals (tied with Marta).
The German footballer was named FIFA World Player of the Year in 2003, 2004 and 2005. On 12 August 2011, she took retirement from the game. Birgit has Master's degree in psychology from the Goethe University Frankfurt and currently works as a sport psychologist for the male and female teams of 1. Bundesliga club TSG 1899 Hoffenheim.
This 36 year old female soccer player is the highest-scoring non-North American in women's soccer history, tallying 128 times in 214 matches—just two fewer than Lilly in 138 fewer games.
A three-time FIFA World Player of the Year, she led Germany to back-to-back World Cup titles in 2003 and 2007 and won Olympic bronze in each of 2000, 2004 and 2008. She also has eight Bundesliga titles and three UEFA Cups at club level to her credit.
#2 Marta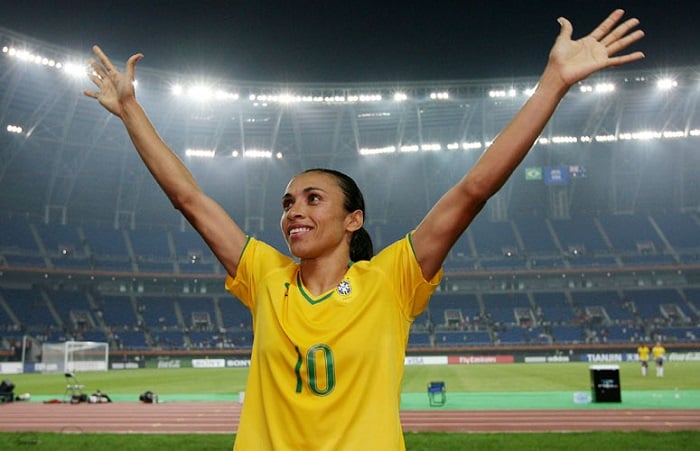 Ranked at second in this list, Marta is a Brazilian football forward, who plays for the Tyresö FF of Damallsvenskan. She is also a member of the Brazil women's national football team. The Brazilian footballer is considered as the most talented women's soccer player in history.
She has been named FIFA World Player of the Year five consecutive times, in 2006, 2007, 2008, 2009 and 2010. She was a member of the Brazilian national teams that won the silver medal at the 2004 and 2008 Summer Olympics.
She was also awarded the Golden Ball (MVP) at the 2004 FIFA U-19 Women's World Championship. In the 2007 Women's World Cup, she won both the Golden Ball award as the best player and the Golden Boot award as the top scorer. She also tops the all–time Women's World Cup goal scorer list alongside Birgit Prinz. In January 2013 she was named as one of the six Ambassadors of 2014 FIFA World Cup Brazil.
Marta might be the most talented women's soccer player in history, but despite being named FIFA World Player of the Year for five years straight beginning in 2006, she has yet to win a major international title with Brazil.
In 2007 she and her teammates finished runners-up to Germany in China, and in both 2004 and 2008 they lost Olympic gold medal matches to the United States in extra time. She is one such player, who can dominate a match both in the middle of the park and up front, and in 72 appearances for her country she has tallied 80 times.
#1 Mia Hamm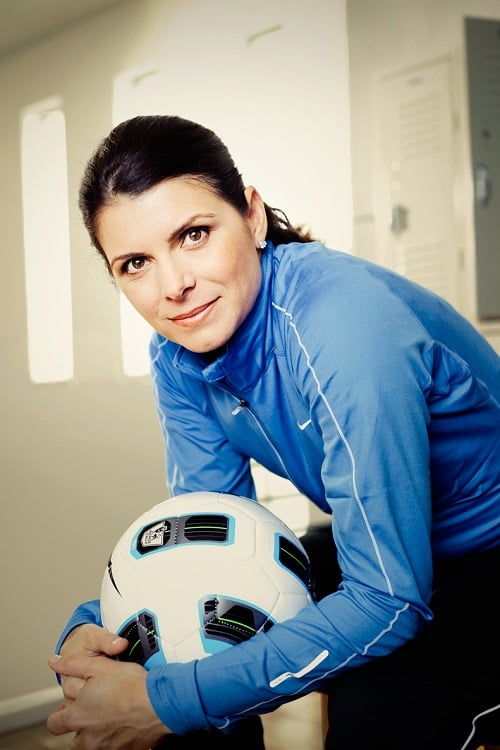 Mia Hamm, who tops the list, is a retired American professional soccer player. Hamm played as a forward for the United States women's national soccer team and was a founding member of the Washington Freedom.
Hamm held the record for international goals, more than any other player (male or female) in the history of soccer, until Abby Wambach scored her 159th goal to break the record in 2013. Hamm is also the third most capped female player in soccer history behind Kristine Lilly and Christie Rampone, appearing in 275 international matches. She also leads the team with most assists with 144.
Women's soccer's first superstar, Hamm first put on the United States jersey when she was 15, and as a 19-year-old helped her country win the inaugural FIFA Women's World Cup. The sport's all-time leading goal scorer remains well atop the assists chart 13 times in Olympic and World Cup matches.
But despite her World Cups, Olympic gold medals and NCAA championships, Hamm, perhaps more than anything else is looked upon as a pioneering figure not only in women's soccer, but in women's sport in the United States. During her playing career she quite simply transcended the sport she dominated.
Hamm has been called the most marketable female athlete of her generation. During her time as an international soccer player, she signed endorsement deals with Gatorade, Nike, Dreyer's Ice Cream, Pepsi, Nabisco, Fleet Bank, Earthgrains, Powerbar, and Mattel.
Hope you liked this post!! Enjoy watching FIFA World Cup 2014 and do let us know which country you'll be cheering for!