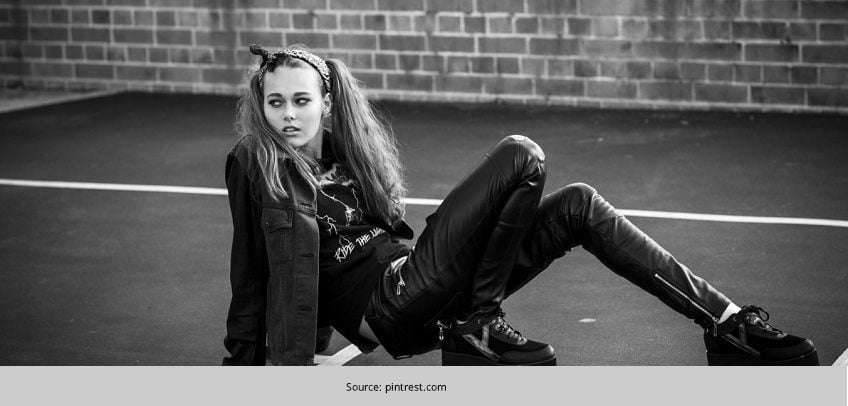 Even the most dedicated fashion followers will agree to the fact that unfortunately there are trends which shouldn't have ever existed!
Blindly Following the Trends
It's natural to flow with the trends. When the craze for a certain style takes up the majority of a group; it's obvious to see the young minds easily getting attracted towards it. If you ever check your school/college days' album, you'll be surprised how you used to dress up only because others in your campus were doing so, irrespective of the fact that the trend hardly suited your personality.
|Trends are simultaneously some of the most exciting and the most treacherous things in the fashion world.|
Experimenting can be Fun, But Equally Risky 
Something that is hot at the moment can quickly go out of fashion the next season. This is the reason fashion gurus always suggest the fashion enthusiasts to never ignore their instinct while adopting a particular style. Fashion faux pass is the last thing you would wish for.
I have gathered 10 of the most challenging fashion trends of this decade from the fashion archives. I am sure this will surely help my readers understand the factor that some trends actually don't work. Do have a read!
[Also Read: Quick Easy Hairstyles for Long Hair]
1. Suspenders/Braces
This is one of the androgynous trends which I just can't stand. Why don't we just leave the suspenders for those belonging to the older generation, who need this thing to hold their trousers up.
No matter if Annie Hall had hugely popularized these menwear accessories back in 1970's, but I am sure even the most versatile fashion experts won't give a nod for this item. It's a strict 'NO' this for this 'braces' trend.
2. Mom Jeans
Whenever I come across this term, I remember Jessica Simpson. Mom Jeans at least for me is a humorously negative term for particular kind of women's jeans, which is nothing but a fashion embarrassment.
The design which is only unflattering to the wearer's body shape was considered highly fashionable in 80′s and early 90′s. The style involved high waist clothes making the buttocks appear disproportionately longer, larger, and flatter than they actually were.
3. Thin Transparent Tights
While leggings are huge trends these days, at least I find 4 out of 10 women on the street in these. Most of the women I find are hugely mistaken by this trend. They step out in thin and transparent tights paired with short blouses/tops. They leave very little to the imagination, as everything underneath is clearly visible.
4. Velour Tracksuits
The Velour tracksuits might have been a 'cool' thing in their initial days, but soon these outfits revealed the apathy of the wearers to be properly dressed. One should not look like coming straight out of the bed, except for the messy hairstyle trends that are in vogue amongst the teenage girls. There are numerous other ways to look casual and relaxed.
5. Double Denim
It was only a few years ago, that the double denim trend, also known as the "Texas Tuxedo" in the USA, was all the rage.
[sc:mediad]
However now if we analyze, it is easy to conclude why this style died an untimely death. Even in the hands of some of fashion's most astute stylists, this trend leaves the wearer looking awkward and woefully under-dressed.
[Also Read: How to Wear Palazzo Pants]
6. Visible Panty-line
This is perhaps one of the most unethical fashion trends of this list. The visible thong show at the back of a low-slung pair of trousers is something that is still spotted on the street today despite having started as far back as the '90s. While it is definitely attention-getting, it's criminal as far as modesty and humility are concerned.
7. Fur Boots
If you thought in India such trends may look ridiculous but work in winter-dominated European and American countries, then let me tell you even the conscious fashionista in such nations are now giving it a passé.
8. Acid-Washed Denim
I agree to the fact that there was a time when the acid-washed denims looked stylish, but eventually they went out of fashion and now rather look thrifty. Go for natural washes in shades of blue that can be worn well over time.
9. Head-to-toe Vintage
Unless you are Julia Roberts, who had worn the legendary Valentino vintage black and white gown; you shouldn't think of doing something similar. Her dress became so popular that an exclusive Wikipedia page is dedicated to her stating,
The black and white Valentino dress of Julia Roberts refers to the black and white Valentino dress worn by Julia Roberts at the 73rd Academy Awards on March 25, 2001, during which she won the Academy Award for her performance in Erin Brockovich. Widely praised by fashion critics, a poll by Debenhams, published in the Daily Telegraph, voted it the third most iconic red carpet dress of all time. The dress was a vintage 1992 design from the Valentino archives, intended to evoke the style of classic Hollywood; Valentino had designed for prominent fashion icons such as Jackie Kennedy and Elizabeth Taylor.
Therefore, unless you are wearing a single item such as a vintage designer gown, do not go for mix and match of your mom's wardrobe. Instead, make sure to balance your treasured vintage finds with more modern pieces, so that you do not look over dramatic.
#10 Plastic Clogs
I just don't understand how women wear these footwear. They seem to me as if they have rushed out from their gardening or hospital work. No matter if they are virtually indestructible, they are a sartorial eyesore to be honest enough.
Let us know if you have come across any similar hideous trends. Tell us more in comments.